Hospital Playlist's *adorable* piano-playing OB-GYN doctor Yang Seok Hyung is played by none other than Kim Dae Myung. He started his 15-year career as a theater actor and soon became in-demand for his portrayal of complex but relatable characters in dramas and movies. No wonder his current acting role as the introvert but oddly charming Dr. Yang became a hit with K-drama fans! So just how similar is veteran actor Kim Dae Myung to his Hospital Playlist character?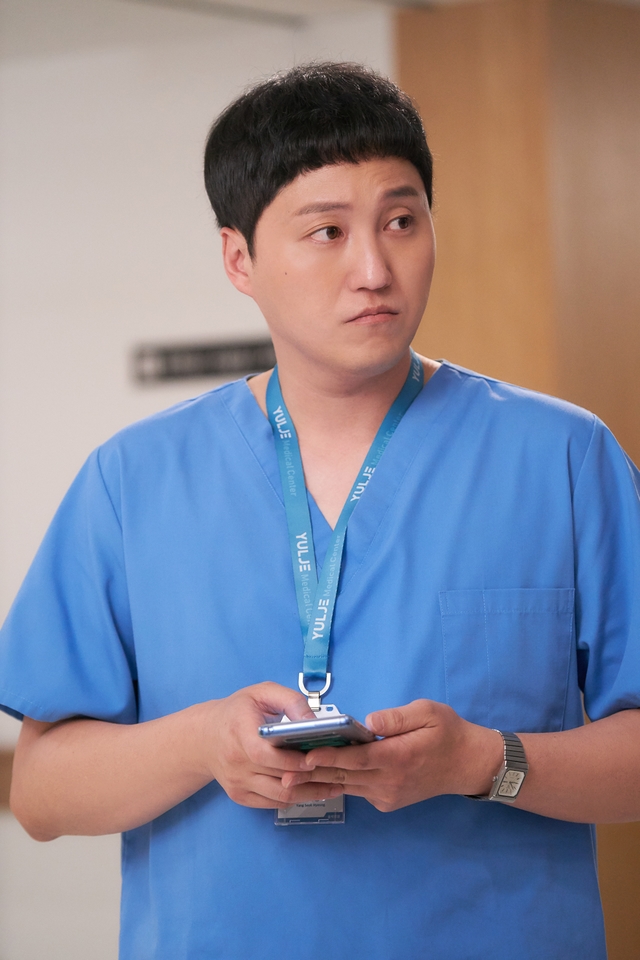 ADVERTISMENT - CONTINUE READING BELOW ↓
Here are eight things you need to know about Kim Dae Myung:
1. Kim Dae Myung was born on December 16, 1980. 
He's turning 41 years old this year! Fun fact: In Hospital Playlist, the main characters are 40-something doctors who became friends in medical school. Among the lead cast, only Kim Dae Myung and Jo Jong Suk are actually in their 40s. In an interview, Dae Myung talked about getting recognized in public due to the drama's popularity: "If I had this kind of experience in my early or mid-20s, I would have been excited but I am fortunate to have this experience now that I'm in my 40s."  
2. He initially wanted to become a poet. 
Dae Myung dreamt of becoming a poet but eventually fell in love with acting. Turns out, his transition into acting was surprisingly easy. "Writing poetry and acting are very similar in some ways. As an actor, I'm just delivering a small portion of the story." He also revealed that watching a particular scene in the 1988 film Christmas In August inspired him to pursue acting. "I got curious about the emotion portrayed in the scene where the son taught his elderly father how to use a television. I wanted to become an actor because I wanted to express that kind of emotion." 
ADVERTISMENT - CONTINUE READING BELOW ↓
Recommended Videos
3. Kim Dae Myung was a theater actor.
Ever wondered what a younger Kim Dae Myung looked like? Lucky for us, photos and videos of him as a musical theater actor started resurfacing since gaining popularity in Hospital Playlist. In 2009, he starred in the Korean production of the Off-Broadway musical Assassins. He played the role of John Hinckley Jr., a man who attempts to assassinate the president in order to *very publicly* declare his love to his crush. Watch his scene-stealing duet to the song "Unworthy Of Your Love" here:
4. He has acted in more than 20 films. 
Kim Dae Myung might be a new face for K-drama fans but he's actually been acting non-stop on the silver screen. He has starred in more than 20 films, including box office hits like Tazza: The Hidden Card and Inside Men. In 2017, he played the role of a mysterious butcher in the psychological thriller Bluebeard for which he received a Best Supporting Actor nomination at the prestigious Blue Dragon Film Awards. 
ADVERTISMENT - CONTINUE READING BELOW ↓
5. His breakthrough television role was in Misaeng. 
Perhaps one of his most memorable drama performances so far, Kim Dae Myung starred as the fiercely loyal and super kind Kim Dong Shik in the 2014 workplace drama Misaeng. In an interview, he shared how he was personally affected by portraying such a relatable character. "I felt a sense of responsibility. The character Kim Dong Shik became a comfort to people. I didn't want to disappoint them as Kim Dae Myung." 
6. Kim Dae Myung learned to play the piano for Hospital Playlist.
In the drama, Dae Myung's character is the band's pianist. Naturally, the actor had to learn to play the instrument—or at least looked convincing doing so. During a livestream with the drama's director Shin Won Ho, Dae Myung shared that he took piano lessons for more than a year to prepare for the role. He added, "I was really scared at first, thinking I could ruin things if I was terrible but the director didn't pressure me at all. The director said we'd get by somehow if I make it seem like I'm really playing but that made me want to learn even more." Here's a cute video of him practicing at a piano academy for kids:
ADVERTISMENT - CONTINUE READING BELOW ↓
7. He released an OST for Hospital Playlist Season 2.
Fans have been eagerly waiting for it and Kim Dae Myung did not disappoint! He lent his voice to the show's official soundtrack with a soulful rendition of "Autumn Outside The Post Office." Here's an interesting trivia: Autumn and the Korean surname Chu share the same Chinese character. It *might* have something to do with Yang Seok Hyung's potential love interest Chu Min Ha! 
8. He's on Instagram!
ICYDK, you can follow Kim Dae Myung on his Instagram @daemyung.kim. Keep a lookout for his heartwarming behind-the-scenes photos with the Hospital Playlist cast!
ADVERTISMENT - CONTINUE READING BELOW ↓
***
We're officially on Viber! Be part of our growing community and subscribe to Cosmopolitan Philippines now!
K-UPDATES