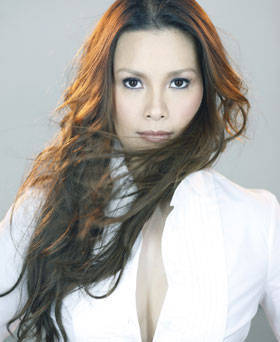 World class Filipina Lea Salonga's fab feats are just too many to enumerate. She's received Tony and Olivier awards, the most prestigious accolades in theather. She's portrayed unforgettable roles for audiences here and around the globe—as Kim in Miss Saigon, Princess Jasmine's singing voice in Disney's Aladdin, Eponine in Les Misarables, and, recently, Grizabella in CATS, among many others. She's even part of our grade school history books as one of the greatest Filipino achievers in history! Without a doubt, she's one of the reasons we're proud to be Pinay. On top of all her accomplishments, she's also a loving wife to her husband, Robert Chien (what a lucky guy!), and mother to her daughter Nicole Beverly. Anyone would love to know how she managed to do ALL that in a lifetime.

Her story is such an inspiration to so many Filipinas that it was no surprise when Lea was one of the fab females honored in this month's issue of Town & Country magazine as one of the seven Wonder Women Of Style And Substance for her achievements in music and theater. At an afternoon tea party held in White Space in Makati, the seven Wonder Women were introduced and recognized for excellence in different fields. Among them were Margarita Fores for entrepreneurship, Cheche Lazaro for media, Bea Valdes for fashion, Carmen Guerrero Nakpil for literature, Isabel Caro Wilson for diplomacy and the arts, and Gina Lopez for philanthropy and public service.

Cosmo attended the event to support our sister publication and to have a little chat with Lea. Read on to get to know her a little more intimately, as we asked her about the Wonder Women in her life and for some advice on the search for "The One."


Who are the wonder women in your life?
Siyempre my mom. Definitely my mom. Definitely Tita (Zenaida) "Bibot" Amador (theater pioneer), and definitely Tita Baby Barredo (co-founder, President and Artistic Director of Repertory Philippines). I mean, [they are] people that I had looked up to when I was starting to work, people that I looked up to in my personal life, people like my teachers in school. [Also] Precious Soliven who was the founder and the president of OB Montessori, people like that. People who are very intelligent and people who are always very assertive and passionate about their work, people who truly had a great love for what they did. I mean, my mom was a great mom and she loved raising her children. And every one of them was just so passionate about theater and about the arts and about the work. So those were the kind of people that I emulated as I was growing up.

You've already achieved so much, but do you feel that there might still be something missing in your life?
Actually wala. Wala na talaga akong mahihingi pa. God has been incredibly kind and incredibly generous. I feel very, very blessed, to have had the career that I have, and (to have) my family, and to be able to enjoy travel and (to have) a measure of anonymity when I do travel--that I still can have a life and do my work. I just feel blessed so I can't ask for anything more. But God seems to still be giving, so, okay then.

What advice do you have for women who are successful in their careers but find it hard to find true love?
True love is not something you find, it finds you. It's something that happens in its own time. And it'll hit you when you least expect it. I mean, that's how it happened for me. I wasn't looking for my husband, but, lo and behold, I was introduced to him and on our first date I knew that he was the one. So, it happened when I least expected it. So the piece of advice I could give is to always be open, to not close yourself off. And say "yes" to the blind dates because you just never know!

Launch the gallery to view some snapshots of Lea during our interview.
Continue reading below ↓
Recommended Videos
707