After going lowkey public about her relationship with Rico Blanco, Maris Racal surprised fans with a new vlog on her YouTube channel titled, "One Hapon with Rico Blanco."
In the vlog, they talked about their *firsts* as a couple. "Dahil first time natin dito, we're gonna talk about our firsts," Maris said as they sat under the tree and ate Filipino street food at UP Diliman.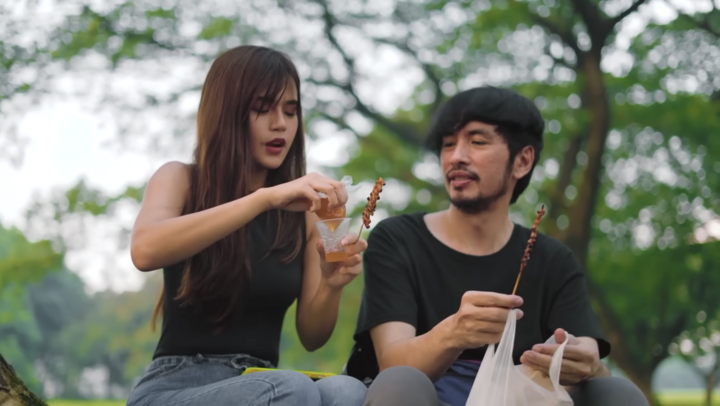 Before diving into the main event, Maris briefly shared how she felt when they first started dating. "Noong naging tayo, 'di ba, hirap tayo mag-date kasi ayaw nating makita ng mga tao, kasi takot tayo baka 'di nila tayo maintindihan." Meanwhile, Rico clarifies that he felt the exact opposite. "Hindi ako takot," he said. Aww, so sweet!
Now for the exciting part–Maris and Rico's firsts.
Maris Racal And Rico Blanco Talk About Their Firsts As A Couple
First Date
In the vlog, Maris reveals that their first date as a couple was in Las Vegas. It was timely that Maris was in the middle of a U.S. tour when Rico–who was also in the States (Miami, specifically)–suggested that they meet in Vegas. According to Maris, they also went on a trip to Arizona with some of their friends.
Albeit late, Rico thought of posting pictures on social media now that they're public. "Ah so pwede na 'kong mag-post ng pictures 'ko na yun? Pag lumabas 'to." Rico jokingly said. To which, Maris responded, "Pwede. Parang ganon."
Continue reading below ↓
Recommended Videos
First Song That We've Written About Each Other
From Rico to Maris: "Happy Feelin'"
From Maris to Rico: "Di Papakawalan"
Rico says that he wrote "Happy Feelin'" after a jamming session with IV of Spades, and says that it's just a simple song with a happy, happy vibe. On the other hand, Maris admits that she wrote a couple of unreleased songs with a bittersweet vibe because she wasn't sure of her feelings for Rico yet. Her latest single "Di Papakawalan" is her official, released song for Rico. She says the song encapsulates their relationship–how they met and how they feel for each other.
First Fight
"We don't fight na malala," says Maris. But later on admits that they recently fought over Maris' song "Di Papakawalan," which was resolved shortly after Rico found out that the song is dedicated to him.
First Thing Na Napansin Sa Isa't-Isa That We Found Cute
"'Yung falsetto mo sa Abot Langit. Madami magkaka-crush sa'yo niyan 'pag narinig nila 'yan," Rico answered, to which he dubbed as corny, since his answer was still music-related. Aww, we don't think it is! *Kilig*!
Meanwhile, Maris explained how she first felt upon meeting Rico. "Prior to meeting you, sobrang bilis ng tibok ng puso 'ko," she said.
Maris also recalled, "Sobrang kabado 'ko, babe. Kasi syempre, mamemeet ko si Rico Blanco. Tapos ikaw pa-mysterious pa 'yung entrada mo kasi medyo late ka pa pumasok sa studio. So nung pumasok ka talaga sa studio, as in, parang nag-slow mo 'yung mundo ko."
First To Say 'I Love You'
Rico: Ako.
Rico: Nag 'I love you' ka rin ba agad?
Maris: Sumagot ako pero nabigla ako.
Anyone who gets an 'I love you' from Rico Blanco would surely stutter! We feel you, Maris!
How Did We Meet?
On December 2018, Maris shared on Twitter that she's looking for a creativity partner who could share his input about her music. Fans acted quickly and tagged Rico Blanco, knowing that Maris is a huge fan of the singer.
Maris, then, admits that her tweet was actually intended for Rico to see. "Tinweet ko 'yun, hoping na makita mo 'yun."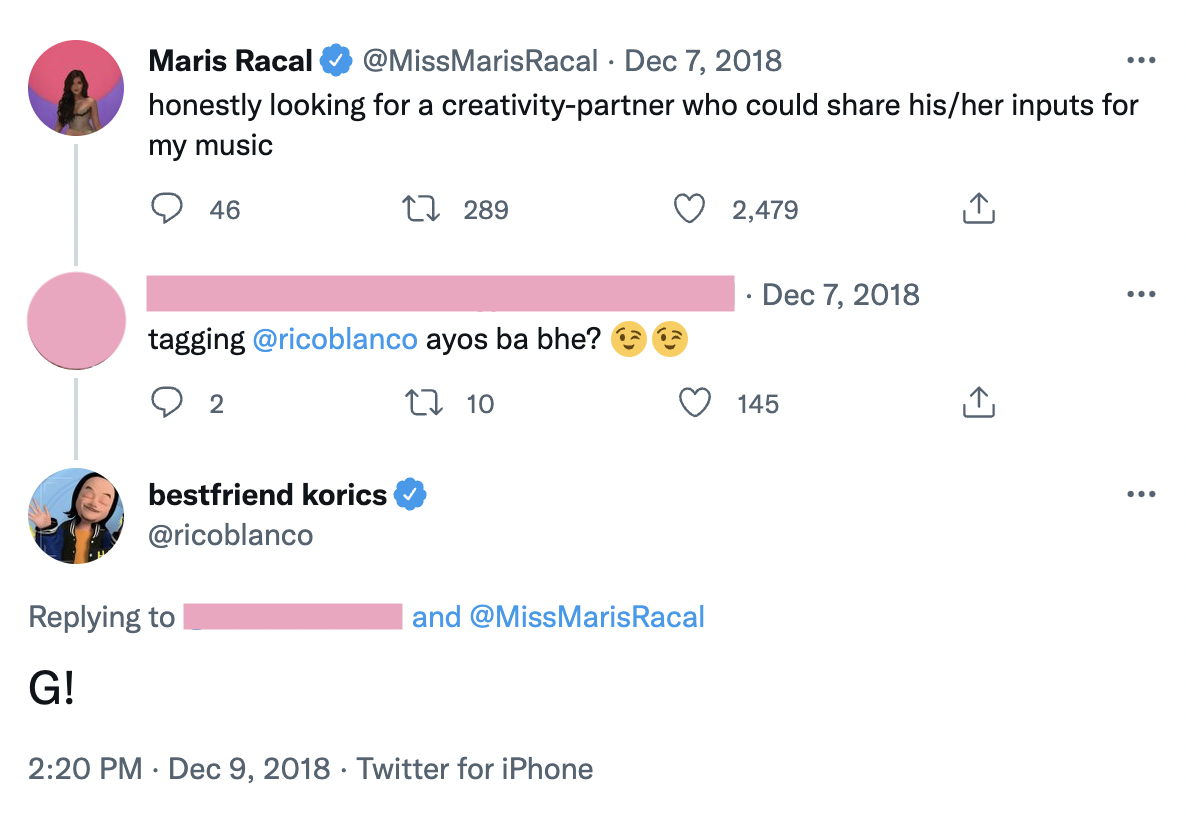 A couple of months later, they met at a studio to discuss and record music. A month later, Rico invited Maris to watch a movie together, and the rest is history.
We're *totally* feeling major kilig vibes right now!
Maris Racal and Rico Blanco confirmed their relationship in May 2021.
Watch the full video of 'One Hapon with Rico Blanco' here:
One Hapon with Rico Blanco | Vlog by Maris Racal
MORE ON MARIS AND RICO HERE:
Maris Racal Describes Her Relationship With Rico Blanco: 'Masaya lang, magaan. Happy'
Aww, Rico Blanco Joined Maris Racal's Family For Her 24th Birthday
WATCH: Maris Racal Drops Bisaya-Tagalog Song 'Asa Naman' Co-Written By Rico Blanco
EXPLORE COSMO