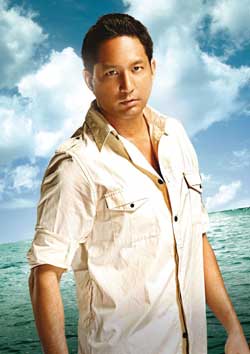 Now delivering expected numbers in the ratings game, Survivor Philippines Palau is also fast becoming the most talked-about primetime show these days.

We're quite sure you've noticed the hunk-fest going on, led by dreamy 18-year-old Marvin Keifer and half-Jap Piko Aragon, who now calls himself Suzuki Sadatsugu.

Metrosexual model Vlad Nessa looks deliciously meaty, while tough-looking boy-toy-wannabe Louie Ang did nothing in the pilot week but "fencing"—that is, binabakuran ang girls, teehee.

But handsome faces and yummy six-pack abs aside, the show uses the intriguing sexualities of some of its castaways as a twist. For one, there is a rumored transsexual among the girls, and the surgical hand is pointing at beauty queen Justine Ferrer, allegedly formerly known as Justin. And are there really X-men in the line-up? That is, Ex-Men, or persons who used to be men? We're checking the finger snap, ladies.

Survivor Philippines Palau airs on GMA-7's primetime block and is hosted by Paolo Bediones.
Continue reading below ↓
Recommended Videos

View our gallery to see some of the castaways.
59