The hearts of JaDine fans are breaking everywhere after photos of Nadine Lustre and her rumored new boyfriend went viral.
Nadine was spotted shopping at a mall, holding hands with a man whom netizens have speculated is French businessman, Christophe Bariou.
Fans took to Twitter to air their brokenheartedness after the pictures made the rounds online.
ADVERTISMENT - CONTINUE READING BELOW ↓
"BRB the user is crying."

Other fans took the opportunity to express their gratitude to the former couple. 
"This may be inappropriate or insensitive or whatever, but my JaDine heart is breaking for the second time. Nothing has ever convinced me yet that they weren't meant for each other."


"JaDine fan since I was 11 years old, April 7, 2014."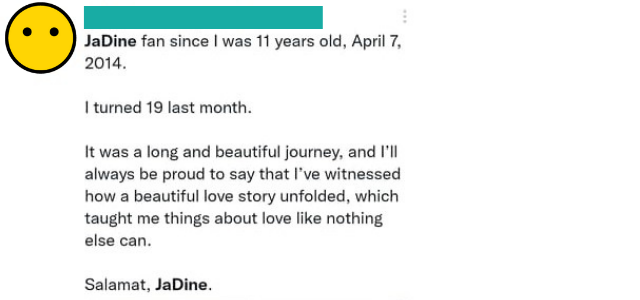 Other JaDine fans, meanwhile, shared their support for both James and Nadine's happiness.
"JaDine will always have a special place in my heart. And if they both find happiness in someone's arms, that's okay. I will still support them all throughout."


"James and Nadine might not be the endgame, but I'll always be grateful for the love story they shared with us. As long as they're both happy, it's a happy ending for me. Thank you, JaDine. I'll always and forever be a proud JaDine fan."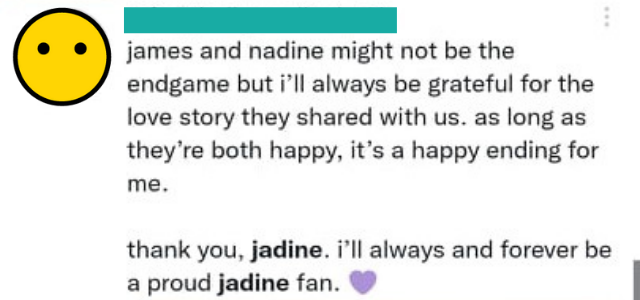 James and Nadine first went Insta-official in February 2016.
ADVERTISMENT - CONTINUE READING BELOW ↓
In January 2020, the two issued a joint statement confirming that they had officially broken up. According to the statement, they agreed to go their separate ways as they wanted to focus on themselves not just for their career, but for their personal growth as well. 
While fans were extremely saddened with the news, many still clung on to the hope that the two had somehow gotten back together, as they would occasionally hang out with friends on trips, post *subtle* birthday greetings, or work on music for Careless Music, James' music label, under which Nadine is a recording artist.
In a June 2021 interview with journalist Karen Davila, Nadine revealed that she and  James had broken up in November 2019, saying that "it wasn't really a bad breakup," that they just wanted to "work on ourselves," and that no third party had been involved. She also shared that she considers James her great love.
ADVERTISMENT - CONTINUE READING BELOW ↓
"Hindi siya yung basta basta lang na pa-sweet lang. Marami akong natutunan doon sa relationship namin and a lot of me changed because of that."
Rumors spread in August 2021 that Nadine and Christophe were dating after they were photographed together by locals in Siargao.  
In an interview during the same month, talk show host Boy Abunda asked James if he was ready to see Nadine with a new suitor.
"I don't think anyone in that situation is really excited to see their ex with someone else, but you know, that's not my choice," James replied.
He was also asked if, given the chance, he would allow Nadine to date someone else or not, to which he responded, "I'm not her husband, neither am I her father, so she can do whatever makes her the happiest."
In the interview, James also emphasized that he and Nadine still remain very good friends and that "she's always going to be very special to me."
ADVERTISMENT - CONTINUE READING BELOW ↓