I hopped off a plane at LAX with major jetlag and a cardigan (I was literally wearing one—it was gray, FYI) one afternoon in March. In spite of being dead tired from traveling for over 16 hours, I couldn't shake off the combination of nerves and excitement I was feeling—plus, the internal screaming happening in my head was getting much too loud. I was, for a fact, meeting the internet's favorite boyfriend, Noah Centineo, the very next day. And all I could say was, "Whoa…" (and a bunch of other expletives, TBH.)
The 22-year-old actor's breakout role was in Netflix's To All The Boys I've Loved Before in 2018, and he subsequently broke the internet with his lazy smile and boy-next-door charm. Today, he's starring in a new Netflix rom-com, The Perfect Date, and Cosmopolitan Philippines was lucky enough to sit down with Noah and his co-stars Laura Marano and Odiseas Georgiadis for a full 25 minutes.
In case you haven't seen the trailer by now, The Perfect Date's plot goes as such:
"Brooks Rattigan (Noah) has the academic chops to get into his dream Ivy League school, but what he's missing is an outstanding extracurricular—and the money. When he seizes an opportunity to make some extra cash by posing as the boyfriend of a self-assured, combat boot-loving girl named Celia Lieberman (Laura), he finds he has a knack for being the perfect stand-in. Together with his programmer friend Murph (Odiseas), Brooks launches an app selling himself as a plus-one for all occasions. Along the way, he meets the girl of his dreams (Camila Mendes). But when business starts to boom, Brooks must reassess everything he was once sure of."
Continue reading below ↓
Recommended Videos
As most first dates go (well, in this case, an interview), let's start with first impressions. When it came to our roundtable interview with the cast, the first of the trio to come and meet us was Odiseas or Odi, a former The Voice contestant, who was fresh off a plane from New York and sauntered in wearing an all-white ensemble with his full-on swag.
...And then came Noah. "Philippines in the house!" he said with his booming voice and instantly lit up the whole room. He shook hands with each of us (like what a Popular Kid does), and I swear, it was like seeing Peter K passing through the halls.
A few moments later, Laura, a singer-songwriter and former Disney star of Austin & Ally, breezed through the doors with the brightest smile ever and hopped over to join the two boys in their seats.
With their non-stop chatter throughout the whole interview (at some points, they REALLY went on and on and on!), there's no doubt these three co-stars are even greater friends in real life. Read on as they talk more about their film, Noah's Internet Boyfriend status, and what they really look for in a *perfect* date.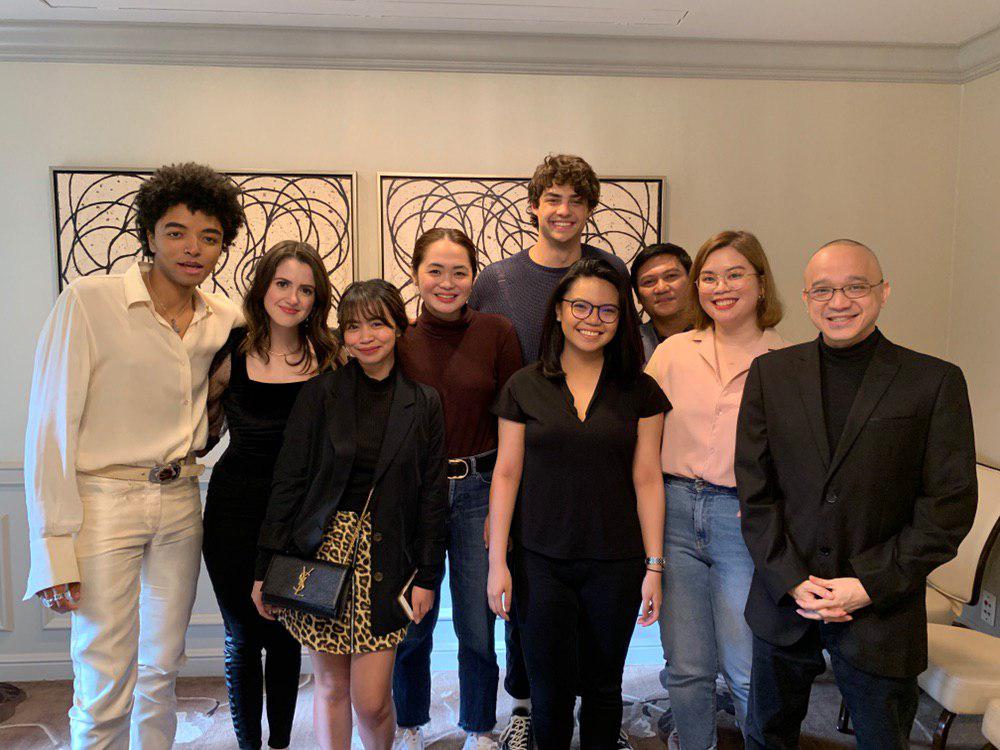 The Perfect Date is available on Netflix starting today, April 12.
***
On how Noah feels being called an "Internet Boyfriend":
Noah: I think it's… endearing.
Laura: What a word!
Noah: I think it's endearing. I think it's like cute. I think it's awesome. I'm appreciative, you know. It's nice.
Laura: But I love that that happened after you had filmed this movie where you play everybody's boyfriend.
Noah: It's true! I think it's definitely weird. It's a weird coincidence. I just keep playing boyfriends.
On Noah being a Bench endorser and coming to Manila:
Noah: I'm actually gonna be coming to the Philippines. I believe [I'm coming] to Manila at some point this year. It should be very fun. I can't wait to see you guys.
On being part of this project and having a platform as huge as Netflix:
Laura: For me, I am so beyond excited. Of course, Netflix has such a huge reach. And globally—
Noah: A hundred thirty-nine million subscribers in a hundred and ninety plus countries. It reaches them instantaneously.
Laura: It's obviously one [medium] where everyone around the world can watch at the same time. That's so exciting. But for me, it's all kind of "in the moment." What I love was that filming was such an amazing moment and just doing press with you guys has been an amazing moment. It's just important to live that and hopefully, people like it.
Odi: [This is] the biggest [project] so far, for me, out of these two—'cause, you know, [they've done] To All The Boys, Austin & Ally. But in terms of [the] potential to become so huge, this is definitely my first role of the kind. Even coming into this, it was amazing just doing the project, working on it, trying to be my very best in this character, and then [I] let it all go and give it to God. 'Cause to me, I don't wanna guess what's going to happen.
On their thoughts about the movie after watching it:
Odi: When I saw the movie and saw the whole cast, I was like, "Wow."
Laura: Everyone killed it.
Odi: Laura made me laugh so much in this movie. You were so hilarious and so good in this movie as Celia. Amazing, amazing!
Laura: I was texting Noah and I was so freaked [out]. I was like, "I hope it's good, I hope it's really good." I'm texting him and he was not helping the situation.
Noah: I was like, "It's terrible. It's so bad."
Laura: And then I saw it and I was so happy! I'm really proud of it and I'm really proud of everyone. I think it's really cute. I love it.
On the difference between Noah's acting in To All The Boys compared to The Perfect Date:
Odi: From top to bottom—especially in the emotional scenes—it was the first time I've seen you in something like this. 'Cause in To All The Boys, I saw that you went in but you had more of a chance to really take this role [in The Perfect Date] and you really did it, bro. I didn't see any untruth in the acting. It was amazing.
Noah: I chalk it up to you, though. I mean, you know, acting is reacting.
On the qualities they look for in a *perfect* date:
Noah: I look for someone who is into taking care of themselves—physically, I mean. Like, they're committed to yoga, they're committed to hiking, they're committed to something—that they take care of their body... Someone who gives off the vibe that they give a shit about this world, this planet, the people inhabiting it. Someone who listens but also knows how to speak and communicate effectively and isn't afraid to do so.
Laura: My date would be in a bookstore. He would be a barista. I'd plan the date like it's our first time meeting—and so he's a barista, I'd come over and order tea. I would want him to have some sort of accent!
Odi: For me, any girl that I'm looking for—I don't look at just the physical—of course, there has to be an attraction between the both of us. But after that, she just has to be her, to have her own thing… Someone who's funny… If she's [being herself], that's about it. Then we could go on from there… I can't be with anyone who treats other people differently. I feel like I want to be with someone who treats everybody equally with the same amount of respect, and who knows herself.
Noah: Also somebody who's sexually on lock. The sex has to be fire too! It's important! People are like, it's not important. But like, "Come on, really?" It's important. Let's be honest! We have to connect on all these levels to [be] best friends. But we're a little more than best friends too. We would wanna rip each other's clothes off!
Follow Jacinda on Instagram.