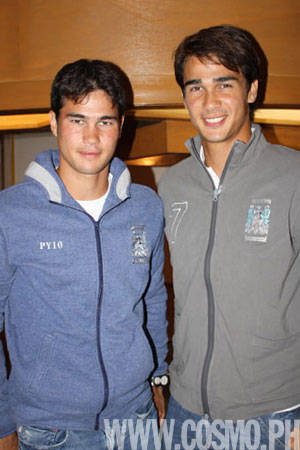 In times of personal tragedy, often the best we can do to console someone is by sending them our positive thoughts and prayers.

It was reported that Phil and James Younghusband's mother, Susan Placer-Younghusband, passed away last Saturday due to heart attack at age 49. Her English husband Philip died of cancer eight years ago, leaving her to care for their two sons and young daughter. The Azkal brothers have just returned from their football training in Bacolod to be with their family during this sad time.

The Cosmo Centerfold brothers have always been very close to their family, frequently mentioning them in interviews. "Our dad passed away when we were only 16 and 17, so football is what got us through that," said Phil at a press conference last March. "Being Filipino, we're very family-oriented. We're very close with our family, close with our mom, close with our sister, and it's important that we're there for them to support them."

James, who is the eldest among the siblings, also spoke in the past of their strong family ties, saying, "The number one trait of being Filipino is putting your family first, and that's what me and Phil are very enthusiastic about—how important our family is to us—and we really want to show that to everyone."

Last June, Phil even named their mother as one of their inspirations: "We have great people around us—our mom and basically everyone. They make sure that we stay grounded. We were raised well."

We hope you girls can send out your condolences and prayers for the Younghusband family in this difficult time. James and Phil, your Cosmo family is praying for you guys.
Continue reading below ↓
Recommended Videos