Reply 1988 is just one of those dramas you just can't easily move on from. It was released in November 2015 and the finale aired in January 2016, but over four years later, here we are, still so emotionally attached to all the characters from Ssangmun-dong. (Which is why we also freaked out when a mini Reply 1988 reunion happened just recently! And yes, it looks like Ryu Jun Yeol, aka Jung Hwan, was *actually* present, too!)
In a perfect world, we'd all have great childhood friends/neighbors like the Ssangmun-dong crew. And in that world, we could also possibly date one of our cute kapitbahays and grow old together, lol. But because this is real life, the most we can do is list down and rank the Reply 1988 as our *dream* boyfriends. 
Warning: Minor Reply 1988 spoilers ahead!
Disclaimer: We'd totally date any one of the Reply 1988 boys, but if we had to rank them, it would be:
Dong Ryeong


Who doesn't love a funny guy? We sense that being with Dong Ryeong will bring so much laughter into your life. He's also quite practical and street smart, so you *know* you'll be in good hands. Dating Dong Ryeong could require a lot of patience though, as we know how truly mischievous he is!


Lee Dong Hwi plays the role of Ryu Dong Ryong in "Reply 1988". Twitter/reply_tvN

Continue reading below ↓

Recommended Videos

Sun Woo


Sun Woo's adorable relationship with his mom and little sister is so heartwarming that we're fully-convinced that he'd be *the perfect* boyfriend. We also loved his persistence—from finishing med school to making it work with Bo Ra noona. And we can't not talk about his highschool to med school glow up! 


Go Kyung Pyo plays the role of Sung Sun Woo in "Reply 1988". Twitter/reply_tvN

Taek


Okay, we bet you thought we'd put Taek in first place. But in the series, he already got the girl, so we're changing things up a bit. Choi Taek has the purest heart and the most pogi face. He's also pretty much set for life with the amount of winnings he earned throughout his career, lol. Taek, however, is kind of *too* innocent and clueless, that we feel like we might end up taking care of him, too, haha! Still, with that cute smile, it wouldn't be hard to fall in love with Taek. (P.S. Sana all, may kapitbahay na kasing gwapo ni Park Bo Gum!)


Park Bo Gum plays the role of Choi Taek in "Reply 1988". Twitter/reply_tvN

Jung Hwan


Out of the boys of Ssangmun-dong, we think Jung Hwan is top boyfriend material. He might have been slow in showing and acknowledging his romantic feelings for Deok Sun, but we're pretty sure that his feelings were pure and true. And honestly, we can't help but think that we all have a Jung Hwan in our lives—that friend who silently takes good care of us without us realizing it. Jung Hwan also chased after his dreams and made it happen. We love a driven man!


Ryu Jun Yeol plays the role of Kim Jung Hwan in "Reply 1988". Twitter/reply_tvN




Bonus: Jung Bong
Tbh, Jung Bong was the *cutest* boyfriend in the series! He showered his girlfriend with affection and stayed loyal and patient, even after all the mishaps that happened between them. He wrote cute letters and prepared gifts—ang sweet talaga! Also, we all know this hyung is *very* lucky, so maybe his luck could rub off on you, too?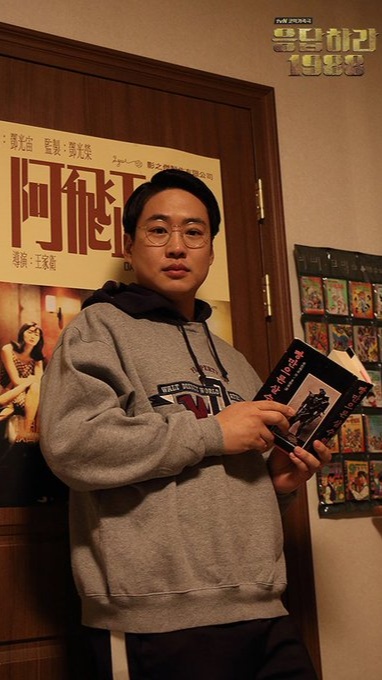 Follow Retty on Instagram.
K-UPDATES