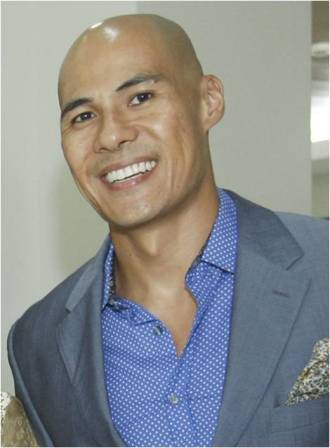 We love a man who's game for anything and loves trying out new things. Case in point: Rovilson Fernandez. With a hankering for travel, a thirst for thrills, and an easy charm that would serve him well anywhere he goes, this TV host and sports enthusiast can take us out anytime!

We recently caught up with the Ang Pinaka host and World Wide Fund for Nature (WWF) ambassador during the launch of the Singapore Tourism Board's latest campaign, where Rovilson shared his unforgettable experiences in the Lion City.

"I would consider Singapore as my second home. If you look at my passport, second to the Philippines, the next most abundant stamps are from Singapore. For such a small city-state, they keep reinventing themselves," he said. "And you would think you would get sawa with the place. But within the last five, six years, they've grown exponentially and phenomenally."

Rovilson likes to party hard, and he enjoys bar-hopping with his barkada in SG. He clued us in on his favorite Singapore hotspots, spilled his travel recos, and walked us through what a date with him in the Lion City would be like. Read on below!

Name some of the places you love visiting wheneever you're in Singapore.

I'm a big foodie. You don't fully immerse and experience a place until you eat their food. The hawker centers are just phenomenal. I'm [also] a big fan of these boutique-style restaurants in this place called Dempsey Road. That's [a] wonderful place for barkadas, families, and couples.
Personally, I'm over shopping. But when I go to Orchard Road, it's the little things that people miss out on. You people-watch, you look at the streets, every fifth car is a Ferrari or a Maserati, you have street performers, you have these architecture and infrastructure that are so whimsical and so cool, like the Ion [Orchard].
They also have so many wonderful parks, like Sentosa, of course, not just for the beach, but also a great place to jog. They have a very vibrant art scene as well.

What are your tips for barkadas who want to have a stress-free trip?

Before you go with your barkada, it's best to set an itinerary--'Hey, what do you guys want to do?' Because some people might not want to do some things. So let everyone know, 'Okay, this is what we're gonna do.' Manage [the] expectations of your friends. 'Cause there's just so much to do and people want to go in different directions. Its greatest asset is also its biggest curse. They have so much to do and everybody wants to do it. Just plan it out.
What five travel essentials do you bring during trips? 

The carry-on bag would always have a scarf. I get cold easily, like in airplanes. Man, that airconditioning is so cold. I just have Chap Stick for some reason. Hand sanitizer. A cellphone. And sunblock. Protect your skin. It's the largest organ in your body.
If you could bring your dream girl on the perfect getaway in Singapore, where would you take her?

I would do a dinner in the hawker center, not in a nice place. After that I would go to Singapore Flyer and rent one of the carriages. They have a champagne-brunch carriage where you can rent it out. It's quite romantic, actually. I've never been [there], but I've heard it's really nice.
And then dance the night away at the top of Marina Bay Sands. You see the whole city. I think the name of the place is Ku De Ta, the name of that bar up there. Gamble a little bit downstairs. After your feet are tired, go upstairs to the world's highest infinity pool and just kick your feet in and relax and just have a nice chat.
And then breakfast in Sentosa. Mimosas in Sentosa. I'd take her shopping in Orchard. I'd take her to her favorite store and buy one item there.