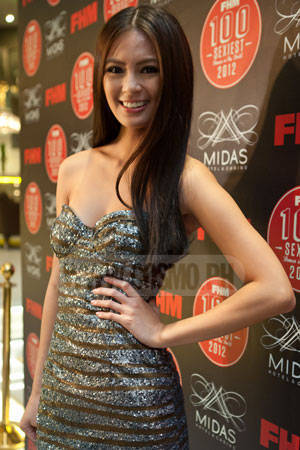 What exactly makes a woman sexy? We couldn't think of a better person to ask than Sam Pinto, who was proclaimed the #1 hottest--for the second year in a row--at the FHM 100 Sexiest Women in the World Victory Party, held on July 12 at the World Trade Center.

We caught up with the certified babe at the press conference held prior to the party. An obviously excited Sam said, "I feel very happy and very honored to hold this title again. It's crazy! And I'm also very grateful to everyone who supported me."
Sexy, for Sam Pinto, is being able to accept yourself for who you are and being confident in everything that you do. "You just have to be comfortable with yourself," she said simply. Sam considers her eyes to be the sexiest part of her, though we're sure boys and girls alike have a hard time figuring out what feature stands out for this overall babe.
ADVERTISMENT - CONTINUE READING BELOW ↓
And while she totally rocked her curves in her body-hugging strapless sequined party dress, Sam revealed that she feels sexiest just keeping it casual in a T-shirt and a pair of shorts. But then again, this statuesque stunner would look drop-dead gorgeous in any outfit she puts on.
When asked who she considers the sexiest female celebrity, Sam gushed about Angelina Jolie. "Oh my gosh, I'm such a fan! 'Cause she's super hot, super sexy, and she can kick butt."
Launch the gallery to see exclusive photos of Sam Pinto at the FHM press con and find out how she fielded even the most controversial questions thrown at her with fun and grace.
2074