New celebrity mom Solenn Heussaff is slowly getting back to her fitness routine.
Two months after giving birth to daughter Thylane Katana, Solenn started doing uphill walking, biking, and lightweight exercises.
In a recent Instagram Story, the GMA-7 actress wrote that she plans to add "light squats and long sesh on the bike" by next month.
Eventually, she wants to include "boxing and doing abs" in her fitness routine.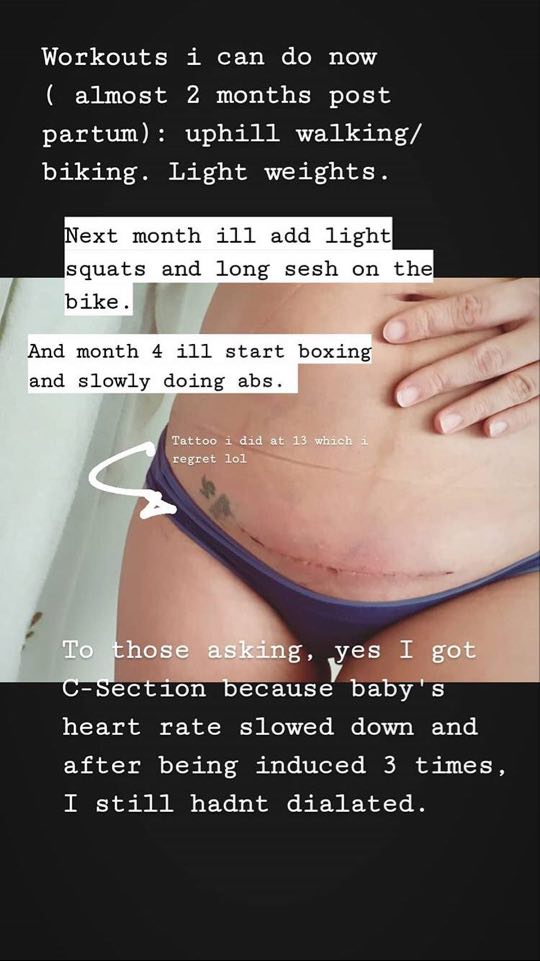 ADVERTISMENT - CONTINUE READING BELOW ↓
In the same Instagram story, Solenn revealed she delivered Thylane via cesarean section or c-section.
The first-time mom said, "To those asking, yes I got [a] C-section because [the] baby's heart rate slowed down and after being induced three times, I still hadn't dilated."
Solenn and husband Nico Bolzico welcomed daughter Thylane on January 1, 2020.
In an article written by senior physiotherapist Hanna Dabbour for Baby Centre UK, the first six weeks after the procedure is "a time for healing."
But a new mom can safely begin doing "pelvic floor exercises" as soon as she "feels up for it" after her baby's birth. 
Pelvic floor exercises are designed to strengthen the core muscles.
Dabbour added that new moms try standing up properly "as much and as often as possible" will also "strengthen your stomach muscles and protect your back."
Standing up straight and doing "gentle tummy exercises" can help the scar "knit together more strongly." 
And to shed the extra baby weight, Dabbour recommended brisk walking, swimming or cycling.
She wrote, "You may only be able to do 10 minutes of exercise to begin with, but you will gradually get stronger."
But Dabbour emphasized the importance of taking one's time when getting back to a full, intense fitness routine.
"The effects of pregnancy hormones can affect your joints for up to six months after birth, so wait before doing any high-impact activities such as running, aerobics classes, and similar.
"Pregnancy lasts nine months, so allow yourself at least the same length of time to get back to normal...
"Start slowly and gradually increase how hard you work and how long you exercise for.
"Always listen to your body. Your scar and your stomach muscles react best to consistent, regular exercise-not training to exhaustion."
And, of course, be mindful of your safety. it is important to always consult with a specialist before taking on any postpartum exercises.
ADVERTISMENT - CONTINUE READING BELOW ↓