*June 1, 2021 Update* 
Ever since Love Alarm Season 1, our bb Song Kang has been sooo busy and we couldn't be happier for him! His Instagram following shot up + he has been receiving drama offers right and left. Song Kang officially debuted as an actor in 2015, and he's played a cute delivery man, a composer's assistant, and a vampire's love interest! He was also an MC for the popular variety show Inkigayo, and he has starred in the music videos for "Sweet Summer Night" and "Love Story."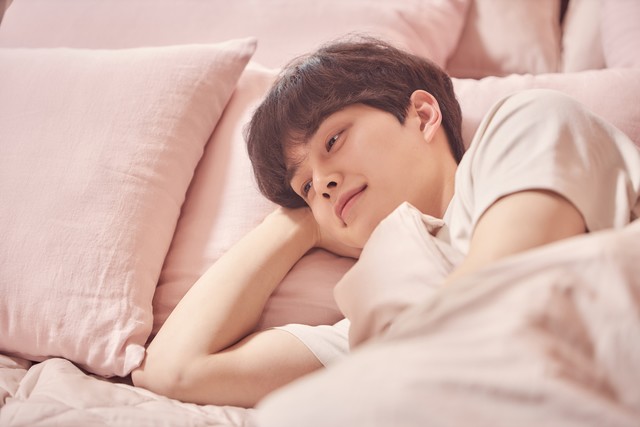 ADVERTISMENT - CONTINUE READING BELOW ↓
We know you love him, so here are all the Song Kang dramas you need to watch right now: 
1. Hello, Spring (2015) 
Where to watch it: YouTube
This mini-series with four episodes features college students experiencing romance! 
2. The Liar And His Lover (2017) 
Where to watch it: Netflix
In this drama, "a talented singer falls in love at first sight with a music prodigy who has an affinity for lies—and a knack for being a hit-making producer." (Via Netflix) Although he doesn't play the lead role, Song Kang has a super cute role as a high school student. You can see him in the background in the clip below: 
3. Man In The Kitchen (2017) 
According to Viki, this is "a story of a middle-aged man's fight to stop his family from falling apart." Song Kang plays a supporting character named Kim Woo Joo. 
4. Touch Your Heart (2019) 
Where to watch it: Netflix, Viu 
"Hoping to make a comeback after a bad scandal, an actress agrees to research a new role by taking a job as a secretary for a prickly attorney." (Via Netflix) Song Kang had an adorable guest role as a delivery man! Look how cuuute: 
5. When The Devil Calls Your Name (2019) 
Where to watch it: Viu 
This drama where people literally ~sell their souls to the devil~ for fortune and fame stars Jung Kyung Ho as a famous composer. Song Kang plays his "rookie" assistant, and he was honestly so amazing in this series. Watch one of his super emotional scenes below: 
6. Love Alarm (2019) 
Where to watch it: Netflix
What if there was an app that could tell you if someone loves you within a 10-meter radius? In this drama, a high school student named Kim Jo-jo (Kim So Hyun) gets caught in a love triangle between two best friends played by Song Kang and Jung Ga Ram. The first season aired in 2019 and the second one was released on March 12, 2021. 
ADVERTISMENT - CONTINUE READING BELOW ↓
7. Sweet Home (2020) 
Where to watch it: Netflix
If you're in the mood for monsters and the supernatural, check out Sweet Home! According to Netflix, Sweet Home portrays a "dystopian world where people turn into monsters overnight or get killed by the monsters their family, friends, and neighbors turned into, and various faces of humanity struggling to survive in the midst of an unimaginable disaster." Song Kang plays the lead character Cha Hyun Soo, an 18-year-old who lost his family. 
8. Navillera (2021) 
Where to watch it: Netflix
OMG, Song Kang is a legit ballerina in this show! "Navillera tells the story of a 70-year-old former mailman who has always wanted to pursue ballet and a 23-year-old ballerina who's unsure of what he wants as he goes after his dreams." Watch the first *emotional* trailer from Netflix below: 
9. Nevertheless (2021) 
Where to watch it: Netflix 
Song Kang will be starring opposite Han So Hee! Nevertheless is based on a webtoon called I Know But and the story revolves around two 22-year-olds: Yoo Na Bi and Park Jae Uhn. "After a failed first relationship, Na Bi doesn't believe in love anymore but wants to date around. Jae Uhn, on the other hand, is the biggest flirt and heartthrob but doesn't see the point in dating." For more info about the upcoming drama, click here. 
ADVERTISMENT - CONTINUE READING BELOW ↓
10. Cruel Story Of Office Romance
Nothing's totally *confirmed* yet, but rumor has it Song Kang is starring opposite Park Min Young! The drama will be about people who work at a weather forecast service. If this pushes through, Song Kang will be playing the role of Lee Si Woo, "a guy who can appear clumsy and dumb but has an IQ of 150 and is serious about his job at the service." (via Soompi) 
Bonus: Beautiful Vampire (2018) 
It's a Song Kang movie—and a funny one at that. According to Han Cinema, this film is about "a beautiful 500-year-old vampire who lives a quiet life running a dressing room in a secluded alley." Her peaceful life is shattered when she meets a young man whose smell "stimulates her vampire instincts." 
***
We're officially on Viber! Be part of our growing community and subscribe to Cosmopolitan Philippines now!