SUPER JUNIOR fans, can you believe that DONGHAE and EUNHYUK will be celebrating their 10th anniversary as a group on December 16, 2021? Since the sub-unit wasn't originally planned for, the aptly-titled album COUNTDOWN has a special meaning: "When you 'countdown', you set zero as the starting point and tend to count backward from ten to zero. We compared the number 10 to the past 10 years between the two of us, and counting down from 10 and eventually reaching 0 represents us starting up again. That's why the title track is also called "ZERO."
Before releasing the album, both members released digital singles. Talking about the difficulties they went through in preparing for COUNTDOWN, EUNHYUK mentioned that DONGHAE "struggled a bit with his bad knee" and he himself had a herniated disc in his neck—but they were determined to give it their all. While promoting D&E's new album, DONGHAE started to think more about health in general: "I can tolerate being sick alone, but to think that it might affect people next to me like EUNHYUK or my SUPER JUNIOR members, made me realize I should be more aware of my health so that I can continue to show the best version of myself."
Continue reading below ↓
Recommended Videos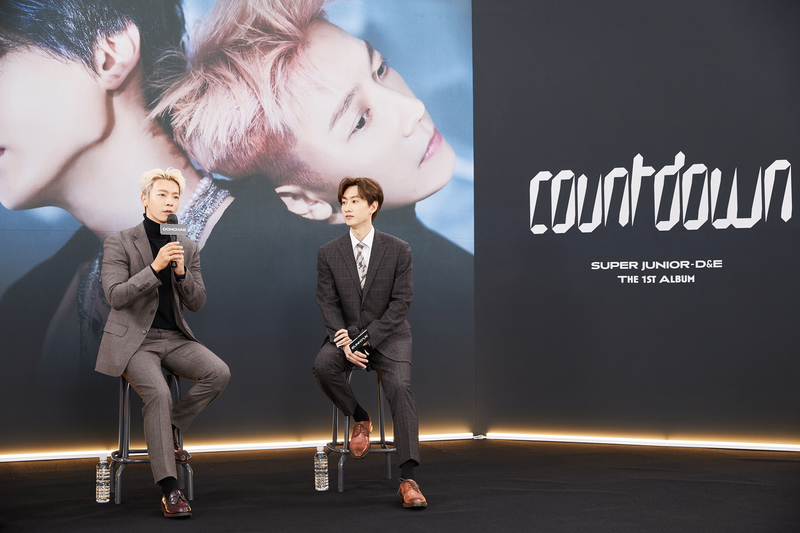 DONGHAE and EUNHYUK participated in COUNTDOWN's overall creation, from the album concept to writing lyrics, so how do they feel about how the album turned out? "If I were to give it a rate, I'd say it's 1,200 points out of 100. I mean the results came out to be much better than I had anticipated," DONGHAE said. "I feel the same, just like the saying 'off the charts.' That's what it feels like," EUNHYUK chimed in. "Every track, along with the cover, the booklet inside the album, and the various contents we released turned out great."
Was there anything missing, or something *more* they felt could have been done? The two immediately agreed—they were missing their members. Since this album celebrates D&E's 10-year anniversary, EUNHYUK stated "[Although it's D&E's album and there are separate albums for SUPER JUNIOR] it would have been nice and meaningful to have had our members' voices included in this album."
During the entire press conference, the chemistry between DONGHAE and EUNHYUK was quite obvious. They've performed on stage together for nearly 16 years, and been friends for longer than that. Emcee SHINDONG helped bring out their professional side, although it wouldn't be a SUPER JUNIOR event without some laughs (in this case, the two actually fell off their chairs laughing at one point!)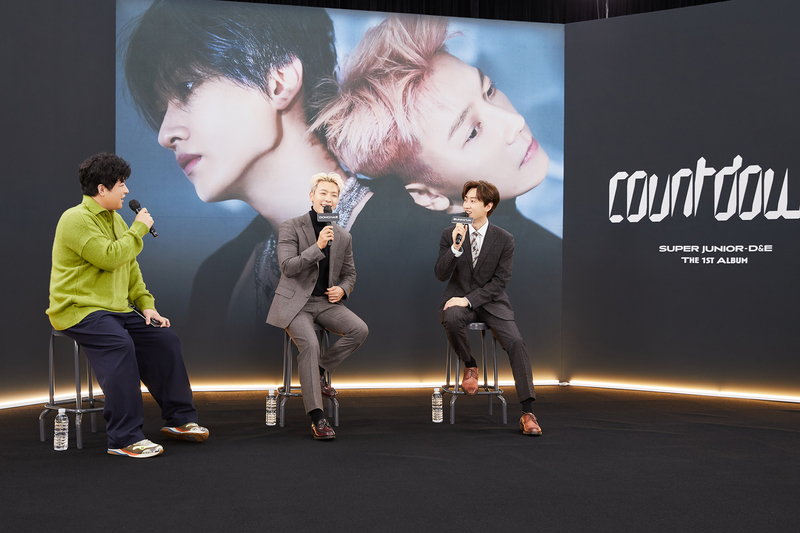 Here are more of the duo's thoughts on their first studio album:
Please tell us how it feels to be celebrating the 10th anniversary of SUPER JUNIOR D&E. What's the most memorable moment from the past 10 years?
EUNHYUK: It's a very meaningful moment for us to celebrate our 10th anniversary as SUPER JUNIOR D&E. It's hard to pick just one memorable moment, but there is one that just came to mind. I remember when we debuted with the song "Oppa, Oppa" and SHINDONG filmed our music video for us. At the time he filmed us in our green room, in the parking lot, and on stage as well. Back then, I never thought we would get this far, and that was also when SHINDONG started to pursue his dream of becoming a producer as well, so we all spent that first moment together. It's been 10 years since D&E and likewise, for SHINDONG as well, who has now produced various music video clips. This album holds a great meaning because it reminds me of all those memories from the past.
DONGHAE: My most memorable moment would be our concerts, which really just feel like a dream these days. When we held THE D&E concert in South Korea, we had the chance to meet a lot of our fans, and many reporters came to see the concert, too. I'd have to say that moment really stands out in my memory. We've had many overseas tours, but we made our debut as D&E with the song "Oppa, Oppa" in South Korea so our first concert here is a moment I'd never be able to forget.
Excluding the title track, what is your favorite track from the new album COUNTDOWN?
EUNHYUK: Excluding the title song, there is a b-side called "Home" which was written by DONGHAE, the most handsome songwriter I know. I personally really like the sentimental ballad songs that DONGHAE writes such as "One More Chance" and "Growing Pains." "HOME" is also a sentimental song like that, and it was actually one of the candidates for SUPER JUNIOR's album, but there was a bit more editing that needed to be done so we spent extra time working on it to include it in our D&E album. It's a really nice track!
DONGHAE: I personally liked EUNHYUK's "be" the most. To be honest, the song was supposed to be one of SUPER JUNIOR D&E's songs. Usually, when we receive demo tracks, we each pick the songs that we like and somehow, we tend to pick songs of similar style, which I think is also one of the reasons why we got this far. If we were to have done this track together, I think it would've been difficult because it requires a lot of falsetto, but EUNHYUK sings in falsetto really well! He really pulled it off, and I do like this song the most. I'm sure many of you have already listened to it, but I highly recommend giving it another listen.
You both tried out very different concepts with your solo tracks. How would you rate each other's solo track and activities?
EUNHYUK: "California Love" really suits DONGHAE! It's a track that shows off his easygoing side on stage fairly well, and on top of that, his vocals go right with it.
DONGHAE: EUNHYUK's solo single "be" is really a style of song I like, and I really like how his movements are so relaxed yet beautiful. He really fills the stage with his performance.
As longtime friends and as artists, please tell us about each other's strengths.
EUNHYUK: I think one of DONGHAE's best features is his appearance which hasn't changed over the past 16 years!
DONGHAE: I think one of EUNHYUK's strengths is that he's always working hard. Also, one of the reasons why we're able to celebrate our 10th anniversary as SUPER JUNIOR D&E is because EUNHYUK is always down to try out whatever I suggest. I trust and rely on EUNHYUK a lot and he always makes me feel comfortable, so without that, we probably wouldn't have made it this far.
What is your favorite song from the album, ELFs and byeolnims? Let us know in the comments!
Follow Andie on Instagram and Twitter. 
MORE SUPER JUNIOR STORIES RIGHT HERE:
10 Super Junior D&E Songs You Shouldn't Sleep On
*Everything* You Need To Know About Super Junior D&E
7 Must-Watch Dramas And Movies Starring *Super Junior* Members