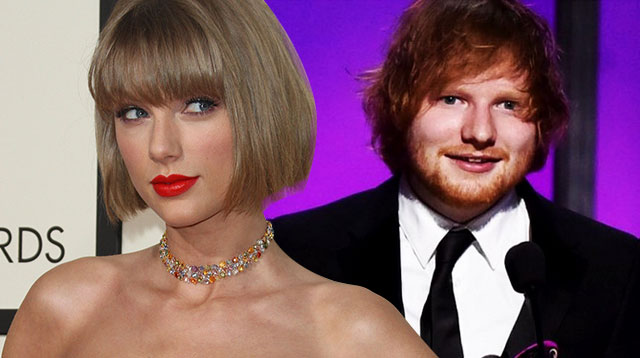 (TAYLOR) Adriana M. Barraza/WENN.com, (ED) Instagram/taylorswift
Taylor Swift wrote a touching message to her BFF Ed Sheeran to celebrate his 25th birthday.
The "Shake It Off" singer became close friends with the British singer when he joined her on her Red tour in 2013. To celebrate his 25th birthday on Wednesday she wrote Ed a message on Instagram to tell him how proud she was of his success.
ADVERTISMENT - CONTINUE READING BELOW ↓
Alongside a picture of Ed accepting one of his two Grammy Awards on Monday, Taylor recalls her favorite moment of their friendship, writing,
"Looking back on the highlights of my life, there's a moment I'll never forget from a day in London about two years ago. I was in town to play the O2 and I was out shopping on my day off. My friend Ed Sheeran met up with me in this little shop where I was buying ballet shoes. He walks in and says 'you have to hear this new song. I think it's the best one I've ever written...'
She admits she cannot believe how well "Thinking Out Loud" has done since that day, adding,
"Little did we know it would go on to be [the] first dance song at countless weddings all over the world, become Ed's biggest hit, and eventually go on to win him Song of the Year at the 2016 Grammys."
Taylor recalls how Ed used to rush into her dressing room on the Red tour and play her new songs and she concludes,
"I don't think he ever knew how much it meant to me that he wanted me to hear his songs first. I don't think he ever knew how inspired I was by his drive and passion to constantly create new art. But it's his 25th birthday today, so I'm saying it now. You deserve everything you have, and everything you will continue to achieve, Ed."
Sheeran has not responded as he is currently taking a break from social media and his music career. He appeared at the Grammy Awards simply because he suspected he would win a prize if he did not show up.
He told Britain's The Sun newspaper, "I wasn't going to attend even after getting nominated, because I've been the last three years and always lost... But then it's going to be Sod's law that this would be the year I get it if I didn't go. So I'm going to go and if I don't get it, I won't go again."
He won Song of the Year and Best Pop Solo Performance for "Thinking Out Loud."
Adriana M. Barraza/WENN.comA