My OG oppa, Lee Min Ho, was a huge part of my teenage years! I would rush home from school every day instead of hanging out with friends just to catch Boys Over Flowers on TV. What can I say? Curly-haired, arrogant, charming, and rich "Young Master" Gu Jun Pyo captured my heart and I wished with all my might that I could be his leading lady, Jan-di (Ku Hye Sun), for a day. 
I've been on the lookout for The King: Eternal Monarch, his comeback drama with Kim Go Eun, for months now, ever since it was announced last year. A K-drama revolving around parallel universes, plus Lee Min Ho playing the role of a king...just...wow. I have no words.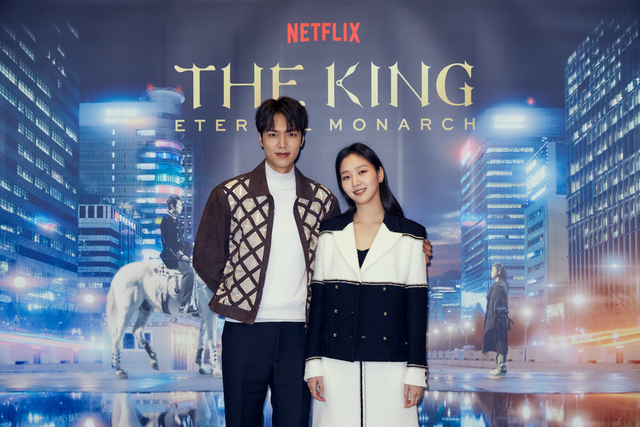 Continue reading below ↓
Recommended Videos
So, getting to interview Lee Min Ho, Kim Go Eun, and the rest of the cast during a roundtable video conference was surreal. Lee Min Ho was every bit as courteous as I expected, and he made everyone smile whenever he smiled. I could see that he and Kim Go Eun were already super comfortable with each other after working together. THEY WERE ADORABLE. 
We talked about parallel universes, preparing for their roles, and how they built up *that* bromance.
Lee Min Ho 
Lee Min Ho plays the role of Emperor Lee Gon, the 33-year-old ruler of the Kingdom of Corea, in a parallel universe where the country still has a monarchy. Lee Gon is an athlete, a mathematician, and he excels in martial arts. In short, his character is absolutely perf, although he has trouble opening up to other people.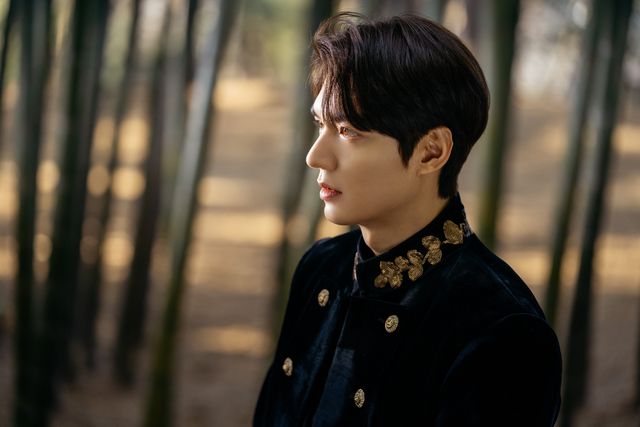 This is your first drama after three years. How does it feel to be back? 
Lee Min Ho: During my first day of shooting, I really didn't feel unfamiliar to the set at all. In fact, I had this feeling that I was right at home. I felt like I was where I was supposed to be. But soon after that, I think I was more focused on how I really wanted to make this [show] even better than what I've done previously.
Your character in the show is sometimes described as cold and aloof. How would you personally describe him? 
Lee Min Ho: I think it's more about Lee Gon not being able to express himself freely unless they were people very close to him. So, he wouldn't be the type of person to really express himself without a definite answer. Rather than describe him as being cold and aloof, I would say that he is more deliberate, thoughtful, and mindful.
What was it like working with Kim Go Eun? 
Lee Min Ho: I knew that I always wanted to have the chance to work with her onscreen because I saw her play out many different characters in the past. I was very happy to work with her. On set, she really has a variety of charms. Sometimes she will be like an older sister to me, but sometimes she will be like a much younger sister. I really think and hope that through The King, the viewers will also be able to see a lot more [of the] charms that she has.
Kim Go Eun
Kim Go Eun, whom we last saw in Goblin, plays two roles in The King: Eternal Monarch! The main character is a police detective named Jung Tae-eul, whose father runs a Taekwando studio in the Republic of Korea. Her second role is Luna, an orphan in Lee Gon's world who will "do everything to survive."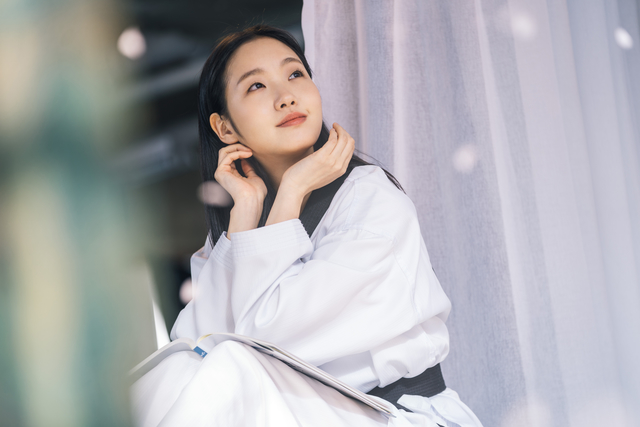 What's one memorable thing that you did in this drama for the first time? 
Kim Go Eun: For the first time, I put handcuffs on another person...Although I've never been handcuffed myself onscreen before, I think I played roles where the person should have been handcuffed. But my first time doing that to somebody else—it felt really new and it was interesting.
How did you prepare for your role as a police detective? 
Kim Go Eun: First of all, I took some Taekwondo lessons...I looked at a lot of interviews done by actual female detectives and I tried to look into what kind of mentality they had,  what they brought to their job, and what their working environment was like. I did these things because I wanted the viewers to see me onscreen and be convinced that I was somebody who has actually worked in that environment. As for the rest, everything was written in the script. So the personality, the tone of speech, or the vibe that the character had, I was loyal to the script.
Jung Eun Chae 
One character that I'm sure we're all excited to meet is Gu Seo-ryeong, played by actress Jung Eun Chae. In the show, she is the ambitious Prime Minister of the Kingdom of Korea and secretly has feelings for the emperor, although she sometimes uses him to her advantage as well.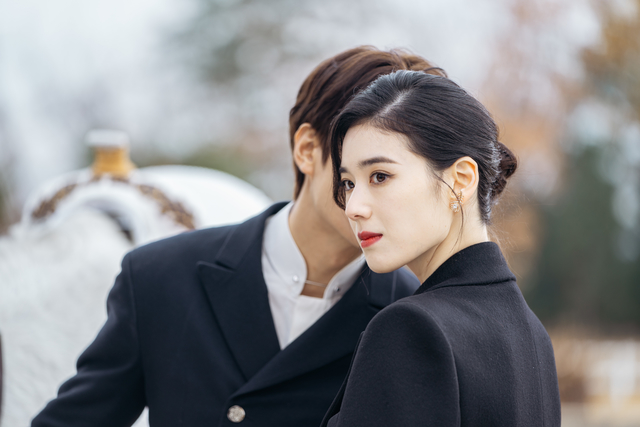 What was it like playing the second lead and Lee Min Ho's other "love interest?"
Jung Eun Chae: There is romance, but it is not exactly reciprocal. And we cannot call that romance a simple and pure one, either. There are a lot of emotions and a lot of circumstances that are intertwined with this particular romance, so if you watch this series from start to end, it'll be quite fun to [see] how her emotions change over time.
What should audiences look forward to the most about your character? 
Jung Eun Chae: My character Gu Seo-ryeong is the youngest and the first female prime minister in the series, and she's quite straightforward. She is not withholding her emotions. The viewers will be able to enjoy that feeling of excitement [while] watching her character, so I think that is a this is a very attractive part of her.
Woo Do Hwan 
Woo Do Hwan, like Kim Go Eun, plays dual roles in the series: Chief Royal Guard Jo Yeong and public service worker Jo Eun-seop. As Jo Yeong, he is the emperor's loyal "shadow," and as Eun-seop, he grows up being like a younger sibling to Jung Tae-eul.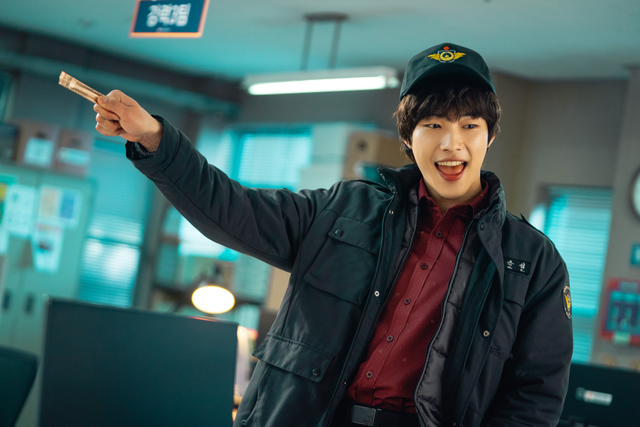 If you could choose to be either one of your characters, who would it be? 
Woo Do Hwan: I would choose the role of Jo Eun-seop over Jo Yeong because it is more fun to play Eun-seop. I get to use a lot of my energy portraying [him]. As an actor, it is quite entertaining to play the role of Jo Eun-seop.
Your character and Lee Min Ho's character are referred to as soulmates. How did you establish that bromance? 
Woo Do Hwan: Jo Yeong is a character who has been wanting to serve the Emperor from the age of four, and he wanted to make the Emperor happy from the age of four. His priority has always been the wellbeing and the happiness of the Emperor. We could say that his life is actually all about the Emperor himself.
Sometimes Jo Yeong would feel a little frustrated [with] the Emperor, and sometimes he would feel proud of [of him] as well. We could say that the bromance between the two characters is one that is developed between two people who are not exactly expressive of their feelings but still have deep, deep feelings towards one another.
Kim Kyung Nam 
Kim Kyung Nam's character Kang Sin-jae is Tae-eul's close friend and colleague who also has feelings for her. Ever since he was a kid, Sin-jae has had mysterious nightmares and has a lot of questions about them.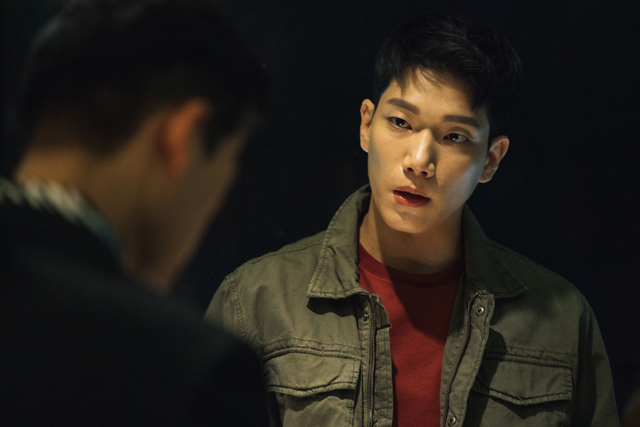 What kind of physical and mental preparation did you do before portraying your character? 
Kim Kyung Nam: A detective in the violent crimes unit should be well built, right? I made a lot of effort to look agile and well-built on the outside, and to make that happen, I had to cut back on my diet sometimes to lose weight. I think that actually prepared me mentally as well.
If you had the chance to enter a parallel universe, what sort of job would you be doing if you weren't an actor? 
Kim Kyung Nam: I think it would be quite fun to go into a parallel universe. It would be quite mesmerizing and it would be an entertaining experience for me. If I ever go into a parallel universe, I would still choose to work in the arts sector, maybe work on art or music. Those are things that I haven't experienced in real life. If I had another version of me in the parallel universe who has experiences in such fields, it would be quite fun.
You can catch new episodes of The King: Eternal Monarch on Netflix every Friday and Saturday at 10:30 p.m. 
*Answers have been edited for clarity. 
***
We are officially on Viber! Be part of the Cosmo Viber Community by clicking here! You can also visit the Sticker Market and download the "Cosmo Girl Sticker Set" here to be automatically part of the group. The stickers will only be available until April 27, so don't miss out on the fun!
Follow Lily on Instagram.