***There are technically spoilers for the To All the Boys sequel below. If you haven't watched the movie yet and want to go in totally blind, feel free to come back to this post another time!
To All the Boys: P.S. I Still Love You is finally on Netflix, and while it is a completely charming movie that is a great sequel to the first and will make you feel high school crush feelings all over again, there is one major problem. It's a problem with the whole series, frankly, but with the sequel in particular. Here it is: This movie, the entire plot, is literally not possible in the age of Instagram.
In the first movie, old love letters Lara Jean wrote (and addressed!) to her crushes get secretly sent out by her sister, Kitty. Disaster ensues, obviously, with her former crushes coming out of the woodwork to be like "Uhh...what?" Lara Jean and the boys she once liked still exist in the same social circle, so the letters are just a catalyst for those feelings coming to the surface. It's the whole reason Lara Jean and Peter Kavinsky concoct their plan to date to make other people jealous, and in doing so, fall in love.
In the second movie, though, the plot revolves around John Ambrose, who also received a letter. He and Lara Jean were friends when they were kids, and then he moved away and they lost touch. The letter serves as the reason for them to reconnect, because they haven't spoken to each other in literal years. That's a subtle difference that doesn't work nearly as well as the plot device the letters serve as in the first movie.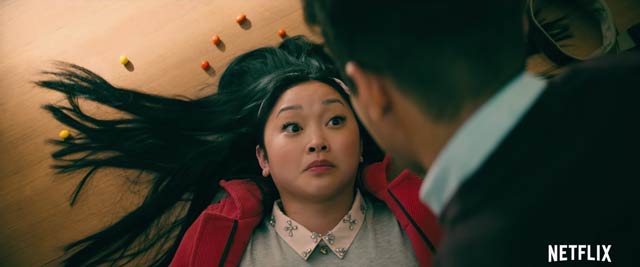 Continue reading below ↓
Recommended Videos
The problem with that is they act like Lara Jean and John Ambrose have not even exchanged so much as a single DM since he moved away. He responds to her letter with an ACTUAL letter. That is...absurd? They were childhood best friends. Like, they were tight. And they're also Gen Z teenagers. You're honestly trying to tell me they weren't connected on a single social media platform? I follow people on Instagram I haven't seen since I had baby teeth. Plus, he only lived a town away from her! They definitely would have remained friends. FaceTime is a thing that exists, people!
The second book in the To All the Boys series, the one this film is based on, came out in 2015. Social media was fully ruining all our lives by that point. There is no excuse for this. John Ambrose would have gotten Lara Jean's letter, sent her a text being like "LOL, I liked you too!" and that would have been the end of it. Case closed. Sorry, everyone!
***
This article originally appeared on Cosmopolitan.com. Minor edits have been made by the Cosmo.ph editors.
EXPLORE COSMO