I've been listening to TWICE since 2016 and I can still remember how my Korean student introduced them to me: While we were studying about the difference between proper and common nouns, she showed me her phone all of a sudden and said, "Hanna teacher, you have to watch this." It's a K-pop music video titled "CHEER UP" and needless to say, the girls did cheer me up!
Fast forward to 2017 and my inner ONCE (TWICE's fandom name) is at its peak. It was the "Likey" era and everyone I know was humming the song, but I especially love "Heart Shaker" and "Merry & Happy" from that comeback. These tracks were released in December and as someone who loves the Christmas season, I played them on Spotify non-stop. It came to the point where I would sing them while preparing our noche buena, LOL.
In the following years, TWICE continued to deliver songs that are not only chart-topping but are also infectious, your neighbor was probably dancing to one of them. The girls made us sing "YES OR YES," memorize the choreo for "FANCY," and had us posting pics on IG with lyrics from "Feel Special."
If you're going to ask me about my all-time favorite TWICE song, that would be "One In A Million." Unlike the other bops that they came up with, this single is more on the mellow side and showcases their singing skills. What I especially love about it are the meaningful lyrics, and it's as if the girls are telling me that I'm...well, one in a million! When they sang "You're a masterpiece, you are perfect," I really felt that. *wipes tears*
ADVERTISMENT - CONTINUE READING BELOW ↓
As you can see, what sets TWICE apart from other groups are their songs that are either ear candy or a warm, comforting hug. Although I'm more of a K-drama fan now and I watch fewer K-pop music videos unlike before, I still listen to the girls' tracks every day with no fail.  So when I got to *meet* the members last month, it felt so surreal! Thanks to Bench's event, I was able to talk to TWICE via Zoom and ask them about their discography. According to the girls, their favorite comeback concepts so far are "Feel Special," "Dance The Night Away," and "Cry For Me."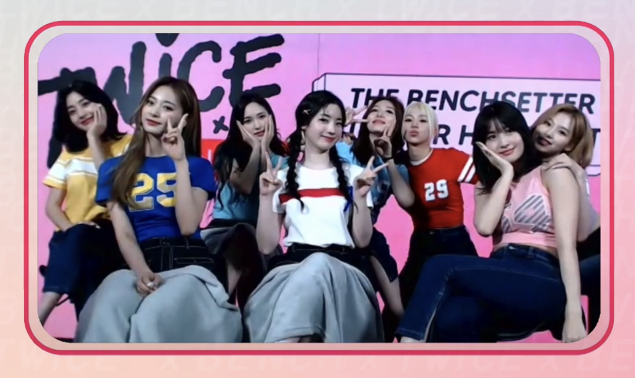 When I asked them what they want ONCEs to feel every time they listen to their songs, Momo, aka my ultimate bias, answered: "When they are going through difficult times, we hope they can be cheered up by listening to our fun and energetic songs. And we have various songs of different themes and feelings, so we hope they can listen to our songs according to the theme or vibe they're feeling." Awww!
So, how was it like meeting TWICE? They're very fun to be with, like your BFFs who are always ready to go anywhere with you! Their smiles are so genuine and I can tell that by the way they answer the questions. And did I mention how gorgeous they are? They were ~*shining*~ on my screen! TWICE also mentioned that they would like the pandemic to end so they can meet the Filipino fans soon. And when that time comes, I know I'll be waving my Candy Bong in front of them. <3
Follow Hanna on Instagram.