Makoto Shinkai, of Your Name (Kimi No Na Wa) fame, is back with another romantic fantasy feels trip care of Weathering With You (Tenki No Ko). The follow-up film has already earned more than 10 billion Yen (around P5 billion) in Japanese sales and is quickly gaining momentum in the international scene.
Weathering With You made landfall in July 2019 and it's been showered (because we're talking about rain, right?) with praise since then. The Philippines has had more than its share of wet weather and flash floods so it's quite a surreal experience seeing our daily life depicted in Shinkai's signature stunning multi-faceted visuals. Are you still wondering if it's worth the hype? Here's a quick rundown that will get you caught up with this weather phenomenon.
1. The main pair from Weathering With You are directly interacting with one other!
Do you remember watching in frustration—or perhaps your memory was wiped out along with Taki and Mitsuha—as Your Name's couple constantly missed each other, barely interacting until the end? While that made for some good drama, we'd like to witness an actual face-to-face conversation between our main characters.
Weathering With You takes place in Tokyo as it's subjected to the relentless onslaught of an unusually lengthy rainy season. Hodaka Morishima, a 16-year-old runaway, wanders into the city looking for a job. The high school teen ends up as a reporter-slash-assistant to a middle-aged dude named Keisuke Suga, who runs an occult magazine along with his much younger associate Natsumi. Hodaka is tasked to search the city for any paranormal sightings. While on the job, he meets Hina, a hare-onna (fair-weather maiden) with the magical ability to clear the rainy skies and usher in the sunlight. With Hodaka's help, Hina starts going around and offering her services to improve the overall weather in gray and gloomy Tokyo…until some serious consequences halt her efforts. The anime stars a talented voice cast featuring Kotaro Daigo as Hodaka, Nana Mori as Hina, Shun Oguri as Suga, and Tsubasa Honda as Natsumi.
Continue reading below ↓
Recommended Videos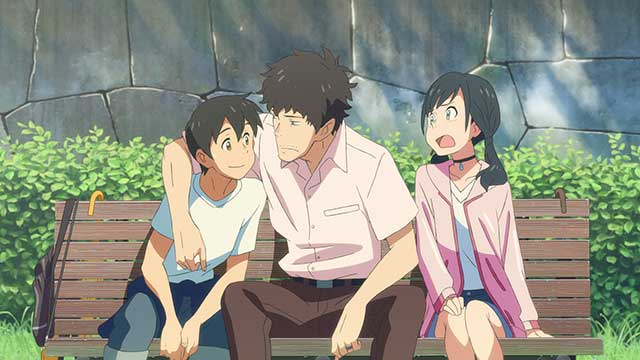 2. Weathering With You is competing for Best International Film at the Oscars.
Japan has high hopes that this anime can make it all the way to the Oscars. This is only the second instance that Japan has ever submitted an anime film for this category. The first anime to be given this distinction was Hayao Miyazaki's Princess Mononoke and that happened more than 20 years ago. Weathering With You will be going up against live-action foreign-language films and documentaries for the 92nd Academy Awards.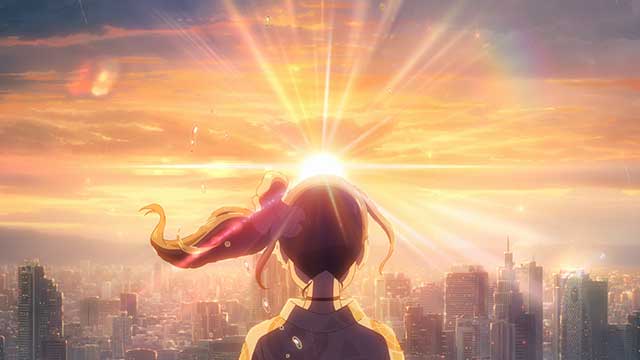 3. Taki and Mitsuha from Your Name make a cameo appearance!
This is hardly a spoiler post since IMDB lists Ryunosuke Kamiki and Mone Kamishiraishi among the voice cast, reprising their roles as Taki Tachibana and Mitsuha Miyamizu, respectively. Pay close attention to background scenes since there will be other Your Name characters popping up in the film. This revelation makes fans speculate about a possible "Makoto Shinkai Shared Cinematic Universe."
4. There are official recipes available for the food in the film.
It is a truth universally acknowledged that no living being could ever resist the mouthwatering appeal of animated cuisine. In an inspired form of marketing strategy, Weathering With You collaborated with a Japanese recipe resource blog called Kurashiru in order to recreate the food that appears in the film. The two dishes featured are the Potato Chip Fried Rice and Crispy Ramen Salad. If you don't have auto-translate in your browser, then check out Spoon & Tamago for the English breakdown of the recipe. Itadakimasu!
5. J-Rock band Radwimps, who sang the Your Name theme song, return for another LSS-inducing track.
"Zen Zen Zense" broke through the language barrier and became a veritable bop when Your Name hit cinemas a few years ago. Now the band behind the iconic theme debuts the song, "Is There Still Anything That Love Can Do?" for the Weathering With You soundtrack. Compared to Your Name's rocking, guitar-powered hit-maker, the song winds down to a slower pace with piano and strings leading the main melody—the perfect track for easy listening during a rainy day.
6. Climate change inspired the animated film's premise.
According to an interview that he did with Japan Times, Makoto Shinkai's use of torrential rain as a plot device was influenced by the extreme weather changes taking place in recent years. He says, "Japan used to have four distinct seasons…weather has become something hostile to humans, something we have to prepare against. It's frightening."
Makoto Shinkai's concerns aren't unfounded as Japan was recently hit with a strong typhoon, leaving thousands of travelers stranded at Narita airport. (Looks like we need a fair-weather maiden now more than ever!)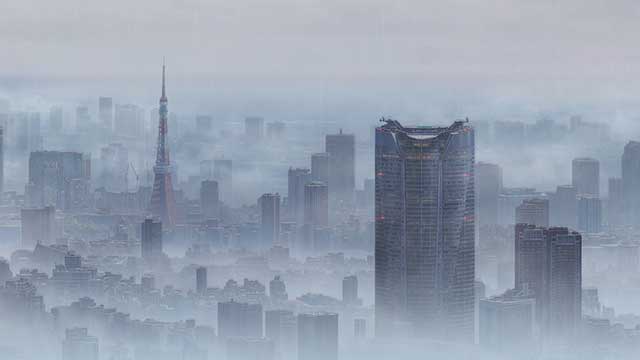 7. Weathering With You features one of the most polarizing endings in a Makoto Shinkai film ever!
Without spoiling anything, there is a lot to unpack about the ending—a lot more than your messiest relationship. The main guy makes some questionable, side-eye worthy decisions toward the end that's ripe for discussion. In fact, due to the reactive nature of social media, there were already many passionate posts regarding the movie's outcome. We asked viewers what they thought about the conclusion and the reactions have been mixed. (Watch the movie to find out if you share the same sentiments.)
"I would have done the same thing! I definitely understand Hodaka's choice because I would also do anything in the world for the special person in my life. My husband is my rock and I want him more than any blue sky. #SorryNotSorry" —Aila Sim Yonzon
"The protagonist made a selfish choice driven by youth, passion, and immaturity. Knowing full well that his actions would affect others, he did it anyway." —Tala Wong
You might require a Weathering With You support group after leaving the cinema but it's worth, well, "weathering" through all of it.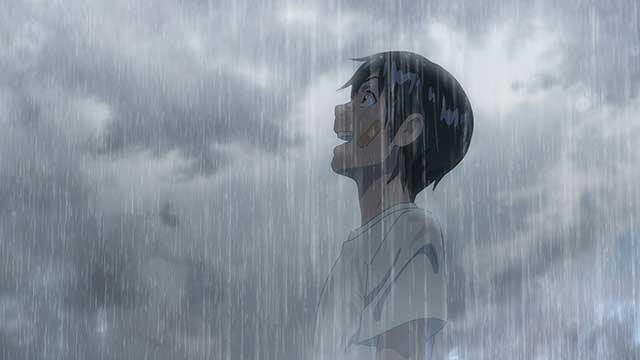 Follow Karen on Instagram.