Do yourself a favor: Take a break from the harshness of the world and watch Netflix's new feel-good film: Work It. Even I, a non-dancer (read: an uncoordinated mess), enjoyed this movie so much that I rewatched Footloose (1984, a detail that needs to be stressed) because I wanted to dance around my room some more. 
Work It stars Sabrina Carpenter as Quinn Ackerman, a high school student determined to transform into the ultimate dancer just to get into a great college. This is the kind of motivation I wish I had as a teen, lol. But if you're unfamiliar with her work, you probably didn't know that Sabrina actually has pretty great dance skills, and that the bigger challenge for her was how to act like she couldn't bust a move.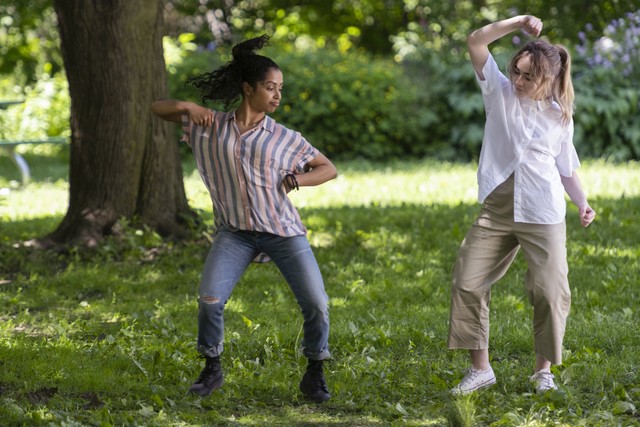 The actress told ELLE.com, "A lot of the times, I would half-learn the choreography. I'd learned it, but not to the point where it was muscle memory. I'd learned it to the point where I wouldn't run into people, but I didn't always know what move was coming next.
"That helped in being able to organically look bad and messy. We would do freestyle circles with our choreographer and I'd always do the worst thing I could think of and make myself look really embarrassing, which sadly was a lot easier than I thought it would be."
Another struggle for Sabrina was that she hadn't stretched her dance muscles in around seven years. In an interview with POPSUGAR, she shared, "I do remember early on in rehearsals with our choreographer [Aakomon Jones] it was kind of a lot of me getting out of my body as opposed to getting into it, which was really interesting to just like find the complete version of myself that's just off rhythm in every way possible so that it would be believable and that she would have an arc and somewhere to go that wasn't too good at the end."
Continue reading below ↓
Recommended Videos
Three weeks before they started shooting for the movie, Sabrina flew to Canada to learn the choreography, with "two weeks straight of pretty heavy dance rehearsals every single day, which for a movie like that is the most important part of building a cast bond and chemistry and memories."
Work It is available for streaming on Netflix. 
***
What does your zodiac sign say about you? Subscribe to Cosmopolitan Philippines and find out!
Follow Ysa on Instagram.