UPDATED: September 14, 2016
There are currently nine crisis responders stationed in Metro Manila. The National Center for Mental Health (NCMH) under the DOH, will provide the training of additional psychiatrists and psychologists who will be tasked to answer the Hopeline calls.  
***
According to the World Health Organization (WHO), mental health is a "state of complete physical, mental and social well-being, and not merely the absence of disease." It isn't just about the treatment or rehabilitation of people already suffering from mental disorders; overall promotion of emotional stability and prevention of mental disorders are also necessary. 
Compared to our neighboring Asian countries, the Philippines has the lowest suicide rate: 2.5 for men and 1.7 for women (per 100,000 population). Still, depression and substance abuse persist, which lead to other problems like anxiety, high rates of high cholesterol, high blood pressure, obesity, asthma, and diabetes. 
So what factors contribute to mental health problems? Feelings of insecurity and hopelessness, rapid social change, risks of violence, as well as drugs, alcohol, lack of education, poor nutrition, poverty, work stress, and unemployment are just some of the factors that affect our mental health. 
ADVERTISMENT - CONTINUE READING BELOW ↓
One of the biggest deterrents of people who have mental health disorders and need help is the fear of being stigmatized. Stigma is associated with "labeling, negative stereotypes in the media, language, distorted expectations, and simple lack of knowledge, misunderstanding, or lack of awareness of mental illness. It can focus on visible or invisible attributes, and be perpetuated through conscious or unconscious processes." A perfect example of this is when women are called "crazy" for expressing an opinion or for showing emotion. We throw the word "crazy" around without realizing its implications. 
We can also look at this from a cultural perspective. Filipinos, in general, are all about preserving our reputation or saving face. "Anong sasabihin ng mga kapitbahay?" Narinig niyo na 'to, di ba? Filipinos and Filipinas who have mental health disorders are more reluctant to open up about their problems and experiences because it is seen as displaying personal and familial weaknesses. 
Though we still don't have a mental health law in place, we are at least moving towards the right direction. The Department of Health recently partnered with the National Center for Mental Health and the Natasha Goulbourn Foundation to establish the "Hopeline Project." Hopeline is a 24/7 hotline that aims to help "any individual who suffers from crisis and depression." The official launch will be on September 2016.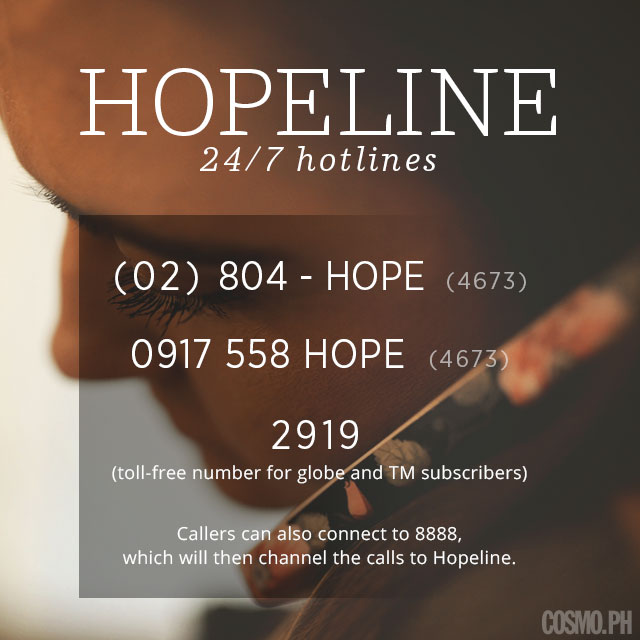 ADVERTISMENT - CONTINUE READING BELOW ↓
Additional reporting by F. Valencia. 
Follow Ysa on Instagram.