A popular Instagrammer has received swathes of criticism from her followers after she launched a tirade of public fat-shaming centered around a plus-size model.
Wendy Cheng, a Singapore-based influencer with profiles on Instagram and YouTube under the name Xiaxue, usually posts about makeup and her life on her online profiles. But recently, on Instagram Stories, the social media star—who has over 600,000 followers on Instagram alone—took a turn and used her platform to criticize model La'Shaunae Steward for her weight.
In screenshots of the posts shared on Twitter by La'Shaunae herself, the influencer can be seen to have described the model as "disgusting," and written: "The morbidly obese (like this woman) should never have been seen as attractive because death and disease isn't an attractive full stop. Irresponsibility isn't attractive."
"It's one thing to be chubby or fat but this is way past that. Most morbidly obese people don't live past 40," Wendy wrote.
In response to La'Shaunae's Twitter post, Wendy received widespread criticism. "What is the point of using your followers to belittle and humiliate someone because of their appearance?" wrote one person, adding: "So rude and uncalled for. Irresponsible and pointless."
"People just love to publicly harass fat women," commented another.
But while you might have thought the public backlash to her harsh comments would stop Wendy Cheng from continuing her offense on plus-size, it appears to have done quite the opposite. On February 17, the influencer uploaded a photoshopped image of herself with a heavier body to Instagram, with a caption that read: "How to ensure everyone says you are beautiful in 2020. Am I beautiful now?"
Continue reading below ↓
Recommended Videos
The caption continued, with Wendy writing: "Don't gimme the whole 'you are not beautiful because u ugly on the inside' bullshit. There is already a word for beautiful on the inside and it's called 'kind.' Beautiful refers to the outside unless otherwise specified."
The Instagrammer then denied she had fat-shamed anyone, insisting: "All my comments were reserved for the MORBIDLY OBESE only, and yes people with BMI 50 and above shouldn't be romanticized or glorified in the media. I maintain my stance." 
"Morbid obesity isn't attractive because it leads to death and disease. This isn't personal against anyone so it isn't fat-shaming. And I did not ever talk about chubby or regular fat people."
To top the whole, awful thing off, she signed off the caption: "Stay triggered, snowflakes."
Needless to say, the post really ruffled some feathers—this time among Wendy's own community. Picking up on her point about kindness at the beginning of her post, one user suggested, "You should maybe focus on trying to be kind."
Others tried to reason with the Instagrammer, urging her to remember that it's unfair to tarnish people with the same negative brush when she doesn't know the first thing about them.
"You don't know what's going on with others. I wish ppl would just stop. It's not your business," posted one follower. "I wish I could curse you with weight issues so you could experience first hand what its like to be treated like you have less value than the dog shit on someone's shoe," added another.
Wendy—still not defeated—has continued the battle over on Instagram Stories once more, most recently posting a picture of a pair of smoke-damaged lungs, and sarcastically writing: "You don't know what causes lung disease, it could be a myriad of many other things! Black lungs can be healthy lungs too. Non-smokers have lung cancer too. Don't judge others." Doubling on the sardonic nature of what she'd written, the influencer added, "F*cking clown world we live in" at the bottom.
Wendy's comments are scarily reminiscent of Piers Morgan's views when Cosmopolitan UK put plus-sized model Tess Holliday on the cover in 2018.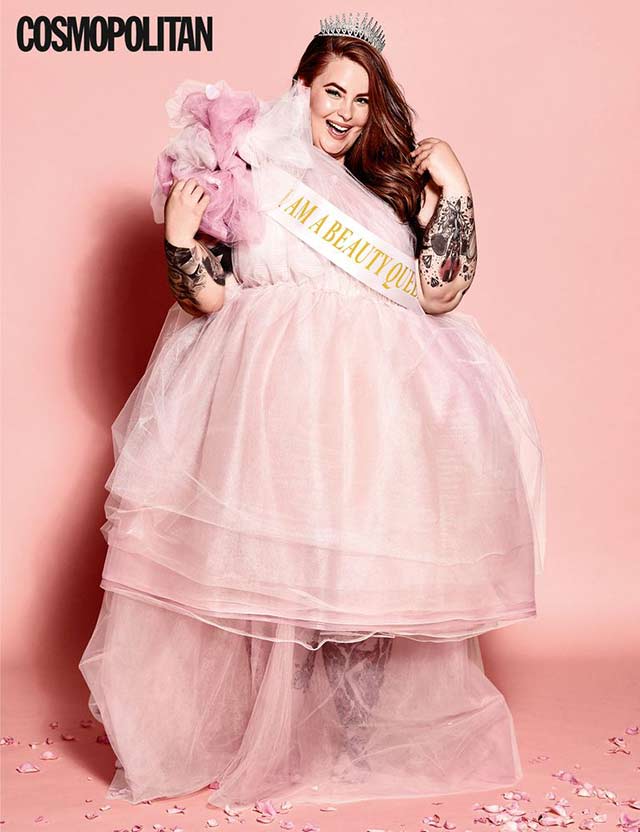 "As Britain battles an ever-worsening obesity crisis, this is the new cover of Cosmo.
Apparently we're supposed to view it as a 'huge step forward for body positivity.' What a load of old baloney. This cover is just as dangerous & misguided as celebrating size zero models," the Good Morning Britain presenter wrote on Instagram.
Powerfully, Cosmopolitan's editor-in-chief at the time, Farrah Storr, responded to Piers' claims, telling him:
"When I put people on my cover, I'm not here to do a blood analysis. I'm not here to pass judgment. We have a crisis with mental health, and with people feeling bad about body image. So this is one cover that has a larger lady on the cover in a culture which venerates thinness." 
"I'm celebrating her. The reason she is on my cover is to explain that there is a different way to look. If there are millions of people who see this and they have never been exposed to a body like this and go 'actually, you know what? For one day only, I'm going to feel great about myself…'"
"And that's surely the prevailing point we should all remember. Why focus on tearing each other down, when we can celebrate who we are and push back on those industry-imposed standards of 'beauty' that, in reality, so few actually fit in to.
Follow Cat on Instagram.
***
This article originally appeared on Cosmopolitan.com/uk. Minor edits have been made by the Cosmo.ph editors.