I started 2017 with a weight loss dilemma. I noticed that I gained weight despite maintaining the same eating habits and weekly yoga I've been doing since last year. I tried cutting down my carbs and junk food, and doubling my exercise routines for two months, but still, nada. I was stuck in a weight loss plateau. I couldn't just chalk it up to being in my '30s and having a slower metabolism. I needed something drastic!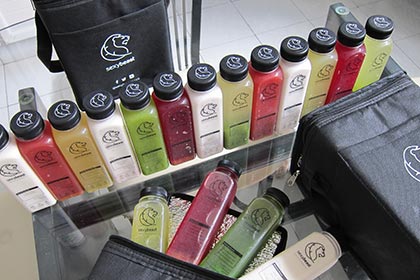 Enter Sexy Beast, a juice cleanse program created by celebrity nutritionist Nadine Tengco. Her cold-pressed juices use 100% raw and natural ingredients, with no pulp and more nutrients than the usual juices and shakes you'd find at the mall.
Continue reading below ↓
Recommended Videos
I had never tried any juicing or dieting program prior to this. I consulted my friends who have tried juicing and detox programs, and they encouraged me to give it a shot to help me get out of my weight loss plateau.
How it works:
1. Choose your duration: one, two, or three days.
2. Choose your level: beginner, balanced, or advanced.
3. Choose your seven drinks for each day: You need to drink one bottle every two hours. Each level has a recommended number of roots, greens, citruses, and nut milk drinks.
4. Choose your delivery options: You may pick it up from their office or have it delivered for an additional charge.
5. There's an optional cooler bag that you can use to carry your juices to work, or in my case, reuse for grocery shopping.
I chose the three-day beginner's program. 21 drinks were delivered to my doorstep and they came with three travel coolers.
Day 1:
The worst part about starting the program was not having my usual coffee with pancakes in the morning. Also, the smell of fried food from our kitchen was torture!
I liked how each drink has a catchy name like Energy Burst, Mighty Muscle, Fat Flush, Metabolic Charger, and Belly Trimmer. The drink names and list of ingredients helped me schedule which drinks to have in the a.m. and p.m. For example, I felt that I needed the biggest burst of energy in the morning after waking up, so Energy Burst was drink number one. By nighttime, I preferred something light, so I took Skin Glow as my last drink.
By afternoon my energy was low, and I'm not sure if it was because of caffeine withdrawal, frequent urination caused by the juicing, or lack of carbs in my system. Thank goodness I scheduled my juicing on my work-at-home days. I started fantasizing about Nutella, Cheetos, Potato Corner fries, and well… you get the picture.
I was so sluggish and dizzy midday, so I cheated. At 4 p.m. I had a handful of organic vegetarian chips (Still considered healthy, right?) to curb the haaangry pangs. I went back on track for the rest of the day, drinking only the bottled juices and water until bedtime. I endured headaches most of the day, and even while trying to sleep.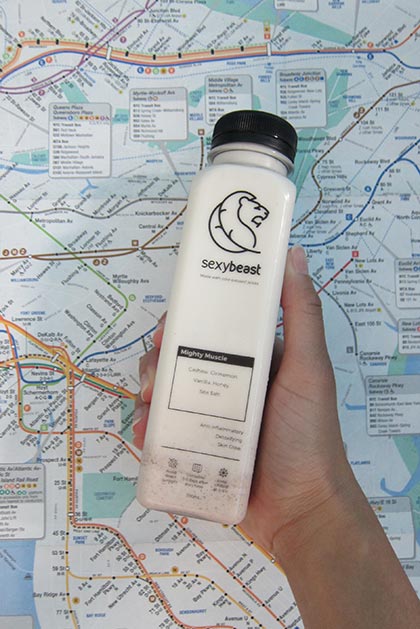 Day 2:
The headaches were more tolerable, but I was cranky and weak. I no longer felt hangry, because the juices were actually filling.
I decided that my favorite drinks were the nut milks because they're sweet, milky, and the closest thing to ice cream and desserts. There are two nut milk variants in Sexy Beast's program: Mighty Muscle (cashew, cinnamon, vanilla, honey, and sea salt) and Muscle Mend (cashew, cacao, honey, and sea salt). Yum! Next to the nut milks, the red drinks were sweet and easier to gulp down than the yellow concoctions and the green, grass-tasting ones.
By 4 p.m. I couldn't stop watching food videos online. The headaches and nausea crept in, so I cheated again with a handful of organic vegetarian chips to go with my Endurance Booster (lemongrass, pandan, ginger, carrot, beet, apple, and lemon). The label said I consumed only 50 calories of chips, so I hope it didn't ruin my juicing.
I squeezed in a 30-minute yoga (just at home, not in a studio) before my dinner drink. I also slept early that night, so I drank only six juices instead of seven.
Day 3:
"When will this day be over?" I kept asking myself. While I felt like a zombie slowly trudging through the day, I told myself to stay focused because it was almost over.
I looked at the scale first thing in the morning and saw that I was already 3 pounds lighter—the fastest weight loss I'd ever had without succumbing to sickness. But on my third bottle midday, I gained two pounds back. Was it all just water weight?
I started Googling "What to eat after a juice fast." The health blogs and magazines advised to eat light food for the next two days post-juicing to avoid taxing the digestive system. I started planning my meals for the next day to distract myself from the hunger and weakness.
By 9 p.m. the last bottle was empty. Hooray!
Results:
Pre-juicing weight: 132 lbs.
Post-juicing weight: 127 lbs.
I lost 5 lbs. after three days of juicing, just in time for my beach trip the next day. My tummy felt lighter and less bloated. I thought I simply lost water weight, but Nadine Tengco told me that it's more than that. She explained that the juicing helped me reduce oedema, a buildup of fluid in body tissues. In Pinoy terms, we call it manas. No wonder my tummy and face looked slimmer in my post-juicing beach photos.
One week later:
Two pounds returned quickly, even if I worked out and went on a mostly veggies and light protein diet for the first two days after the juicing. After three more days, I gained another two pounds, despite saying no to junk food and keeping my carb intake lower than before. I'm still one pound lighter than my pre-juicing weight, and I hope to lose more pounds long-term by continuing my exercise and healthy eating. I'm thinking of stacking up on Sexy Beast's yummy nut milks to replace my low-fat dairy milk.
Tips for beginners:
1. Shake well before drinking. The sediments tend to clump at the bottom.
2. Don't drink it all in one gulp. Drink half a bottle first, slowly, and then drink the rest after a few minutes.
3. It's best to do this juicing program on a weekend or when you're just at home, not engaging in any strenuous activities.
4. Prep for your juice fast days ahead. Start reducing your intake of carbs, junk food, sugar, and caffeine one week before your target juicing date. This will help your body prepare and not just go into a sudden shift.
5. If you have underlying health conditions or are under any medication, consult your physician first before doing a juicing program.
I recommend this program to:
1. Those who are stuck in a weight loss plateau
2. Those who are looking for a quick but healthy way to get rid of bloat right before a beach trip
3. Those who are looking to cleanse their system after months (or years) of eating mostly junk
4. Busy fitness buffs who are looking for healthier snack alternatives or late-night meal replacements
For pricing and more info, visit thesexybeastjuice.com.
Visit Kate on KateWasHere.com and follow her on  Instagram  and Twitter.