Anti-Gravity What?

Anti-Gravity Yoga is a blend of aerial art, yoga, and movement. Developed by Richard Harris, who was a gymnast, dancer, and aerial performer, the practice allows students to realign their vertebrae, strengthen their bodies, and get a deeper stretch without stressing joints.

The classes center around a large piece of stretchy silk fabric that serves as a hammock. Poses have been developed to incorporate the hammock during sessions that last for an hour and 15 minutes each. Imagine yourself suspended in mid-air, a silk hammock hooked around your knees and wrapped around the small of your back as you slowly lower your head to the ground. Your weight completely supported by the hammock, you put your palms together over your heart. And then, you breathe, emptying your mind of everything that doesn't concern this one moment. Sound like something you could get into? That's only one of many poses you'll learn during a session of Anti-Gravity Yoga (AGY).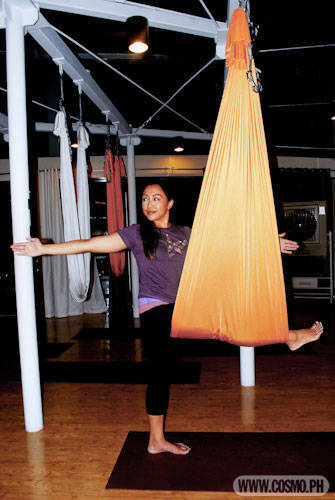 Continue reading below ↓
Recommended Videos
How It Started
In Manila, I Go Beyond Yoga is (as of publishing) the only yoga studio that offers AGY classes. The Beyond Yoga studios are the only licensed partners of AGY in the Philippines, so don't be fooled by copycats.
According to instructor Rianna Gatus, "We came across it on YouTube! Beyond Yoga was looking for ways to cater to people with different preferences and levels in terms of fitness. We felt that Anti-Gravity Yoga would bring variety and keep students enthused because the practice always evolves and changes. We emailed Anti-Gravity in New York, and eventually flew the creator of AGY, Christopher Harrison, here to train our first batch of teachers."
Let's Go Flying!
There are two types of classes offered—Flying FUNdamentals and Flying Fitness. Both involve inversions, engage core muscles, and improve flexibility. The major difference is the pace and level of difficulty. Beginners are encouraged to sign up for the FUNdamentals class first. Flying Fitness is often compared to TRX but with deeper stretches and yoga elements. It tends to be more complicated than the FUNdamentals classes.
Find out more about AGY by viewing the gallery!
I Go Beyond Yoga, Quezon City
3F Il Terrazzo, Tomas Morato Ave. corner Scout Madrinian Street, Quezon City, Philippines
Telephone Number: (632) 921-6070
Mobile Number: (0917) 5BEYOND or (0917) 532-9663
Email: inquire@igobeyondyoga.com

I Go Beyond Yoga, Bonifacio High Street
3rd Floor, C2 Building, 7th Ave Corner 28th Street, Bonifacio High Street Central, Taguig City
Telephone Number: (632) 553-3799
Mobile Number: (0917) 6BYYOGA or (6299642)
Email: inquire@igobeyondyoga.com

Find I Go Beyond Yoga on:
Facebook: www.facebook.com/IGoBeyondYoga
Twitter:  www.twitter.com/IGoBeyondYoga
Website: www.igobeyondyoga.com
2342