Don't we all we wish we could wake up one day looking like Anne Curtis? She may be blessed with great genes, but it's her diligent exercise regimen that keeps her in tip-top shape.

So how can we achieve Anne's sexy bod? We chatted with her coaches Saul Sibayan and Mark Caron of Focus Athletics Gym about her workout program. Read our Q&A below:

Can you tell us a little about Focus Athletics?

"Our team of performance coaches and physiotherapists are here to [support] our clients' aspirations–whether this would be athletic development, general fitness, weight loss, or just getting into your best possible shape. We develop different holistic and functional training models to educate our clients on what they need for them to be successful [in their fitness goals]."

What is Anne Curtis' workout regimen or program at Focus Athletics?

"Anne's training regimen focuses on utilizing one's range of motion and core muscles; others call it functional training. Her program includes movement preparation, power sets, strength circuits that challenge the core, and an energy system development either on the airdyne bike, elliptical trainer, or treadmill."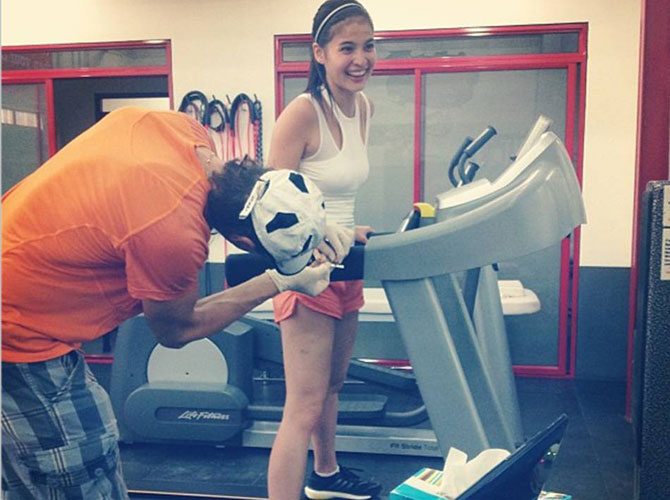 Continue reading below ↓
Recommended Videos
Can you break it down for us?
"Movement preparations include glute activations, dynamic stretches, and ladder exercises for coordination.
"Medicine balls, kettlebells, dumbbells, and even just body weight are used for power sets which focus on explosive movements like chest throws that range from 8 to 10 repetitions.

"An example of Anne's strength program includes all the major muscle groups from 6 to 12 repetitions of JungleGym push-ups, stability ball roll-outs, goblet squats, cable pulldown using the Keiser Functional Trainer, and Trigger Point leg curl.

"Workouts are planned with specific progressions for you to become stronger and reduce the chances of injury. It is all about proper form and technique as disregarding this during training stresses the tissues that are not (or most likely shouldn't be) targeted during the specific movement."

How can we achieve Anne's body at home?
"You can achieve Anne's body by doing body weight exercises like push-ups, negative chin-ups, squats, step-ups, straight leg sit-ups, hip lifts, variation of both static and dynamic planks, and metabolic core exercises from mountain climbers to burpees. Also, do not forget cardio and both proper diet and sleep!"
***
Want to try the exercises at home? Here are some YouTube tutorials for you to check out!
Negative Chin-Ups
Step-Ups
Straight Leg Sit-Ups
Hip Lifts
Static Plank
Dynamic Plank
The Mountain Climber
The Burpee

Focus Athletics is located at 2259 Pasong Tamo Extension, Makati City. For more information, visit www.focusathletics.com.ph.