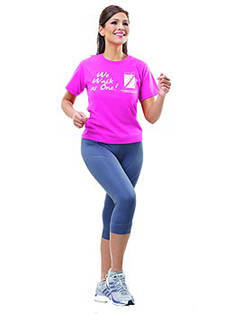 Some do it for exercise; some find it therapeutic; others use it as a means to vent. These are all very good reasons for walking, but I have one more proposition for you guys to add to your list of whys--and that's walking for a cause.
Being involved in the
Avon Kiss Goodbye to Breast Cancer (KGBC)
campaign has been both an enlightening and touching experience for me, as I've been lucky enough to not only meet and get to know some of the bravest women in this country, but also to actually find a way of helping them.
Did you know that breast cancer claims thousands of lives every year, and remains the
number one
killer of Filipino women
? In more than 10,000 cases listed in the Philippine Cancer Registry, breast cancer patients average a mortality rate of 40%. Through KGBC, I met the real people behind these statistics--women, even men, whose stories of suffering, courage, and hope have inspired me, Avon, and all its partners and supporters to continue fighting for the cause.
[readmore]
KGBC has paved the way for the establishment of the
Philippine General Hospital (PGH) Breast Care Center where our less fortunate sisters can go for free medical consultation and services
.
But the battle doesn't end there; it doesn't end until a cure is found.
Year after year, the campaign raises funds to aid breast cancer patients, who are growing in number, through Avon Walk events. Originally scheduled on October 4 in seven key cities around the Philippines, the Avon Walk events were postponed in several locations due to severe weather conditions and damage brought by typhoons Ondoy and Pepeng.
Though several Walk events in locations not affected by the typhoons (Cebu, Cagayan de Oro, and Iloilo) successfully pushed through, Avon has re-scheduled the
Avon Walk Around the World for Breast Cancer
on November 8, Sunday, in Manila
(SM Mall of Asia Open Grounds),
Legaspi
(Avon Legaspi branch), and
Malolos
(Bulacan Provincial Capitol).
I will be there to walk with you at SM Mall of Asia!
We always have a reason for doing the things that we do, and I think that fighting breast cancer is one of the best reasons to keep walking.
Aside from joining the Walk, you can also support the breast cancer cause by buying the Limited Edition KGBC shirt for only
P149. P20
from each shirt sold will go to the continued support for the PGH Breast Care Center.
For more details and information on how to find an Avon lady, call the Avon Customer Helpdesk at 864-2900 or log on to www.avon.com.ph.
Continue reading below ↓
Recommended Videos