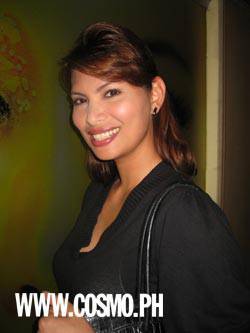 "I believe image enhancement should be offered to every Filipino,
kahit nasaang lupalop ka ng bansa
," says
Abbygale Arenas-de Leon
in true
Binibining Pilipinas
fashion. But this time she says this as the managing director of her very own image consultancy firm,
Personi-fi Image Studio
, and not as a Miss Universe hopeful.
Though totally immersed in the corporate world now, Abbygale, fondly called "Ms. Abby" by her colleagues, still looks every inch a beauty queen and a model of true confidence—very fitting of her aim to empower Filipinos.
Smooth Transitions
One could say her destiny for image development had strong foundations. Though not known to many, Abby was actually sporty back in high school—a far cry from her image now. She was a competitive swimmer with "muscles,
an-an,
and orange hair from the chlorine" before she was discovered.
"I had to stop swimming but I gained weight so much that Joey Espino, my 'discoverer,' called me a '
batang
Carnation' and ordered me to lose a few. I did, from
consuming just pineapple juice and corn for two whole months
!" she laughingly recalls. "It was so easy to lose weight back then."
She had to do the opposite when she joined
Binibining Pilipinas
twice in 1994 and 1997. "I gained weight because I had to look softer, more Pinay, and more womanly," she says. Her efforts paid off when she finally became Bb. Pilipinas-Universe and took home the Miss Photogenic award from the international pageant.
After her reign, she decided to quit modeling and focus on her next love: helping people to be at their best.[nextpage]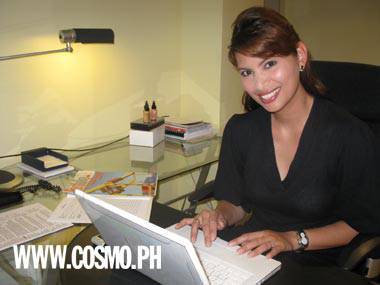 Going Corporate

Though her model and beauty queen past somehow served as her marketing strategy, Abby admits her first foray into corporate affairs was not easy. "People would say, '
nag-
model
ka lang kahapon sa dyaryo e
!
I had to drop modeling altogether and put on a more serious image.
I made my rounds in rotary clubs and lectured for free before
I went to New York to study Image Consulting
," she shares.
Despite that initial image problem, Abby quickly found her footing in the industry. After training in New York, Abby trained Avon employees in
personality development
. Soon, she was invited for lectures about
etiquette and grooming
in other companies, but still felt she lacked corporate support. She decided to partner with her mentor,
Claro Pinangay
, and put up their first image enhancement company, Visibility Advisers.
It was in 2007 when Abby, feeling more confident about her experiences in the industry, finally opened Personi-fi Image Studio. From her beauty queen training and the lessons she picked up in New York, Abbygale formulated the company's mission. "Our firm advocates
the importance of the visual and behavioral aspects of every person
," she says. "I believe in the skill of each Filipino.
Ang
problem
lang 'pag nasa
hiring process
na
, since
most Pinoys are generally scared of interviews
. That's where we come in--we teach them what to say, how to act, how to shake hands. It all sounds so basic, but
if it improves the chances of a Filipino to get hired, I would love to be a part of it
."
Now, Personi-fi Image Studio boasts of their successful stints with big companies such as Bangko Sentral ng Pilipinas, Manila Peninsula Hotel, and Philippine Daily Inquirer, among others. And while each well-conducted project is fulfilling, Abby delights even more in learning about individuals who have found ways to transform themselves through her corporate programs.
"
Sa
church, I meet clients who tell me, 'Ms. Abby,
marunong na akong mag-
smile!' 'I applied everything I learned from your dining etiquette course!'
Sobrang masaya na ako sa mga
comments
na gan'un
," she shares.
As Personi-fi aims to launch more programs for its clients, Abby can't help but be more optimistic and generous with her mission. "I don't hold back, because
everything I know is something I can share na hindi ako mababawasan
. Nobody can take it away from me."
ADVERTISMENT - CONTINUE READING BELOW ↓