In 2015, Italian-Pinay model Ambra Gutierrez was one of the first people to publicly stand up to disgraced producer Harvey Weinstein; he had sexually assaulted her during a meeting in his Manhattan office. 
Unfortunately, because of his position in the entertainment industry as well as the nature of the allegations, Ambra found that big name brands and designers steered clear of her. She told the New York Daily News,
"I saw so many shows with girls that looked exactly like me and nobody ever tried to send my photos out because it was so difficult to sell me because my name was bad. It was impossible because (designers) didn't want to hurt their brands." 
Ambra added, "People don't realize what [Weinstein] did to me and his other victims. He was very powerful." Now, after two years, Ambra is returning to the runway and walking for Rocco Barocco during Milan Fashion Week. Through a Facebook exchange, Cosmo.ph briefly caught up with Ambra.
Can you tell us how you felt during that go-see for Rocco Barocoo? 
That go-see was very, very important [to] me. It was like [they were] seeing me again as a person...as a model [who's] going through her [fate] of being picked for a show. It was nice because I [was] treated like everybody else. I was not afraid; I didn't have to hide. I was [able] to give 100 percent [to the job] and [didn't feel] like I had to cover things [that were being said or written about me] on the Internet.
Continue reading below ↓
Recommended Videos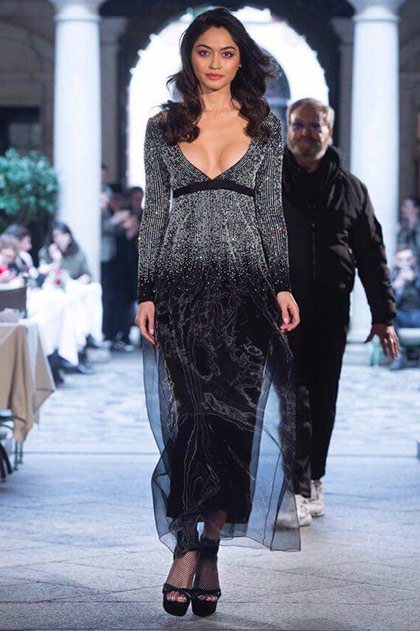 How did you prepare for your return to the catwalk? Do you have a diet or fitness routine?
I didn't really have to prepare much. I'm always working out, [usually] for an hour or so a day. [On top of that], I walk a lot, every day. And I have a healthy diet. I do not eat gluten.
Are big designers treating you differently—more positively—these days, especially with the #MeToo movement?
Designers, right now, are treating me differently because a lot of them have been supporting the #MeToo movement. [They've seen] what I've done and [they] probably value me in a different way.
Since you've been off the runway for two years now, have you seen any major changes in the fashion or modeling industry?
In the last two years that I've been out of modeling, I've seen some [positive changes]...models being more themselves, [especially when it comes to embracing] their curves. And I'm super happy about it because I think modeling is mostly about the personality than the appearance. I'm super amazed [by] the fact that, now, there are more [representations of] real women in the industry than unhealthy symbols to follow.
What are your career goals for 2018?
I am just hoping to get all the things I couldn't [reach] in 2017...searching and finding what I deserve and pursuing it because I can right now. I also want to see how I can be a better example to others when it comes to following their dreams.
Follow Ysa on Instagram.