She goes by the title "Chief Mermaid," but don't be fooled—this mermaid has a lot more to offer than just rainbow hair and a glitter tail.
Anna Oposa is a marine conservationist who heads Save Philippine Seas (SPS), which aims to protect the country's coastal and marine resources through information, communication, and education campaigns and community-based projects.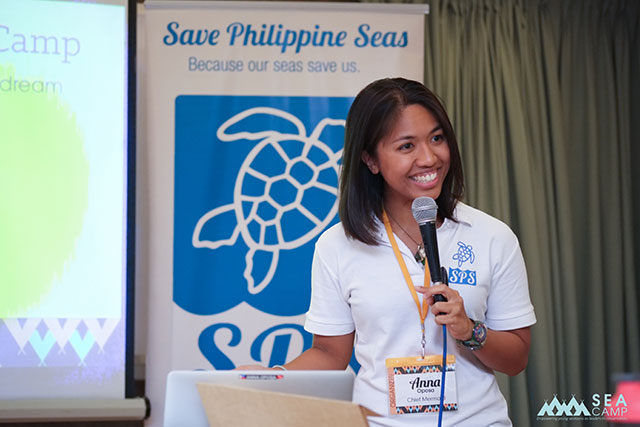 Now 31, Anna was only 23 when, upon learning of poachers destroying coral reefs off the coast of Cotabato in 2011, she co-founded SPS and dove headfirst into sea conservation.
"SPS began as a social media campaign in May 2011 that was created as a response to that illegal wildlife trade case," Anna recalls. "I had just graduated from college then, with a degree in English Studies. It was intended to be my hobby, something I would do 'on the side' until I figured out what career I wanted. I was surprised that it attracted attention from schools, governments, and funders alike, and it eventually became an NGO in 2013."
ADVERTISMENT - CONTINUE READING BELOW ↓
Since then, Anna has spread awareness of the plight of the seas among different communities, not to mention swept up accolades along the way: She was named one of Yahoo! Philippines' Pitong Pinoy modern-day Filipino heroes in 2011, was the youngest and first Filipino to receive the Future for Nature Award in the Netherlands in 2012, made US-based Development Executive Group (Devex)'s list of 40 Under 40 development leaders in Manila in 2013, and was recognized by the North American Association for Environmental Education (NAAEE) as one of its Global 30 Under 30 in 2018, among others. She also received the British government's prestigious Chevening scholarship in 2014, which allowed her to earn her MSc in Conservation Science from Imperial College London in 2015; in 2017, she became a Global Fellow for Marine Conservation at the Duke University Marine Laboratory in North Carolina.
Recently, Anna took her cause to dry land with Sea and the City, a project which brought an ocean-themed film fest, eco fair, workshops, and more to SM Aura Premier from March 2 to 3. "We wanted to bring marine conservation to the city, and inspire urban dwellers to love, appreciate, and take care of our seas," Anna says. "People often forget that we rely on the ocean for our lives: our protein source, livelihood, and life itself—50 to 80 percent of the oxygen we breathe comes from the ocean!"
Even with many honors and achievements under her belt, Anna is the first to say that her work is never easy. Here, she takes us through her struggles as a young woman fighting for sea conservation, what makes the struggles all worth it, and what she hopes to tell other young women who want to make a difference, too.
Her work with Save Philippine Seas:
"SPS mobilizes citizens—or as we call them, 'seatizens'—for collective action and behavior change. We do this through action-oriented environmental education programs, community-based conservation initiatives, and online campaigns.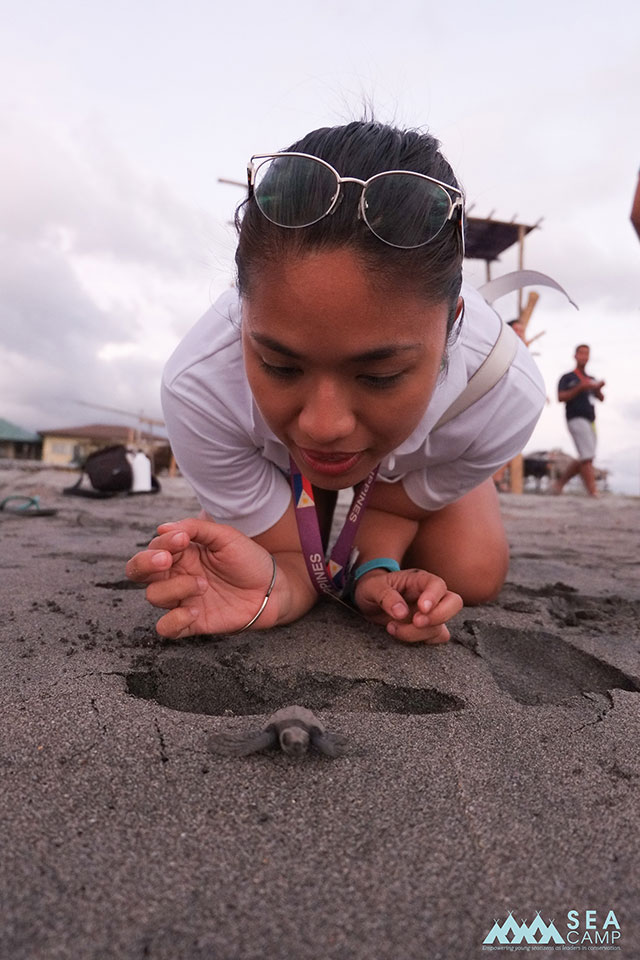 "With SPS, there is no typical workday for me! For instance, this week I'm working on a research project for the oceans in Asia-Pacific, writing a proposal to a multi-national company to innovate packaging, preparing for a campaign to reduce single-use plastics, then heading to Bohol to run a workshop for shark conservation legislation."
What her life was like before SPS:
"Before SPS, I was an English major in the University of the Philippines, working as a writer and performer. Ang dami kong raket noong college, from hosting mall shows to writing political commentaries for online news outlets. I was also grade-conscious and worked hard to graduate with really good grades while juggling different projects and opportunities.
ADVERTISMENT - CONTINUE READING BELOW ↓
"What I do now as a marine conservationist is a world away from that life in terms of topics and activities, but the skills are the same. My communications background and the discipline and grit I developed pre-SPS are the foundations I've built SPS on: I may not be performing or pursuing lifestyle journalism anymore, but I still spend most of my time writing proposals and reports, speaking, pitching, and teaching."
How her interest in marine life grew:
"My dad pioneered environmental law in the Philippines, so I grew up exposed to all kinds of environmental issues, from illegal logging to illegal fishing to air pollution. Environmental law was an ordinary dinner table topic. My dad insisted that my brothers and I become scuba divers because according to him, we wouldn't know the true beauty of the Philippines unless we see what lies beneath. So I became a scuba diver when I was 15 and liked diving, but I still didn't see it as a career.
"My interest in marine life grew over many years. A little light went on in my head when I volunteered for an underwater cleanup at 19 years old, which led to co-founding a waste management campaign in UP. My friend and I succeeded in banning Styrofoam (polystyrene) in UP, and teaching waste management in different colleges and dorms. Just when I was wrapping up my undergraduate thesis, I was told about the illegal wildlife trade case called 'the rape of the Philippine seas,' and it led me to like-minded people online. That's how SPS started.
Her struggles in running SPS:
"There are many, and I've accepted that the struggles will never run out. Fundraising is always a challenge, and we've been 'hand-to-mouth' for almost eight years, running on one grant after another. We're also really small in terms of human resources, with four to five part-time team members at any given time, with ambitious goals.
"Outside SPS, the struggles are to communicate our advocacy to the apathetic, the bureaucracy of the Philippine government, the lack of infrastructures and political will… Ang dami. Nakakaloka!
"To overcome challenges is a constant commitment. To be optimistic is a choice I make every day. It's not easy—it never is. Conservation is like a hose with a hole, and when you cover one, water will gush out of another hole. I do my best to keep the big picture and mind, get over my ego, and do what it takes to address the challenge."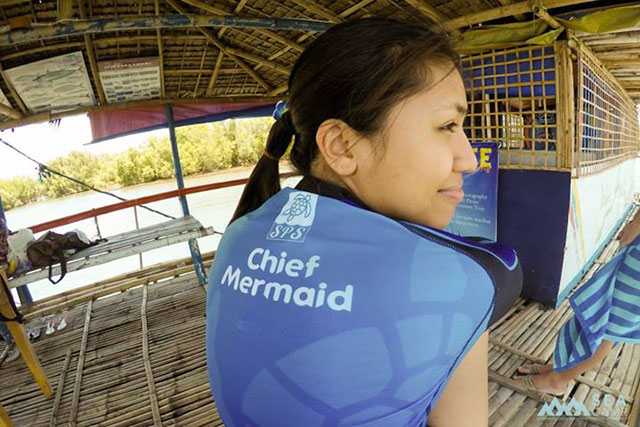 ADVERTISMENT - CONTINUE READING BELOW ↓
The challenges she has faced due to her gender and age:
"I co-founded SPS when I was 23, and I had no formal conservation education. There are many people who didn't—and probably still don't—take me seriously because I'm female, relatively young, and because I don't project myself as a particularly serious person. I take my work seriously, but I'm almost always smiling or making jokes. Conservation is depressing enough, hello! Let's bring some sunshine in!
"It was hard to get funders at first because I was young and inexperienced. It took a few people and institutions to take that leap of faith and trust me, which meant I had to work really, really hard to make sure I didn't mess it up. As my lola likes to say, 'The harder you work, the luckier you become.'
"In meetings or speaking engagements, during the Q&A part, I always get asked questions like, 'Single ka ba?' 'Bakit hindi ka pa nag-aasawa?' or 'Bakit wala ka pang anak?' One time, someone—another woman—even told me, 'You're too ambitious. You can't be such an overachiever, because men will not be attracted to you.' My male colleagues never get asked questions like these, or are never shamed for being ambitious or a workaholic.
"I'm not going to lie—even after hearing remarks like these many times, it still annoys me. My response depends on my mood, but it is often straightforward and curt (and sometimes with an eyeroll). I also have to work so much harder to prove myself, which I'll choose to see as an advantage."
Her greatest achievements:
"The greatest achievements I have are the ones that aren't on my resume. It's nice to receive awards and be recognized for the work I do, because it adds credibility. But that's it, really—I don't measure my 'success' based on trophies, but through impact. After every campaign or project, I assess if we've reached our objectives, and why or why not. How can we do things better? How can we do things differently?
"Our achievements lie in the success of the communities we work with—raising their awareness, instilling pride in their local natural resources, empowering them to act on issues without our support.
"The most fulfilling thing about the work I do is when I see people we've trained leading their own movements."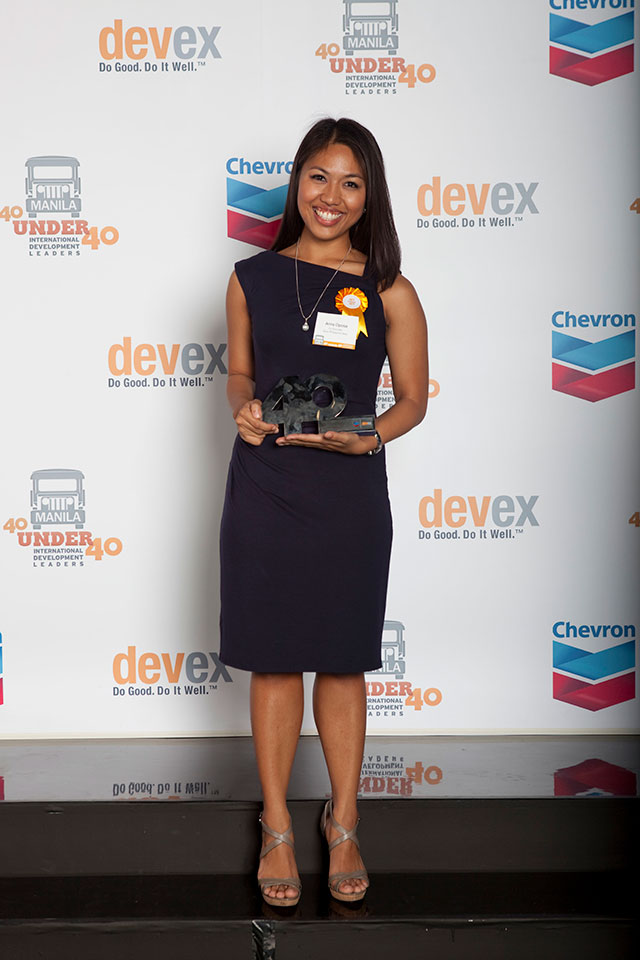 ADVERTISMENT - CONTINUE READING BELOW ↓
What she wants to tell young women about how they can truly contribute to the cause:
"Don't romanticize this advocacy. You don't 'save the seas' because you work in a bikini or join a coastal cleanup. So many people do it for the 'gram, but the pursuit of this work requires commitment, grit, resilience, resourcefulness, and a lot of hoping against hope.
"Don't take shortcuts, keep failing, and keep learning."