Today in women who kick ass: Erika Fille Legara, PhD, the 33-year-old data science rockstar who recently moved back to the Philippines from Singapore to helm the Asian Institute of Management's (AIM) data science master's program—the first of its kind in the country.
Dr. Legara, who holds a PhD in Physics from the University of the Philippines Diliman (UPD), was offered a scientist post by the Singapore government's Agency of Science, Technology, and Research (A*STAR) in 2011. She then worked at A*STAR's Institute of High Performance Computing for almost six years—you can read about her work in our earlier article on Filipinas with great careers abroad—until she got the call to be part of the AIM faculty.
Now Associate Professor at AIM's Department of Analytics, Information, and Operations and Academic Program Director of the Master of Science in Data Science program, Dr. Legara tells us what it's like to be a woman in STEM (science, technology, engineering, and mathematics), what her visions are as a data science educator, and what in the name of Beyoncé data science really is. (Spoiler: It's actually pretty easy to understand!)
ADVERTISMENT - CONTINUE READING BELOW ↓
Before we begin, what is data science, in terms and scenarios that non-scientists can understand?
Simply put, it's about extracting value out of data. "Extracting value" could mean the use of data to answer specific business and/or policy questions or, for more data-driven organizations, could mean using data to produce new products to make companies or businesses more efficient, competitive, and innovative.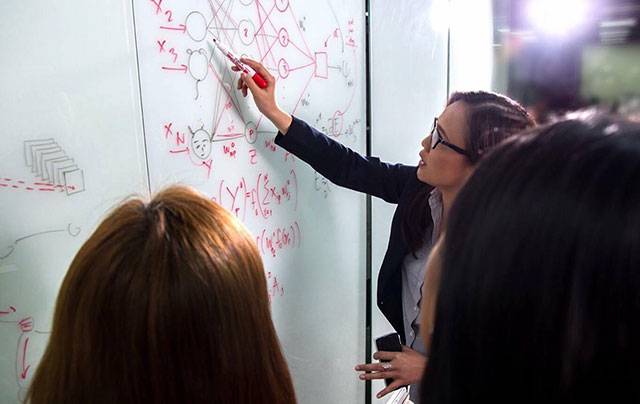 Like oil, for data to be valuable, one needs to process it—extract, store, clean, analyze. Let's take Waze as an example as there's a lot of "data science" involved in the app that can be categorized into three different analytics levels: descriptive, predictive, and prescriptive. Descriptive analytics is when Waze shows you traffic flow trends and patterns based on road network data provided to Waze and crowd-sourced data provided by its users. Predictive analytics is when the app estimates travel time by looking at factors such as the users' origin, destination, mode of travel, and time of travel, to name a few. Finally, prescriptive analytics is when Waze recommends which route its users should take to get from one point to another.
Have you always wanted to work in STEM? When did you discover your love for STEM?
As a child, I had always wanted to be a civil engineer like my parents. That's why in all college entrance exams I took in 2000, I put civil engineering as my program of choice. I got admitted to UPD's BS in Civil Engineering program—my first choice. I, however, also got into the DOST-SEI Merit Scholarship Program, which unfortunately (or fortunately?) didn't have civil engineering in its list of priority courses then. As someone coming from a family of modest means in Maguindanao, I felt compelled to choose the program that made more economic sense. So BS in Physics it was—I was of the opinion that it's the science course closest to engineering!
ADVERTISMENT - CONTINUE READING BELOW ↓
When I started studying physics in college, I thought it was just something I had to get over with—the sooner, the better. Everything changed, however, when I became part of a research group at the National Institute of Physics (NIP) at UPD for my undergraduate thesis requirement; this was during my third year in college. That's when and where I fell in love with scientific research; I didn't realize how much fun scientific research was until I worked with real scientists! It also helped that I had dedicated and capable mentors at the institute. The community at the NIP and my mentors inspired me to pursue advanced degrees in physics.
I obtained a PhD in Physics in 2011 with a general weighted average grade of 1.0 and seven peer-reviewed publications in the field. During graduation, I received the 2011 College of Science Most Outstanding Graduate award, the PhD in Physics Most Outstanding Student award, and the Edgardo Gomez Excellence in Dissertation award.
ADVERTISMENT - CONTINUE READING BELOW ↓
How did you go from majoring in physics to working in data science?
While at the NIP, I was working in the field of Complexity Science—looking at and studying the dynamics of systems composed of many parts that are heterogeneous and interacting nonlinearly, and whose interactions give rise to certain global behaviors and/or phenomena. Some examples of complex systems include societies, economies, financial markets, cities, the brain, and the immune system. I have always had a good appreciation of multi-disciplinary, cross-disciplinary, and inter-disciplinary research. I believe that significant and impactful works are produced whenever there is a crossing-over between boundaries of knowledge. For my undergraduate thesis, for example, I studied multilevel markets with a particular focus on modeling and understanding their dynamics; this resulted in my first international peer-reviewed publication.
This notion of multi- and cross-disciplinarity was further reinforced when I got accepted as scholar to the Santa Fe Institute's (SFI) Complex Systems Summer School in 2010. The SFI is what Rolling Stone Magazine described as "a sort of Justice League of renegade geeks, where teams of scientists from disparate fields study the Big Questions."
ADVERTISMENT - CONTINUE READING BELOW ↓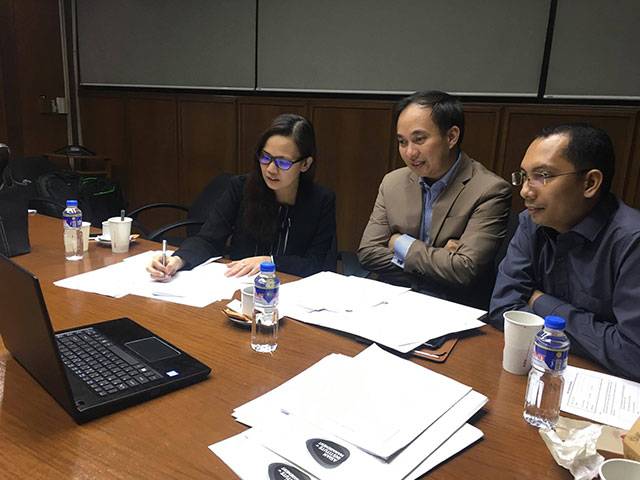 After grad school, I went on a hunt for a post-doctoral position abroad to expand further my knowledge and experience as a scientist, and also to become more competitive in the field. It wasn't much of a wait when A*STAR in Singapore reached out to our team at the NIP and offered me a scientist position; I accepted and joined the government think tank in 2012. At A*STAR, I was directly involved in multiple research projects, collaborations, and partnerships with various companies, industries, and other government agencies.
ADVERTISMENT - CONTINUE READING BELOW ↓
Although the sectors are different, I was actually doing the same kind of science at A*STAR as in NIP except that in Singapore I also got to work on a lot of "real-world" datasets. Some view my stint as a career change from "physicist" to "data scientist"—truth be told, it really was just a change in job title more than anything else. At least, that's how I see it.
After almost six years with A*STAR, I was offered the opportunity to return home to the Philippines to design and lead the first graduate program in data science in the country—AIM's Master of Science in Data Science. How can one say no to that?
How does it feel to be invited to lead such a program?
It felt surreal—still does—the first time I received the invitation from no less than the president and dean of AIM, Dr. Jikyeong Kang. Definitely daunting, but at the same time inspiring, encouraging, and exciting! The geekier side of me is especially giddy at the thought of building, designing, and very soon implementing our ideal—from the perspective of a physicist-slash-data science practitioner-slash-former UPD college professor—data science curriculum. It's especially fulfilling since I get to do all this with fellow data science practitioners and scientists whom I respect and admire and who are equally passionate about finally having a data science program in the country.
ADVERTISMENT - CONTINUE READING BELOW ↓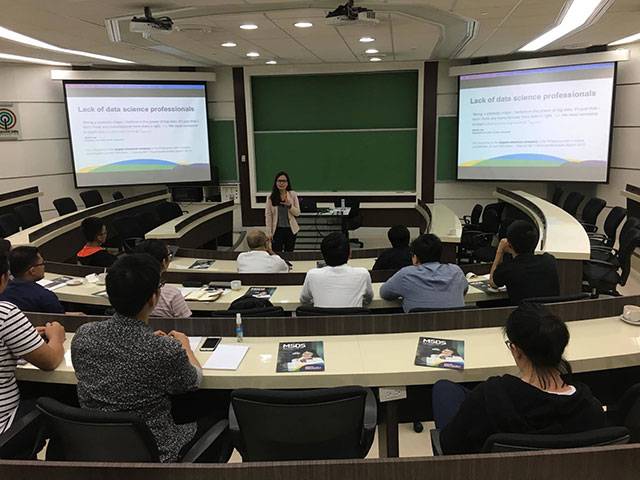 You had been living in Singapore since 2012. What adjustments did you have to make upon your move back to the Philippines this year? 
Nothing much vis-à-vis my lifestyle. It probably just feels more fast-paced now because of the nature of my job here in Manila. I definitely have more responsibilities now.
ADVERTISMENT - CONTINUE READING BELOW ↓
What do you hope to achieve during your time at AIM?
The Philippines—and the ASEAN countries—needs an army of data scientists, and we hope to train the data science battalion commanders at AIM.
It's now widely known that for companies and businesses to thrive and remain competitive, they need to be more data-driven in their processes. The challenge, however, is that in spite of this knowledge, our business and industry people find it hard to look for the right talent, the right set of capabilities. It is my desire, and my colleagues' at AIM, to be able to provide these needed capabilities to those who ask for them—this is especially more crucial with the ASEAN integration in mind.
In addition, while at AIM, I would like to engage our government agencies more and explore ways on how we can equip our people in this era of digitalization and prepare our countrymen for the Fourth Industrial Revolution, among other things.
These are the BIG things I and my colleagues hope to achieve while in the Philippines; truth be told, I cannot think of a better place or community to realize all these than AIM.
ADVERTISMENT - CONTINUE READING BELOW ↓
STEM fields are perceived to be male-dominated. Is this true for the workplaces you've found yourself in?
Unfortunately, this is still true—the workplaces, at least in the teams I've found myself in, are male-dominated. Based on my observation and experience, there are more women in STEM in our country than in Singapore. However, for both countries, we do need to encourage more women to go into the STEM fields.
What's it like to be a woman working in such a male-dominated environment? Have you encountered any challenges due to your gender?
I believe that I've been especially lucky. My colleagues, men and women, have never made me feel inadequate nor feel like I have to perform or give more than what I can because I am a woman. I understand, however, that this may not be the case for some of our female colleagues—especially those who have their own family and kids.
ADVERTISMENT - CONTINUE READING BELOW ↓
What's a common misconception about women working in STEM fields that you want to debunk?
I have heard this a couple of times that women are inferior to men when it comes to STEM skills. Not true at all. The abilities are the same!
Follow Cheekie on Twitter and Facebook.