(UPDATED: October 22, 2020)
SSS, or the Social Security System, is a must-have for all employed or self-employed Filipino adults. Even if you are unemployed, it's still a good idea to be a voluntary member of SSS. The benefits of being an active member include loans, retirement and maternity benefits, disability and sickness benefits, funeral assistance, and more.
If you are starting a new job and do not yet have an SSS number, you may find the human resources department of your company willing to help you go through the steps of getting your SSS number, although you will likely have to get your SSS ID or UMID (Unified Multipurpose ID) on your own.
If you find that you will need to get your SSS number on your own, however, keep reading.
GETTING YOUR SSS NUMBER

Visit the SSS website (sss.gov.ph) and check out the instructions for applying for a SSS number. Go to the official website. This page lists instructions, reminders, and requirements.
ADVERTISMENT - CONTINUE READING BELOW ↓
Fill out the online form completely and correctly through their online facility.
Wait for the email from SSS and click on the link to continue with your application. This email will notify you that the system has received your accomplished application form and inform you of the next steps required to continue the process. Note that the link is live for only five days. If you fail to continue the application process in this time frame, you will need to go back to Step One.
Fill out the next forms, then review to make sure your registration forms were filled out completely and correctly. 
SSS will require you to provide your basic information as well as information of your beneficiaries (a spouse, children, or your parents are the common options). You will have a final opportunity to review and correct the registration form you filled out electronically. Make sure that all the information is accurate; this is the last chance you have to correct this information online. Any future corrections will need to be done at your local SSS branch.
Click the button to generate your SS Number.
Take note of the number indicated. You should receive an email containing your SS number and SS number slip and informing you of the next steps in the process. However, you do not have to wait for this email; your SS number will be displayed onscreen, along with buttons that you can click to print out your SS number slip and your ePersonal record. It may be advisable to do so just so you have a copy for your files.
Prepare your required IDs and documents.
These include the following:
Printed ePersonal record form
Printed SS number slip
Printed SSS number application confirmation email
Your birth certificate (original—on NSO security paper—and a photocopy)
Valid ID (original and a photocopy)

The following are acceptable:

Baptismal certificate
Driver's license
Passport
Professional Regulation Commission (PRC) card
Seaman's Book (seafarer's identification and record book)

ADVERTISMENT - CONTINUE READING BELOW ↓
Other valid IDs may also be accepted, but you will need at least two of these. These include:
School or company ID
Postal ID
Voter's ID
Valid NBI clearance
Taxpayer's Identification Number (TIN) card
Check more acceptable secondary ID cards and documents here.
Your marriage contract (if married)
Your children's birth certificate (if you have any)
If you are married but are unemployed or a house spouse (non-working spouse), have your working spouse sign your ePersonal record form as well.
Go to the SSS branch nearest you and submit your documentary requirements and SSS number slip.
Because we are in the middle of a pandemic, SSS has implemented a number coding scheme to regulate the number of people inside each branch. There are also safety measures in place.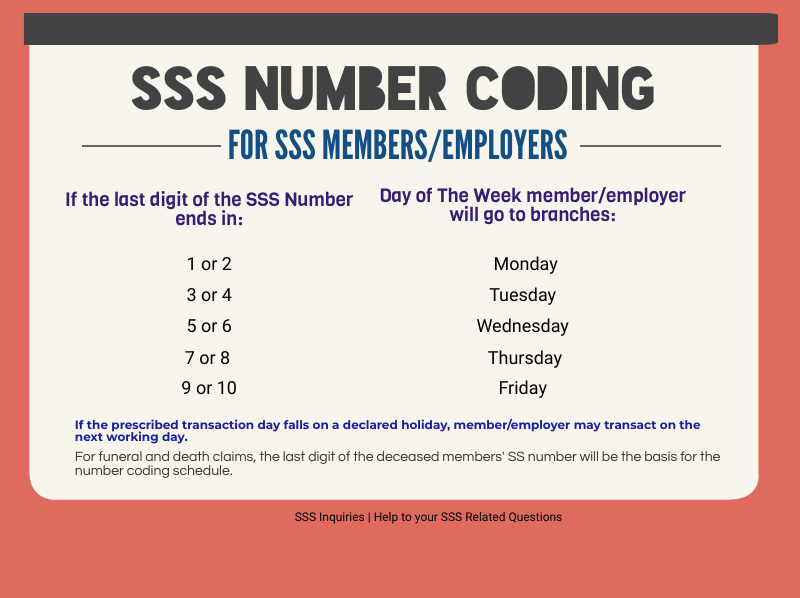 ADVERTISMENT - CONTINUE READING BELOW ↓
Make sure to keep your personal copy of your ePersonal record form as an individual can only have one SS number for life, and you will need to show this form to future employers and more.
If you are a voluntary SSS member, you will need to start paying your contributions on a regular basis. You will only be eligible for benefits after 120 months' contribution.
GETTING YOUR SSS ID (UMID)
The Unified Multipurpose Identification Card (UMID) is an ID card that can be used for your SSS, GSIS, PhilHealth, and PagIBIG membership benefits. The card contains smartchip technology that stores your membership information as well as biometric data like your fingerprints, facial image, and signature.
You can apply for your UMID Card as long as the following is true:
You do not have an existing SSS ID or UMID card, which may have been issued to you by GSIS or PhilHealth. (Note: If you have lost your UMID card, you can apply for a replacement, but do not register as a first-time applicant.)
You have an SS number.
You are currently covered by SSS and have paid at least one month's contribution.
You have other valid ID cards to present to SSS for verification of your identity.
ADVERTISMENT - CONTINUE READING BELOW ↓
Once you have confirmed the above, follow the steps below:
Download the Unified Multi-Purpose ID (UMID) Card Application Form from the SSS website. It can be found here.
Print and fill up the form correctly and completely. Make sure your SS Number is the same as the one on the SSS database. Double check that all information is correct before submission. Ensure the following:

- All information in all fields is current and correct.
- The form should contain no erasures or visible changes to the information provided.
- Where a field does not apply, indicate "N/A" or "not applicable".
- You have provided at least one contact detail (usually your contact number or email address).
- You have listed your permanent address on your application form.
Prepare an original or certified true copy of one of the accepted primary IDs or two other valid IDs and documents. Also prepare photocopies of the original IDs you plan to present. The following primary IDs are acceptable: driver's license, passport, Professional Regulation Commission (PRC) card, Seaman's Book. For a list of acceptable secondary ID cards and documents, check here.
Find out which SSS branch near you has UMID enrollment or ID Capture facilities. Note that not all SSS branches have these facilities; it would be best to find out before scheduling your trip to SSS.
ADVERTISMENT - CONTINUE READING BELOW ↓
Since SSS will be collecting your biometric data, a personal appearance is required, so you will not be able to delegate this to a representative. A list of SSS branches with UMID enrollment facilities can be found here.
At the SSS branch closest to you, submit your form at the verification counter. When your application has been verified, go to the ID capture booth. Here, you will have your photo taken, your fingerprints scanned, and your electronic signature recorded.
Wait to get your UMID card in the mail.
Once printed, the card will sent for delivery via PhilPost registered mail to your indicated address. From then, it can take anywhere between five to 20 working days to arrive, depending on your location.
Activate your UMID card.
This can be done at any SSS branch as well as the SSS kiosks located in select malls around the country. Once activated, you can use your UMID card to access your SSS information, including contributions, loans, benefit eligibility, and more.
ADVERTISMENT - CONTINUE READING BELOW ↓