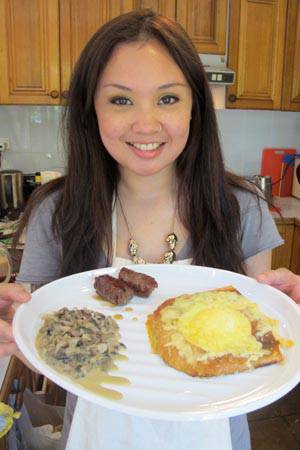 The New Year calls for a new outlook on life, doesn't it? So, if you've ever dreamt of taking a sabbatical from your 9-to-5, well, by all means, go for it! If you've got the balls, or make that, chops, for it, now is the time!

Speaking of chops, take a cue from a former beauty editor, freelance writer, and media/events consultant who has dared to try something new. Erica Paredes has temporarily exchanged her makeup brushes for knives and spatulas to whisk us away with her humor in the kitchen, Martha Stewart-style! Read how she was able to boldly venture into a new career in our Q&A with her, here.

What prompted you to shift from makeup to cooking?

I don't really think there was a "shift." I've always loved both, and it's just a matter of focusing on one thing at a time--I am only recently learning this. There are plenty of things I want to do, all creative. I tried at one point to be everything at once, but it's tiring and something always suffers. So for now, the creative outlet is cooking, I think. It's what keeps me stimulated and alive.

You became famous for your chocolate-dipped bacon creation. How did you come up with that?

My friend mentioned it this one time I was in New York and, loving the sweet and salty combo from way before, I wanted to try it. It was awesome but expensive at 40 bucks a pound! So, I decided to make my own here. It took awhile for Pinoys to warm up to the idea of bacon and chocolate, but now it's everywhere!

Did you study cooking or baking professionally?

Nope. I have a lot of books, and I ask chef friends, and look online a lot. I always liked cooking but never thought I would want to be a "chef." Until now, I'm a girl who loves food, loves to cook, and loves making people happy. If I ever open a restaurant, I will take a short course or something, mostly on food safety and running a business.

Would you consider this a lucrative career?

The cooking? Yes--if I decided to focus [and] put up a restaurant or catering service. If I really hustle and keep going then I would say, yes.

What is your ultimate goal in your newfound career?

I don't know if this is a "career." I just like to teach other people to be more confident in their skills, stop buying fast food, and create more interesting food than just plain old adobo every single day (mind you, I have so far created about six different adobo recipes, and there is nothing ordinary about them)--without breaking the bank. Also, on a selfish note, it feeds my creativity, which I seriously need to survive. Coming up with menus, creating recipes or ways to serve familiar food; I need all of that.

What advice can you give other women who want to do the same thing? What should they expect?

If you want to cook, just do it! There's no excuse not to! I learned from experience and from talking to chefs that culinary school is not a requirement for being an excellent cook. I make a lot of mistakes, and not everything I make is a success on the first try. You need to be open to advice, learning, and even failure. Right now, cooking for me is a hobby, which is on the brink of turning into something that can sustain me. Hopefully 2012 is my year!

What can we expect from you in 2012?

Fun, fearless cooking!


Anyone up for seconds? We sure are curious to see, smell, and (if we're lucky) taste, what this reluctant gourmand has stewing up her sleeves! Launch the gallery to see some of her culinary creations!
Continue reading below ↓
Recommended Videos
1774