Working for five to ten years in a certain industry has its perks. Aside from gaining a great deal of experience, becoming highly specialized, and gaining credibility in your field, you also get to experience the full benefits of being marketable and getting good pay.
In the recent Salary Report and Job Trends Initial Data, Jobstreet released the industries that pay best in the Philippines for supervisorial and managerial levels.
Here's the rundown of the estimated salaries of the top ten best-paying high-ranking jobs in the country.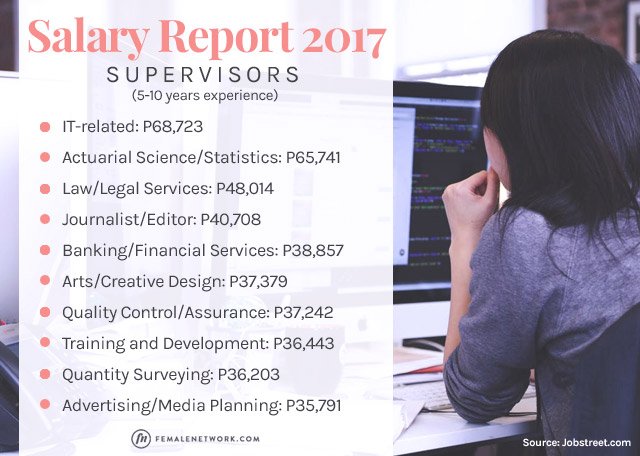 Those working in the IT industry enjoy the largest salary average of P68,723. This comes at the wake of the continuous growth of BPOs in the country, increasing the demand for people who specialize technology. Close at IT's heels is Actuarial Science/Statistics at P65,741, while a huge jump down the ladder is Law/Legal Services at P48,014. These are followed by Banking/Financial Services (P38,857), Arts/Creative Design (P37,379), Quality control/Assurance (P37,242), Training and Development (P36,443), Quantity Surveying (P36,203), and Advertising/Media Planning (P35,791).
Continue reading below ↓
Recommended Videos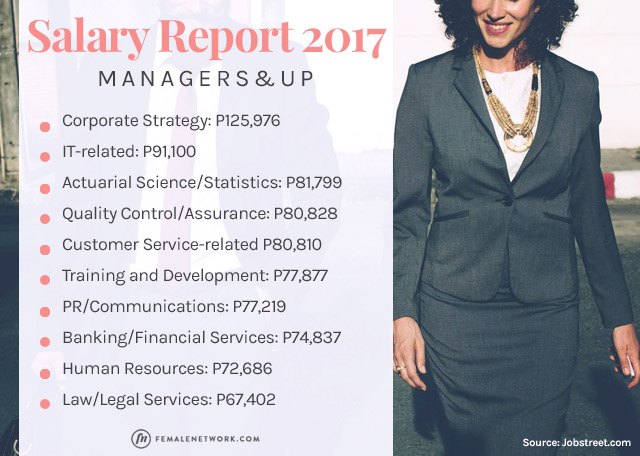 Moving to manager-level salaries, Corporate Strategy tops the bill with an average of P125,976. IT falls to number two with P91,100. Actuarial Science/Statistics lags a few thousands behind with P81,799, followed by Quality Control/Assurance (P80,828), Customer Service-related professionals (P80,810), Training and Development professionals (P77,877), those in PR/Communications (P77,219), Banking/Financial Services (P74,837), Human Resources (P72,686), and Law/Legal Services (P67,402).
"From the data we have gathered, we can really see the uptrend and upward mobility of professions as indicated by their respective industry's increase in salary," said Philip Gioca, JobStreet.com Country Manager in the Philippines in a release. "This also shows how current companies are expanding as they are more inclined to invest in their employees."
It's also great to know that not all of these high-paying jobs are in Metro Manila. In fact, "44.07 percent of jobs are located in the provinces," which is largely due to developments as well as foreign and local investors. Gioca added: "These investments are important, they have made municipalities into cities, and sleepy rural towns into commercial centers, and we have to thank the BPO industry makers for choosing the provinces too, so that the focus is not on Manila anymore, but people in their own provinces focusing on themselves."
Whether or not your industry is included in these lists, it's important to always shoot for the stars when going for a better corporate position. According to INC., you will need to have these characteristics if you want to move higher up the ladder:
Being able to look beyond oneself
Being a leader means going for "we" instead of "I." You should be able to consider not only your own success, but also the success of others.
Being able to see the bigger picture
As you move beyond yourself, you also need to see the effect of your team's actions not only on your department, but on the growth of the company as a whole. You'll need to plan well beyond the daily grind and integrate your actions and decisions into workable plans that will help your company achieve its goals.
Being able to perform above and beyond your job description
Sometimes, taking into account other people means knowing and accepting that you'll need to go beyond the call of duty. A good leader does not see this as a slight, or mumbles that "I'm not paid to do this." If you want that position, you'll need to accept the extra work that comes with it, and turn them into opportunities to perform better than expected.
Being able to admit mistakes and quickly turn them into solutions
The buck stops somewhere, and you know that at times, it will stop with you. You're done with playing the blame game—instead, you learn your lesson and look for solutions, knowing full well that time is precious especially during damage control.
Having integrity
Integrity is one of the hallmarks of being a leader. It's about doing what's right over what's easy, and having a strong code of pride and honor regarding your craft.
Sources: Jobstreet.com, Ecompare Mo, GMA News, INC
This story originally appeared on Femalenetwork.com.
* Minor edits have been made by the Cosmo.ph editors.