Musicians don't earn a lot from it.
An infographic created by information designer David McCandless at Information is Beautiful shows the artist revenue per play and how much music streaming users need to play their track so they can earn minimum wage.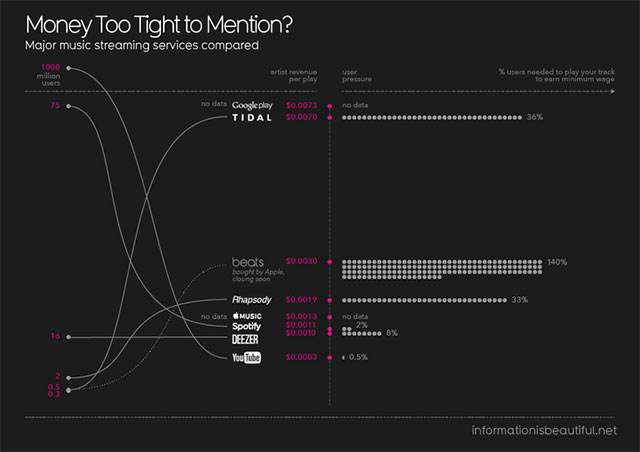 Here's how to read it: Artists get $0.0011 per play on Spotify. With 75 million people using it, they need 1.5 million (2 percent of the 75 million) users to play their track per month to get minimum wage. In the case of YouTube, it's 5 million users. That's not a lot if the musician is a household name like Rihanna or Katy Perry, but for indie artists, it just might be.
Another way of looking at the infographic is who pays the artists the highest amount of money. It's Google Play then Jay-Z's service Tidal (as expected since it's "by artists for artists").
FYI, Apple Music cut its artist revenue in half after buying Beats last year, so musicians only get $0.0013 per play—a little more than they'd get in Spotify, but the difference is pretty negligible.
Continue reading below ↓
Recommended Videos
Indie musicians aren't very upset about music streaming services.
Rapper MC Lars says 50 percent of his monthly digital income is from Spotify. For him it's beneficial for musicians since they "get a little bit" each time someone listens to them. "If you want to make money as an artist these days, you have to be on the road and sell merch and tickets. People who whine about streaming hurting the music industry don't understand the DIY/live music/club hustle side of things."
Singer-songwriter Catey Shaw says it's a "great way" for her to get her music to fresh ears and "another strong stream of revenue." For her the problem "has more to do with the people releasing the song and less to do with who's streaming it. Who owns the master? Who owns the publishing? I'm in a great position because the money isn't being split too many ways."
Producer and artist John Vanderslice mocks the streaming discussion, saying it's "really the most boring conversation we could have." "Why are streaming rates so low? It doesn't matter! It's always been live performance revenue. Do you want to make money if you're an artist? Print up 200-gram vinyl records and go on tour and sell at the merch table, and you will make money. It's always been that way."
No one's profiting from it...yet.
Spotify and its other competitors like Apple Music and Tidal haven't turned a profit yet. They're trying to grow so they're investing heavily—in other words spending a lot with hopes of a high return in the future.
Not to mention not a lot of people are willing to spend their money to listen to music. Even if Spotify has 15 million paying users (which accounted for $1.1 billion of revenues in 2014) it has a sharp increase in its net losses (nearly $1.9 million).
All music streaming services offer a free trial subscription.
Depending on the service, the trial period can last from a week to a month. Apple Music has one that lasts for three months. Before you subscribe to a service, make the most out of the trial period to see if the subscription is for you and if it's worth your money.
If you suddenly find that your subscription isn't for you, you can easily cancel it.
Some services offer family discounts!
Multiple users in a household can stream together through Spotify. It gives a 50 percent discount for every person you add to a premium account, and it'll cut your costs. (You can add up to four people, and each of you would only be paying 78 pesos monthly instead of 129 pesos.)
Apple Music lets you invite five people to share the same membership, where you each pay only $0.84 a month instead of $2.99 for your individual account.
Sources: Fast Company, Newsweek, Cnet, The Guardian
Follow Stephanie on Twitter.