Your dose of inspiration today: Meet a Pinay who, as a teenager growing up in San Pedro, Laguna, wanted to become a genome engineer. Fifteen years later, what then seemed like a pipe dream came true.
Dr. Rachel Valenzuela, 34, calls herself a "jack-of-all-trades scientist": she is a chemist-turned-chemical biologist who has also gone into genome engineering and molecular and cell biology. Currently, she is a Senior R&D Scientist at Memphis Meats, a Silicon Valley venture-backed San Francisco Bay Area startup which is the leader in producing meat products from animal cells—"clean meat." There, she works to discover which cell types are the best ones to use for cultivating meat.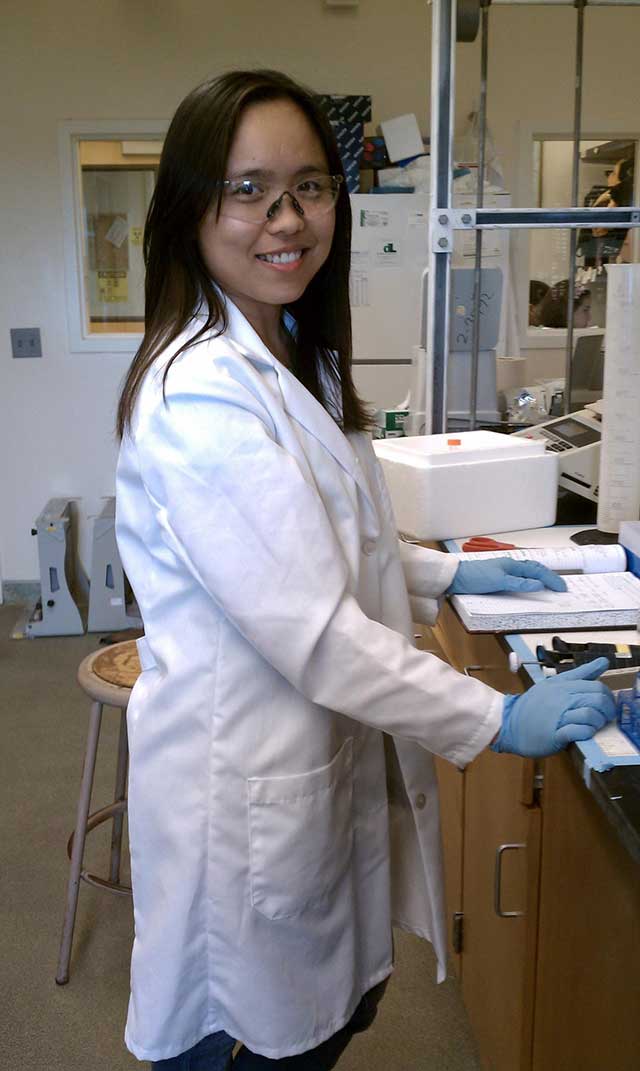 Beneath Rachel's daunting job description is a longing to do meaningful work. "Traditional animal agriculture is the second largest contributor to human-made greenhouse gas emissions and is one of the primary causes of deforestation, pollution, and decline in biodiversity," Rachel explains. "The process of making cell-based meat aims to solve the huge demands for food due to the world's growing population, while using significantly less land, water, and energy, which is ultimately good for the planet."
"As a scientist, I feel that it is my responsibility to contribute to mitigating one of the world's biggest problems and make an impact with my skillsets," Rachel continues.
Read on to see how Rachel got to where she is now, thanks to laser-sharp focus, tough-as-nails grit, and ultimately, a desire to make the world a better place.
Her love for science as a young girl in Laguna:
"When I was in elementary, I was so excited to be in third grade because that was the first time I'd have a formal science class. I remember being obsessed with anatomy and zoology back then, and I daydreamed about having my own microscope.
Continue reading below ↓
Recommended Videos
"When I was in high school, biology and chemistry were my favorite subjects. The funny thing is, in 2001, for our 'Last Will and Testament' for our prom (it's a predictive narrative of what our careers would be when we grow up), I was a scientist, specifically a genome engineer presenting my work at a conference. Strangely enough, in 2016, it came true!
"After graduating from college, I remember posting the very first Nature article on the discovery of the DNA double-helix structure by James Watson and Francis Crick on the wall by my bed to inspire me to go after my dream of being a genome engineer. Of course, people thought it was weird and that my dreams were too ambitious. But it worked!"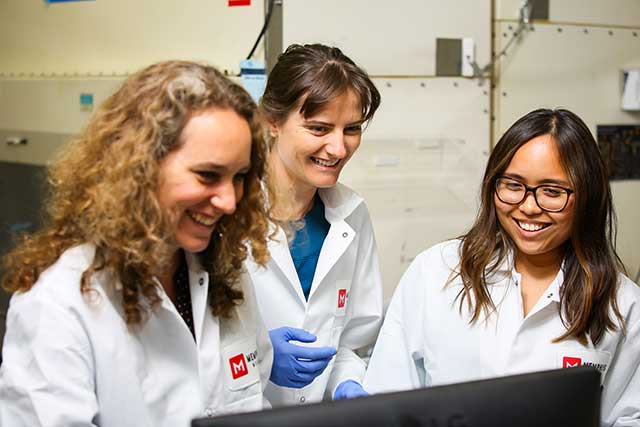 Her journey to becoming a scientist:
"I did my Bachelor of Science degree in Chemistry at UP Diliman. I originally wanted to take up BS Molecular Biology and Biotechnology (BS MBB), but I did not get in. I ended up in Chemistry because I got the Department of Science and Technology – Science Education Institute (DOST-SEI) scholarship, and BS Biology, which was my other option, was not in the allowed list of courses for the scholarship back then.
"Honestly, I did not like being a chem major for the first two years. That, coupled with being around super-smart students who mostly came from science high schools, made me feel very disadvantaged and I really felt that I had to catch up on a lot of math and science. I struggled with organic chemistry and I really hated it, and even got a 4.0 in the subject and had to take the removals exam.
"Things changed when I took the higher chem courses like inorganic chemistry and biochemistry, and that's when I actually started to enjoy the field.
"My first job out of undergrad was as a research associate at a biochem lab in UP, and I transitioned to becoming a chemistry instructor two years after. I really loved teaching, but my long-term goal was to do a PhD abroad.
"I got pregnant in 2009 and resigned from being an instructor in UP. I then submitted my applications to different universities in the US and chose to go to the University of California – Davis for my PhD in Chemistry. My grad school research focused on RNA (ribonucleic acid) chemical biology and I published five papers in high-impact international journals.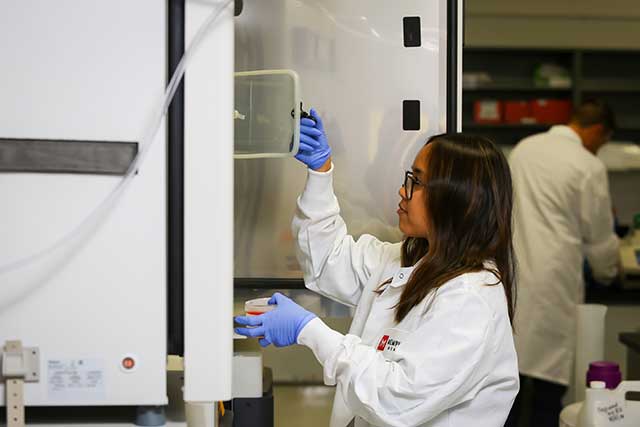 "As I was finishing my PhD, the field of genome editing was emerging and this biotechnological tool called CRISPR (Clustered Regularly Interspaced Short Palindromic Repeats) was making the headlines. CRISPR is basically 'DNA scissors;' it can cut DNA at a targeted location and can be potentially used for curing genetic diseases, and it has a whole lot of other biological applications. I told my adviser, 'I want to get into CRISPR and genome engineering,' and he said, 'Then go make a list of the top 10 labs that do CRISPR and apply to those for your postdoc.'
"I was, again, very lucky to be accepted to the Innovative Genomics Institute (IGI) in University of California – Berkeley as a postdoc. UC Berkeley is the home of the 'mother of CRISPR' Jennifer Doudna, and IGI was created to be the institute devoted to studying and developing CRISPR as a technology. There, I was doing a project in collaboration with Pfizer which involves developing genetic screens to find novel targets for non-alcoholic fatty liver disease.
"My postdoc was the point in my career when I was deciding whether to go to academia and be a professor, or go to industry. A year and a half into it, I was interviewing at large biotech companies when I received a call from a headhunter at Memphis Meats. I went in for an interview; back then, the company had less than 10 people. I was impressed by the energy and passion of the people in the company, but most of all, by the company's mission.
"That's when I realized that in order for me to be happy in my career, I needed to do something meaningful, and use my scientific skills to solve more prevalent problems: how to feed the world's growing population and find a more sustainable food source. Instead of focusing on diseases or studying basic biotechnology, why not go after improving a primary human need: food?"
The beliefs that fuel her:
"One thing that I really believe in is that hard work trumps talent, and you don't need to be a straight-A student or a genius to achieve your goals. You need grit, consistency, focus, and resilience to make it. And you need to really, really want it. You need to be able to be okay to fail, and brush yourself off and get back up again.
"I studied a lot in high school and got into UP, so I felt like I needed to loosen up in college and I do have a tiny bit of regret that I could've done better. I also carry that tiny chip on my shoulder that I didn't get accepted to the MBB program. But in the end, it didn't really matter. Once I focused on the end goal, everything fell into place.
"When I came to the US, I knew my organic chemistry was weak, so I tutored undergrads every day not just to earn money on the side, but to really learn the organic chemistry concepts until I could teach all the reactions without even looking at textbooks. I knew nothing about molecular biology, but I asked for help and learned how to clone really well. I switched fields and knew nothing about cell biology, but I wasn't afraid to look dumb and would ask the most basic questions even as a postdoc who already had a PhD, and I taught myself how to do genome wide screens, confocal microscopy, and flow cytometry.
"When I got to Memphis Meats, again, I knew nothing about muscle biology, but I accepted the challenge and taught myself the techniques in three months.
"It's really about being willing to take risks and having the constant desire to be better at what I do."
"I also get fueled more when people think that I can't do something based on preconceived judgments about me. It pushes me to work harder and be better than what everyone expected."
How she juggles a demanding career with her personal life:
 "I am a firm believer in creating habits and putting everything on my calendar.
"I wake up at 5 a.m. and go to the gym to work out. I love strength training and HIIT and go to the gym five times a week. I come home and prepare my daughter Relena's lunch and then take her to school. I then bike to work and would be in the office until around 5:30 p.m.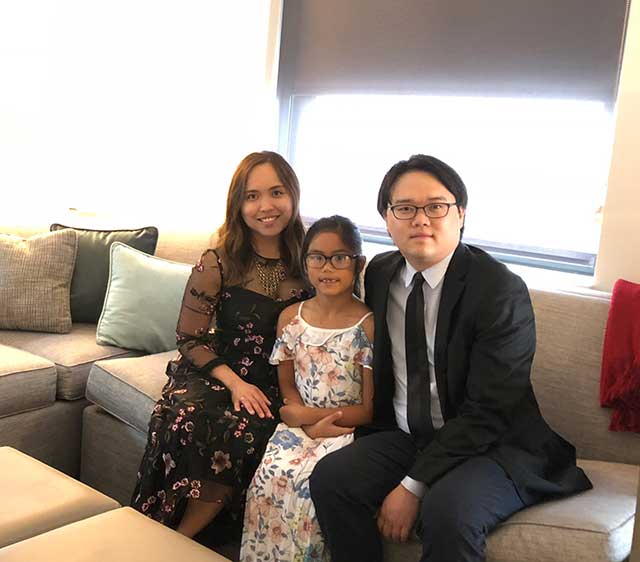 "On weekends, I go for a long run (5k and up), go to yoga (I am a yoga nut!), and then drive to Davis from the Bay Area to take Relena to violin lessons.
"As a family, we go on hikes since there are many hiking trails in the San Francisco Bay Area, hang out with our furbabies (we have two dogs), or watch movies. Sometimes, we take Relena bouldering or wall climbing.
"As you can see, my schedule is pretty packed, so I also appreciate a day when I can just relax and sleep!"
Misconceptions about women in science:
"One misconception that I personally encountered is that once you have a child, your career is over. Or that there is no way to juggle graduate school and being a mom.
"I went to America when Relena was just a year and a half, and everyone discouraged me and told me to leave her in the Philippines. I refused and brought her with me, and everyone thought I was crazy and would probably quit within a year or two.
"I have zero regrets and it is the best decision that I have made in my life. Yes, it was the most difficult thing as well, but it can be done. I actually ended up being the best version of myself because I was with her—as a mom and as a scientist. Believe it or not, my career skyrocketed and I credit her for giving me the laser-sharp focus to really manage my time well. I would like her as well to personally see that it can be done by being a role model for her, and to see that no matter what the obstacles are, she can achieve her goals, too."
What she wants to tell young women considering a career in science:
"Go for it! While we are still fighting for a lot of things—wage equality, the 'Me Too' movement, and many other things related to women's rights and empowerment around the world—in parallel, let us also not forget that we have come a long way and that there are so many opportunities available.
"I got to where I am by putting myself out there and trying, and if I can do it, anyone can do it, too!"