Being a woman busting ass in your chosen career is hard enough; imagine doing so in a predominantly male workplace where bigger, stronger, cockier men are ready to underestimate, undermine, and underrecognize you at every turn—which is why these nine Pinays killing it in traditionally male-dominated fields deserve our mad respect. Read on for awesome proof that what men can do, women can do, too!
***
Ina Pauline Abelon
Offshore operations supervisor for an oil and gas company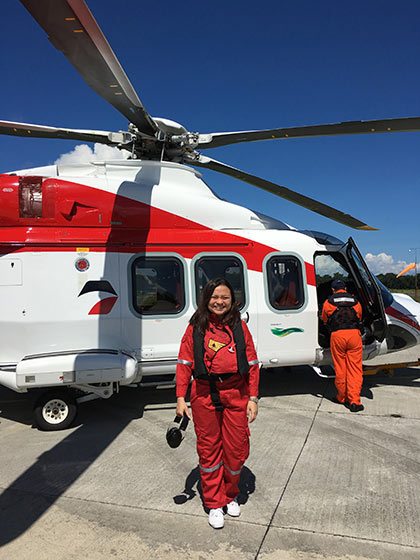 "I oversee the production and maintenance operations of an offshore production platform which provides 25% of the Philippines' energy supply. I am responsible for making sure that all equipment functions efficiently so we can meet our production targets safely.
I chose this career mainly because of the impact it has on the economy of the Philippines. It gives me a sense of fulfilment being able to contribute in my own little way to this country.
I admit, I doubted myself at first. Working in an offshore environment with men with ages up to twice my age is quite overwhelming. But I realized that I can do what they can do by exhibiting my innate female characteristics: being patient, having a keen eye for detail, and using my intuition when the need arises.
Evident or not, discrimination will always be present when a female works in a largely male-dominated field—more so if the female is the supervisor. I have to exert extra effort to be on par with performance expectations. I am very thankful though that I am working for a company and with a team that value equality and respect above all else.
Continue reading below ↓
Recommended Videos
Since female leads are rare in this industry, I've been featured in magazines and on television. In 2015, I was interviewed by ABS-CBN, GMA, TV5, and CNN to talk about the country's oil and gas future. It's fulfilling that I can share a part of me to this country by doing something that I love."
***
Gaki Azurin
MotoVlogger, GakiMoto; drummer, Flying Ipis; contributor, Top Gear Philippines; freelance fitness trainer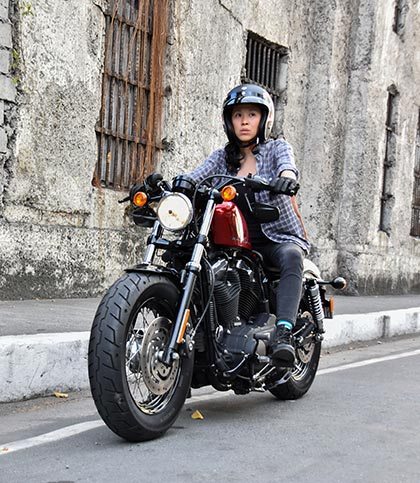 "I've always had a thing for motorcycles. I would ride my bicycle down a hill or pedal fast and pretend it was a motorcycle. Of course, riding motorcycles isn't something parents would encourage. But when the time came that I had a job and I could afford to get a motorcycle, I did. And I didn't look back.
A year ago, I came across some motovlogs, got a GoPro, strapped it on my helmet, and just started videoing my rides. I had to learn how to edit videos as well. The videos would be about my typical day and what I see on the road, my traffic rants, and even about going shopping for a new motorcycle and gear—basically, my lifestyle on a motorcycle.
Surprisingly, people were watching my videos and I was gaining views and subscribers. You can't please everybody, and I also got my fair share of criticisms, from remarks about how my reviews were 'girly' to comments about how I don't know the technical aspect of motorcycles. Well, yeah, I am a female and obviously my vlogs show a female's point of view.
I get a lot of support from my viewers through likes and views, but it's even more fulfilling when I get messages saying I've inspired them, or that I've given them the confidence to ride out. Hey, I must be doing something good then."
***
Macy Castillo
Head of Commercial Business, Shopee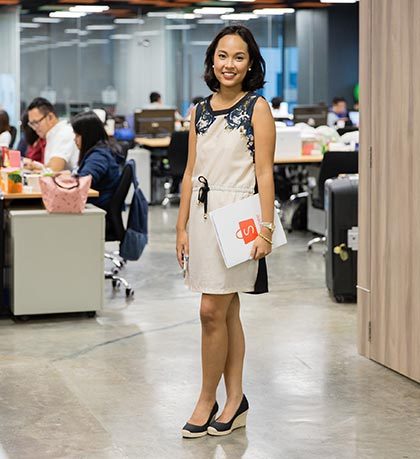 "I take care of the commercial side of Shopee, which covers everything from marketing to product launches and business development.
I started my career in finance before I moved to tech, so I've always been in traditionally male-dominated industries. E-commerce has always been unique in the tech space as more women work in this field compared to others, but Asia is still behind its Western counterparts when it comes to having women in the most senior roles. Since I started in tech here in the Philippines five years ago, none of the top e-commerce platforms except mine had a female lead, despite the fact that majority of our online shoppers are female!
Though I have met numerous male peers who think it to be so, I hope women share my view that being female is not a disadvantage. Women tend to be multitaskers and are very efficient in getting things done, which is highly valued in fast-growing tech startups like ours. Since I joined Shopee, we've reached the number 1 shopping app ranking on both the App Store and Google Play and have grown orders by 900% last year—unheard of previously in the Philippine e-commerce space in such a short period of time.
Most successful women—and men—I know and look up to have never been afraid to roll up their sleeves to get the job done, which I've tried to emulate. That you're a woman should not hinder you to do anything."
***
Elysse Menorca
Race car driver, EMS Garou Motorsports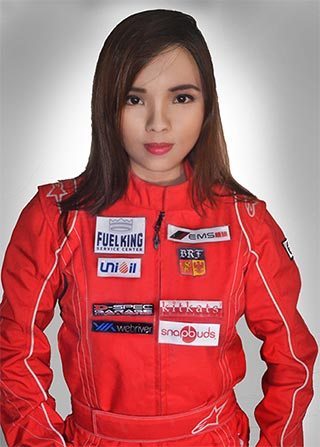 "I never thought I would race a car someday. I had a cousin whom my family thought would become a racer since he was crazy about cars, while I was just the little girl who liked to play Barbie dolls and wear fancy dresses back then. However, I fell in love with the sport a year ago and it's something that I think I'll never stop doing now.
My racing career officially started in 2016 when I became the first-ever female finalist of Nissan GT Academy, a competition for gamers to become real race car drivers. That was the time I started learning the basics of racing through virtual games. It turned out I was one of the fastest virtual drivers in the country, landing among the top 6 finalists representing the Philippines to compete against other foreign teams in the Race Camp of GT Academy in Silverstone, United Kingdom.
There, I encountered a number of people who seemed to underestimate my competence maybe because to them, I looked like a fragile-looking little girl trying to fit in a huge race car for big men. But I never let that dampen my spirit; instead, I pushed myself to be the best.
Being the first female finalist of the GT Academy, I believe I have inspired a lot of female car-racing enthusiasts to fulfill their dreams to become race car drivers, and I have encouraged a lot of them to believe that the last man standing in this sport can be a woman."
***
Rizza Ombao
Seafarer (second officer and dynamic positioning operator), Solstad Offshore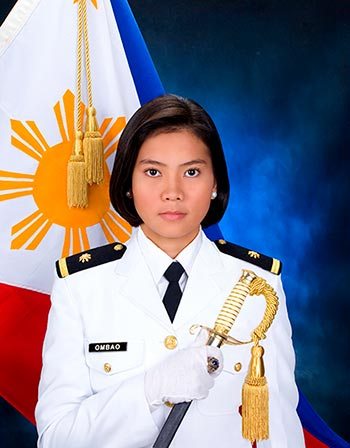 "I am a second officer who's in-charge of everything that's related to the safe navigation of the ship. I am also a dynamic positioning operator working to maintain the ship's position. During normal passage, I monitor safe navigation as the officer of the watch, keeping clear of all the dangers that might put the vessel in trouble.
This was not the career I wanted when I was young, but with my family's quality of life back then, I had no choice. I entered a quasi-military maritime school that is government-funded because I knew that I would be able to finish my studies without having to pay high tuition fees. I was able to finish my college degree and land a good job, which made me able to provide a good life for me and my family.
My family initially didn't want me to enter the academy because they all knew that things would be very tough and the environment is not suitable for women—except my father, who himself is a retired Philippine Marine and retired policeman. My family was right, things were tough. But so was I.
The main struggle for me being a woman in this male-dominated world is discrimination. People believe that women are weak and not suitable for jobs onboard. But the more they discriminate, the more I challenge myself. I proved to them that being in this industry not only requires physical strength, but also focus, dedication, and self-determination. Discrimination only pushes me to do more."
***
Haidelyn Pimentel-Arevalo
Police Officer 2, Philippine National Police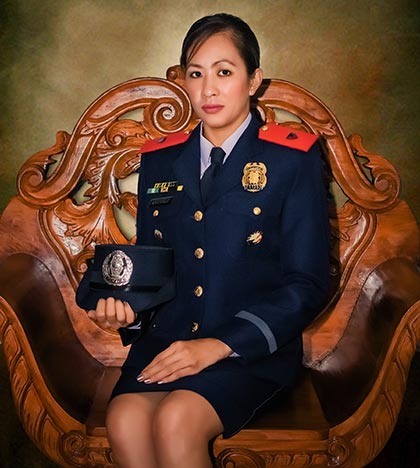 "I am a police non-commissioned officer (PNCO) working in Police Community Relations at the Aroroy Municipal Police Station, Masbate, a job considered the virtual heart of the unit because it deals with the community.
When I was young, I wanted to be like my father, but my goals changed when I entered college. My father, a retired police senior superintendent, urged me to follow in his footsteps while I was still studying, but I just ignored his desires. A few years after graduation, I began to feel like I was destined for a nobler calling and I wanted to please my father as well, so I finally pursued a career in the police force.
I've garnered numerous accomplishments which underscore that a woman can be successful in a male-dominated organization. In training school, I was recipient of the Certificate of Merit and Medalya ng Kasanayan for graduating at the top of the class and a Leadership Award and Medalya ng Papuri as class president, among others. Once settled in my career, I was named the Model Field Police Community Relations PNCO province-wide in 2014. The following year, I was adjudged the Outstanding Junior PNCO region-wide. And last year, I received my greatest honor so far: I was awarded one of the Ten Outstanding Policewomen of the Philippines.
More than the blue uniform, I wear a badge of courage and excellence. "Stand to lead"—these are words that define me. I stand for myself, I stand for what I believe, I stand for what I have accomplished, and I always stand for the community that I serve."
***
Blu Pingoy
Airline pilot, Cebu Pacific Air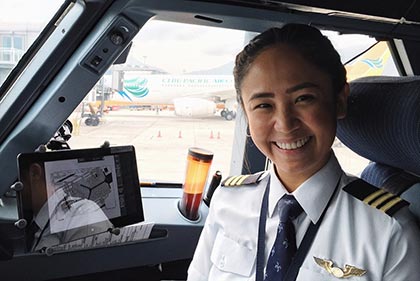 "I have always been drawn to adventures and challenges ever since I was little—from scuba diving to wakeboarding to mountain-climbing. So when my uncle who is a doctor and pilot asked me if I ever considered aviation as a career, it made me very curious. He owns some Cessna airplanes and let me try flying; after that, I wanted to learn everything about flying.
After I got my nursing license, I talked to my parents, told them the medical field was not for me, and pursued aviation instead.
Three years ago, I was on a Cebu Pacific Air flight going to General Santos City when I discovered that my previous flight instructor was flying the plane, an Airbus a320. He was kind enough to let me see the cockpit. Right then and there, I told myself, 'I'm going to fly this.' Fast-forward two years later, and I'm actually landing Airbus a320s on different runways. My first rule in doing something: Be crazy enough to know you can do anything.
As a girl entering a predominantly male industry, I was acutely self-conscious. But as I got older and gained more experience, I gained more self-confidence and self-esteem. I realized that my girly self and being a pilot are not mutually exclusive. If anything, the issue of my gender has only pushed me to try harder and prove that I can do as good a job as the men are doing."
***
Jacquiline Romero
Physicist, University of Queensland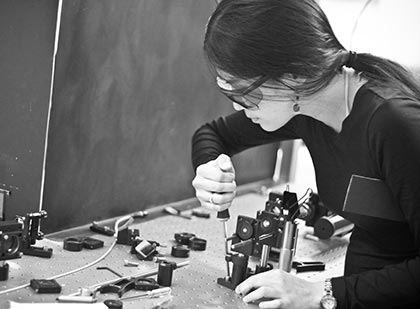 "I am an experimental physicist at the University of Queensland in Australia. I do experiments on particles of light to study different aspects of quantum physics.
Since I was 15, I've known that I wanted to have a career in physics. Physics excites me, and I am good at it. I did get asked a lot though what job I would have after getting my physics degree. I just dismissed the questions. I even remember telling my father, 'Kung gagalingan ko, alangan naman walang papansin sa akin!' I was naïve that way!
When you develop, build, and report experiments, a lot of discussion and arguing are involved. You have to be able to get your points across effectively and this is sometimes hard in a room full of men. I do not think men consciously make it hard; a lot of the problem stems from unconscious bias—we just don't associate women with science, physics especially. As a woman physicist I have learned to be stronger and bolder in discussions, and to just ignore signs of dominance that male colleagues sometimes unconsciously throw.
I am a well-cited scientist and a mother of three young kids. I have now worked in three physics departments; in all three departments of 74 academics total, there are only 11 female academics, and only three of them have children. This sends a very strong message: A physics department is not a place for women, even less a place for mothers. We should all work to change that!"
***
Niña Sandejas
Music photographer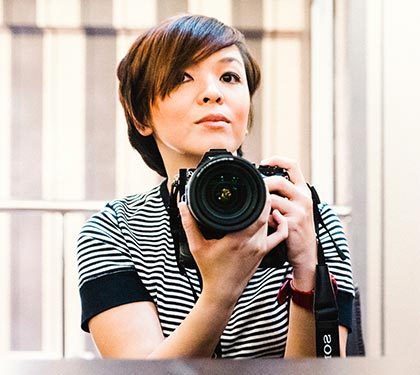 "I take photographs of musicians on- and off-stage. I chose this career because I was curious about why musicians dedicate themselves to their craft. I try to capture their passion and what they do to push themselves further as artists. I didn't think I'd end up with this job, but who could turn down working in music?
It wasn't really considered a real job; when I started, I did it all for the love. So as a woman following a band, I was often branded a groupie. I worked really hard to change that. I know I'm the first Filipina woman to photograph international music festivals. I even experienced a time when I was the only girl in the pit. I made sure I was a pro. I wanted to be the best and let my work speak for itself.
Now, I see a lot of girls pushing themselves to get that great picture and I have so much respect for them because I know how hard it can be to prove yourself from being 'that chick' to being 'that photographer' in gigs. You have more to prove being a woman in the music industry, beyond being a sexual figure in the world of rock 'n' roll.
You take photos so people can know your story. When people genuinely admire you for your work and recognize your contribution to the industry, you know you're successful."
***
Francheska Marie Sendrijas
Special Action Force (SAF) trooper, Philippine National Police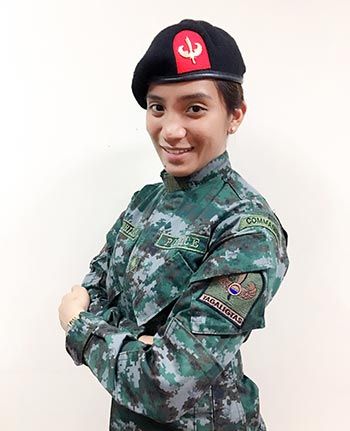 "When I was young, all I really wanted was to make my parents proud of me. Never in my wildest dreams did I think of being what I am today.
It was in high school when the thought of entering the police service crossed my mind. The neverending stories of my grandfather, who was a former police constabulary, also inspired me to follow in his footsteps.
Upon entering the Philippine National Police Academy, I encountered a lot of hardships, both physical and emotional. I was even underestimated by some, but it never hindered me from pursuing what I had started.
When I graduated from the academy, I realized that the biggest challenge in my life had come: I was not an ordinary civilian anymore, but rather a police officer who had pledged to serve, with all her heart and soul, the country and its people.
I took a lot of opportunities and one of them is becoming a member of the PNP's elite force, the Special Action Force (SAF). Until now, I cannot imagine how my female buddy and I survived the intense SAF Commando Course in Zamboanga City together with 124 male students.
Now that I am a police officer and SAF trooper, I want to show everyone what it's like to be a woman living in a man's world. Being a woman, I have to exert more effort to keep up with the different demands of my chosen field. Though sometimes I've been underestimated, I've learned to never let those underestimations defeat my will to be of service to others."
Follow Cheekie on Twitter and Facebook.