I never thought I'd get into archery. When a friend of mine suggested we try it out, I went along with it just for fun but ended up enjoying myself so much that I urged my Cosmo.ph team to try it out as well.

It was my second time to try archery at Kodanda Archery Range, but it had been a while since my first attempt, so I was still a bit nervous. Our trainer, Syd Fraginal, a Southeast Asian (SEA) Games record-holder, explained the basics of archery: how to hold the bow, where to position the arrow, and how to hit the target. After a quick lesson, we all lined up a few feet away from each other and got into position.

As I prepared to launch the first arrow, I took a peek at my two teammates Jillian and Jico, both first-timers, and we all released our bows at the same time. Thankfully, we all managed to hit our respective targets (well, the board at least). After a few more tries, we got the hang of it and our arrows started landing near the tiny bullseye.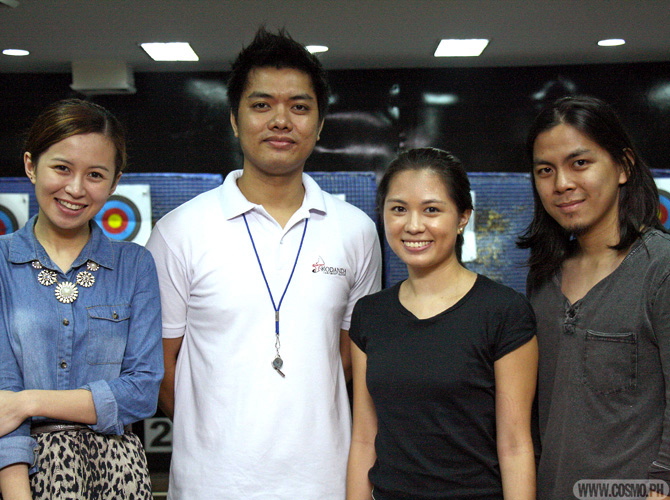 The Cosmo.ph team with our archery trainer Syd
I was pleasantly surprised when I hit the red portion of the target a few more times. I kept thinking, "Wow, so this is how it feels to be Katniss!" It got me even more psyched for Catching Fire. Also, I realized archery isn't as hard as I had expected and it's a great way to blow off some steam. I'm definitely going back for another round!

Kodanda Archery Range is a seven-lane, fully air-conditioned indoor archery range located on the upper basement of Makati Cinema Square along Chino Roces Avenue in Makati City. An hourly fee of P500 per person includes the use of the range, equipment, protective gear, and basic coaching from expert instructors. Lessons are also offered at P6,000 for 10 one-hour sessions.
Continue reading below ↓
Recommended Videos
EXPLORE COSMO