As we reach the end of Pride Month, Ride & Shine puts the spotlight on an LGBTQ couple who made the major leap of buying their first car—together.
Meet Alla Camacho and Michee Santos, who've been dating for nine years. Together, Alla, who identifies as queer, and Michee, who is a lesbian, are moms to two dogs and two cats. These fur babies would be instrumental in their decision to buy their couple car. "We bought a car with a purpose in mind: to use it for out-of-town trips for our fur babies," Alla says.
Last year, they made the dream happen by buying a Toyota Rush 2018 in red that they named "Expectony"—a tribute to Alla's late grandmother, Expectacion, and Michee's late grandfather, Antonio.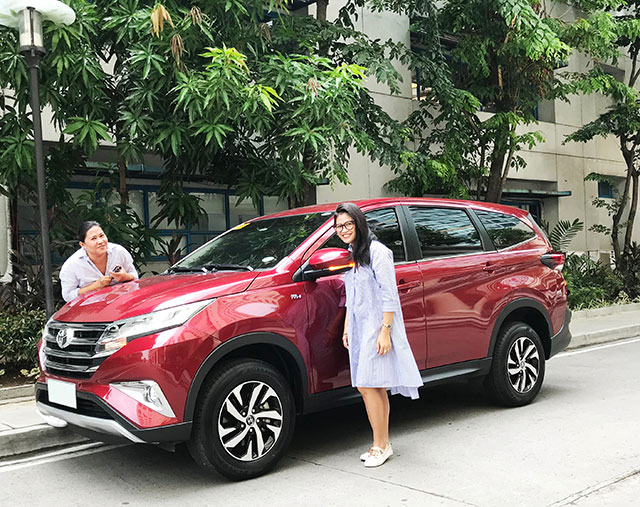 ADVERTISMENT - CONTINUE READING BELOW ↓
Of course, it wasn't just deciding on the car's name that was a team effort for Alla and Michee. They pooled their money for the payments, and they also researched on car prospects together—although one of them put in more research hours than the other. "Alla is the type who'll let you figure things out all on your own, and then she'll just wait for the plan and she'll agree," Michee says. "I'm used to it by now."
It's been one year since they bought Expectony, and Alla and Michee have zero regrets.
Read on for their tips on choosing your first couple car, figuring out your finances, and getting your partner on board before making that leap!
What they looked for in their first car as a couple:
Alla: It had to be good for rough terrains. It had to fit us all comfortably, because when we go for weeklong vacations, it's at least eight of us in the car: Michee and I, our four fur babies, our driver, and our nanny. It had to have a big enough trunk space to fit our luggage and our fur babies' necessities, such as trolley for the cats, pee tray, cat litter, and a small cooler where we keep our dogs' home-cooked meals while in transit. It also had to fit our budget, and it had to look good, too.
ADVERTISMENT - CONTINUE READING BELOW ↓
Recommended Videos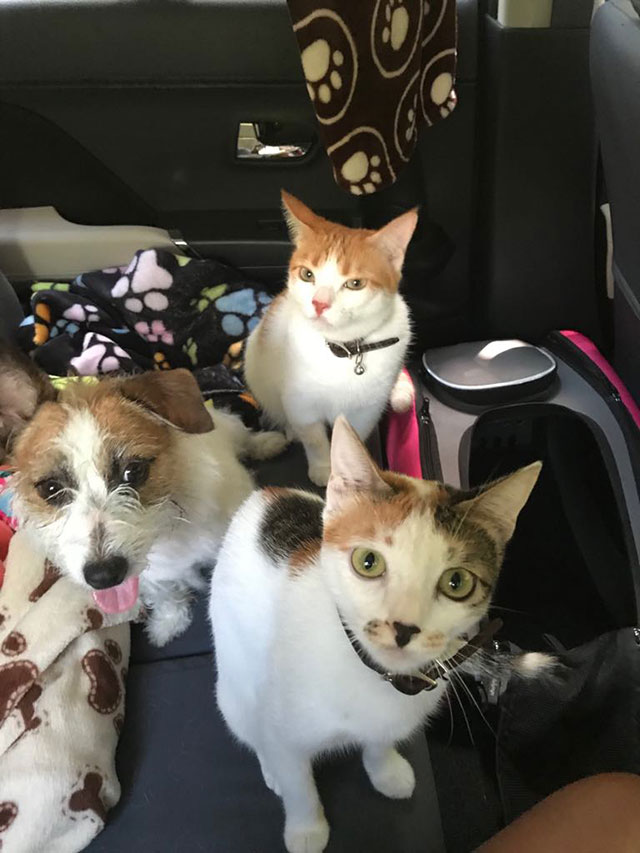 How they did their research:
Michee: We did our research online: looking at different websites of car companies, checking out models. We watched YouTube reviews, as well as read up on car reviews. We really did a lot of comparing. Or I did. Alla does not have the patience to do research.
ADVERTISMENT - CONTINUE READING BELOW ↓
After all of that research I did, with Alla not the least impressed with our options, she went to Toyota's website, and lo and behold, Toyota Rush—which was just released at that time and had just been added to their site—was the first thing she saw on their homepage. It had all the things we were looking for and was in our budget range.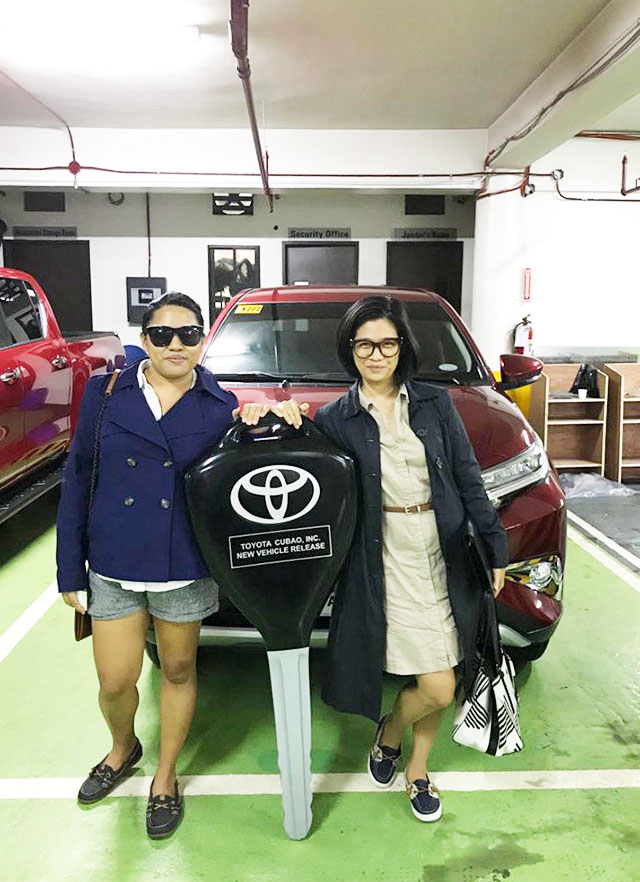 ADVERTISMENT - CONTINUE READING BELOW ↓
How their car purchase went:
Michee: Alla called up Toyota offices asking if they had the Rush in the color we wanted. It was newly released, so many of the branches she called still did not have it in stock. We were specifically looking for a red Toyota Rush, and Toyota Cubao was the one that had it. So on that same day, we went to Toyota Cubao and talked to an agent while inspecting the Toyota Rush models that were on display.
We gave a deposit of P5,000 as a reservation fee, which would be deducted from the amount we would be paying. We had it customized, so we had to wait for a week to pick it up. Once ready for pick-up, our agent called us, and from there, processed payment.
They took us to their garage, made us watch a video that was sort of a manual for the car and how to maintain it, and then after, they gave us the key! At first, I had no idea how to start the car since the car that I used to drive uses the normal key. But that was fun.
ADVERTISMENT - CONTINUE READING BELOW ↓
How much the car cost:
Alla: Our total cash-out was P1,070,000. The car was P988,000, plus we paid P30,000 for a customized third row seat. The rest is taxes, I think.
Since we paid the amount up-front, we didn't have to deal with interest.
How they financed the purchase:
Alla: We were initially looking into buying a secondhand car from a few years back, so for about two years, Michee and I had been saving for a secondhand car. But then, when we were looking at the prices, a secondhand car was almost as costly as some brand-new ones, so we decided to just go for a new one.  So we actually had some money saved up for a car, and we only had to figure out the difference.
Michee had to go over our finances. I was against taking a loan from the bank; I don't like paying for interest. If you have the money, it's better to "loan" the money from your savings account, and then just pay it back like what you do with a bank loan. At least a loan from your own pocket does not incur any interest.
ADVERTISMENT - CONTINUE READING BELOW ↓
Another consideration to keep in mind is that expenses happen. And if you loaned from a bank, then suddenly you maybe lost your job or some emergency happens and you can't pay your monthly due for the car, you lose not only the car, but all the payments you've already made towards the car. Big no-no for me.
So we added to the car money we had already saved by taking out money from our joint savings account. Michee has strict rules about when our savings account gets touched—she says the answer should be "never." After bugging her and explaining to her that borrowing some money from our own savings account is much better than taking a loan from the bank, she caved. But with two conditions: that we pay back what we took out, and that we treat it like a real loan. So we pay back to our savings account monthly, which to many would sound crazy.
ADVERTISMENT - CONTINUE READING BELOW ↓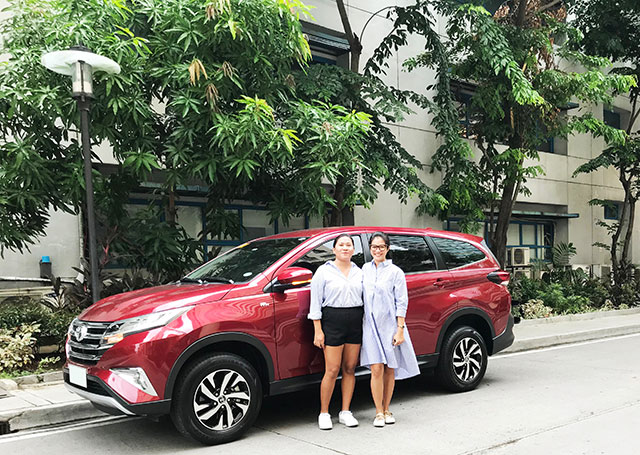 Other costs of car ownership:
Alla: Parking was a pain. Since we live in a condo, we had to go to our broker to take care of the parking for us. Well, sometimes things do not go as fast as you want them to go because of different situations. We ended up paying for a week of mall parking, which was not a joke, before our parking in our condo got straightened out.
ADVERTISMENT - CONTINUE READING BELOW ↓
Michee: Insurance. My mom worked for an insurance company, so when we told her we were getting a car, she made sure that we had car insurance. And you should have it, really. Saves you from a lot of headaches and expenses in the long run.
Gas would always go up. That's one thing that any new buyer should expect.
And maintenance. You have to make sure that you save up money for your scheduled maintenance. The first ones would be just minimal cost, but the cost gets higher as you go along.
How they split use of the car:
Michee: I drive 99 percent of the time, because Alla is just learning how to. She drives around this village near us, that's it.
Tips for those looking to buy a car with their partner:
Michee: Find the time to sit down and talk about it. Insert it in as many conversations as possible as well. Then have that serious talk, the serious "Hey, we are getting a car" sort that's not just talk. Then start talking about the details. Start discussing pros and cons. We took turns playing each side.
ADVERTISMENT - CONTINUE READING BELOW ↓
Discuss your finances. With me and Alla, we have a good setup with how we handle our money jointly. But if you and your partner have your own separate money, then you have to really have that serious talk.
Alla: Go for what you both like, up to the color. Do not compromise. You'll be using your car for 10 years at least, so make sure it's something you love. We're glad a friend told us that.
EXPLORE COSMO