In the past two months, people in the Philippines have felt the need to wear face masks because of two unfortunate events: the Taal volcanic eruption and the COVID-2019 threat. Out of necessity, these masks cover at least half of your face, and most people cannot use their phone's facial recognition feature while wearing them. 
The solution? Face masks with your face printed on it. This was a suggestion made by San Francisco-based artist Danielle Baskin. She recently posted a tweet announcing that she's thinking about selling N95 masks that "protect people from viral epidemics while still being able to unlock your phone."
According to their website, here's how the service would work:
You upload your face using their web app. 


They recommend taking your photos in the daylight. 

Tweak your photo. 


Using their app, preview the mask on your face and adjust any alignment issues.

Let them print your face on the mask. 


They'll do their thing and all you need to do is wait for your mask to arrive. Plus, they'll match the mask's elastic band to your skin tone. 
Continue reading below ↓
Recommended Videos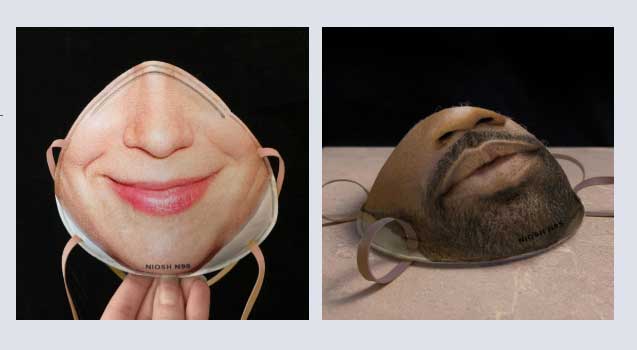 To create these masks, they will use "computational mapping to convert your facial features into an image printed onto the surface of N95 surgical masks without distortion." The inks that will be used will be non-toxic and made with natural dyes. Also, it can be used every day as a "barrier for airborne particle droplets."
Now, you're probably thinking: Are they serious about this or is this just a joke? Well, the creators stated on their site that they are "not sure" because after all, viruses are not a joke. 
These personalized printed masks will retail for $40 each, or roughly P2,040*. And don't worry, they won't be making this while there's still a global mask shortage. 
*Conversion Rate Used: 1 USD = P51 (rounded up average of exchange rates for the last three months according to ofx.com)
[h/t: BoredPanda]
***
We are officially on Viber! Be part of the Cosmo Viber Community by clicking here! You can also visit the Sticker Market and download the "Cosmo Girl Sticker Set" here to be automatically part of the group. The stickers will only be available until April 27, so don't miss out on the fun!
Follow Karla on Instagram.