It's fun being a girl…until you remember the pay gap, rape culture, the lack of reproductive freedom, and all the social injustices women face on the reg. Knowing that not just fellow women, but even men have your back makes the fight for gender equality less like a losing battle.
Here, we round up seven Filipino men who use different platforms to stand up for women through the various struggles we face each day. They may not be as famous as all those Hollywood hunks who wave the feminist flag, but they represent the men in our midst—whether it's a schoolmate, your brother, an ally in government, or netizens fighting for safer spaces both online and offline—who prove that we don't have to fight our feminist battles alone. (Emma Watson would be so proud.)
Raymond Peter "Koko" Campiglio runs the Facebook page Catcalled in the Philippines, which aims to be an online refuge for victims of catcalling and other forms of sexual harassment. The page was taken down on February 6 after it reported other pages that posted inappropriate content, but was restored on February 16.
Koko: Misogyny in our society is at an all-time high now. It frustrates me that people still want to brush feminism off as if it were nothing in this day and age when no one should be ignorant about it. Feminism, even the awareness of it, should be as natural as survival, and it's up to those who know to educate people.
Continue reading below ↓
Recommended Videos
Now, I don't see myself as a feminist. I'm more of an ally to the idea. I just want to help out. I started Catcalled in the Philippines as a platform for people to share their stories and to empower other people to speak up, under anonymity.
In my recent scraps with online trolls, I realized that I do what they do: Hide behind a keyboard. Even if it's for good, it weakens my advocacy, so I decided to show my conviction by revealing who I really am.
My goal is to educate people about why it's wrong to abuse and harass women in the streets. I want safer streets for everyone.
Teach the old and young about boundaries and consent. I think that's a good start. We can work on the issues with this foundation.
Geo Celestino was thrust into the social media spotlight because of a viral Facebook post in which he stood up for his sister, a student at the University of Santo Tomas who was harassed by a fellow UST student and was subsequently punished by the UST Office for Student Affairs.
Geo: For me, feminism was never just about women. For others, I can see why it probably seems otherwise: "If it truly aims for fairness, why talk about only women?"
Here's the thing: It only seems like so because the energy that drives feminism is from countless women who were forced to endure generations of unfair treatment, and decided, despite and in spite of overwhelming odds, it's time they stand up.
When I stood up for my sister, it wasn't because I was bisexual and I shared a sort of female sensibility. I did so because she's my sister and I love her.
Oftentimes, I feel we over-complicate things. Committing to feminism isn't like applying for a CEO-level job... Not at all!
Heck, I was merely a netizen whose greatest feminist action before then were regular postings on feminist issues on Facebook. All I had were words on shared posts—nothing compared to what people like Senator Risa Hontiveros have done. But my sister was being bullied, and she was punished despite her being the victim of sexual harassment.
That wasn't right.
Did I need to think twice about fighting for her?
No.
All I needed was to be human.
Vin Dancel is a social entrepreneur, lawyer, and frontman of the local rock group Peryodiko who expresses his support for women through his work, his advocacies, and his music.
Vin: I have been part of organizations (SALIGAN, KAISAHAN, and the Alternative Law Groups) that are staunch supporters of the women's movement. I went through and helped conduct a couple of gender sensitivity seminars and learned a lot. We worked with the women's sector and I've seen the struggles women face daily—from catcalls, to rape and assault, to fighting for powerful pieces of legislation like the reproductive health law and the law on anti-violence against women. I have people close to me who are survivors. I can't even begin to imagine what it must be like to be a woman.
Am I 100% gender-sensitive now? NO. I'm a work in progress. I make an effort to be gender-sensitive because sadly, it's not the norm. I still have some gender biases deeply ingrained in me from when I was growing up, and I know I have to be extra mindful of my thoughts, words, and actions.
Sabi nila na ang babae ay ilaw ng tahanan. Nakakalimutan ng nakararami na ang babae ay siya ring bituka, mga braso at kamay, kaluluwa, puso, at utak ng napakaraming mahahalagang bagay na nangyari para sa ikabubuti ng sangkatauhan. Ang babae ay partner, katuwang, kasama. Nagpapasalamat ako sa lahat ng mga babaeng naninindigan at hindi nagpapatinag sa gitna ng nangyayaring karahasan ngayon. Mabuhay!
Carlos Maningat works at the House of Representatives as part of the congressional staff of the Gabriela Women's Party, a party which is dedicated to promoting the rights of Filipino women.
Carlos: I started becoming vocal about my support for women during our Media and Gender class back in college, wherein we tackled gender sensitivity in reportage. The class made me realize how marginalized and subjugated women are in media platforms—from being mere eye candy in tabloids to being sensationalized subjects of politicians' infidelity or rape stories.
Later on after college, I had the chance to facilitate a research project on women workers in the country's informal economy. In the process, I was able to internalize gender issues from a broader perspective, like why women are concentrated in low-paying informal jobs and how they juggle domestic work and part-time jobs. It became clear to me that gender issues are symptoms of a bigger structural problem. The problem is more than just patriarchy.
I think advocating women's issues does not make one less of a "man." In fact, it's a sign of political maturity and broader appreciation of social injustice. When you advocate for equal work opportunities and equal pay for both male and female, you are recognizing that there's economic discrimination against half of the population.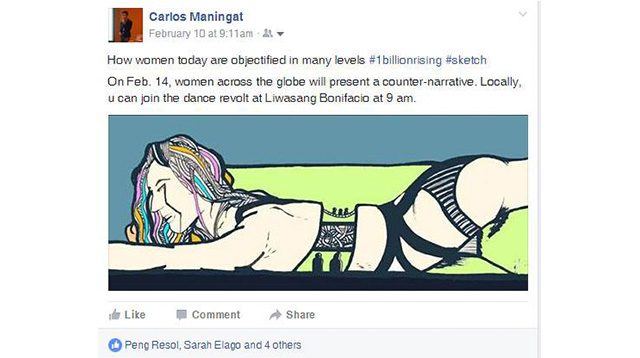 John Molo is a law professor and litigator who, upon seeing misogynistic comments made online against young female rallyists who protested the Marcos burial at the Libingan ng mga Bayani, published a Facebook post announcing his and his fellow lawyers' offer of free legal services to the victims of online sexual harassment.
John: Every woman is a mother, a sister, or a daughter to someone. Treat the women you meet—whether online or in real life—as no different from how you want your own mother, sister, or daughter to be treated. Men should realize that the more they engage in sexist behavior, the more they place the women in their lives at risk.
Online sexual harassment thrives on the feeling of impunity generated by anonymity, as well as the notion that punishment for the crime will be difficult to execute.
We need to change that thinking.
Beyond calling out sexist behavior (which sometimes leads to more trolling), take the extra step and encourage your friends who are victimized to file a report with the NBI or the PNP's helpdesk.
Support victims by helping them gather evidence against the perpetrator. If he feels powerful because of anonymity, remove that. Research and unmask the perpetrator by gathering actionable information (real name, residence, employment, etc.). The same information can be used to build a case against him in court. This removes the feeling of helplessness.
Lastly, sexual harassment being a crime, it is prudent to inform the perpetrator's immediate circle (friends, relatives, and employers) that he is harassing someone online. It will be a reminder to him of the limits of acceptable behavior, and hopefully move his circle to educate or reform him. 
Joshua Rivas is a college student whose Facebook post detailing his experience witnessing a schoolmate get catcalled has garnered over 3,000 reactions and has been shared over 1,500 times as of this writing.
Joshua: As a man who upholds conservative Christian values, I am an ardent supporter of traditional feminism. I welcome "the culture of equality and respect for the full equality of man and woman in every walk of life," though I believe this can only be achieved primarily by the remodeling of our values system. All of this starts in the family. That, I believe.
Why do I speak up about this now? Recently, while walking my usual route from my university, I witnessed a schoolmate of mine in the act of getting catcalled. That was really a wake-up call for me. Witnessing how defenseless she was while it happened, I decided to speak up about this problem in our society. I believe men should be made aware of how our actions impact the women of our society.
Catcalling is a method of objectification of women; it disregards their value as a whole person, and diminishes them down to the features we find attractive. I believe authentic love in action is the most powerful antidote to the lack of respect and disregard for women in society.
Marco Sumayao is the co-founder of Deus Sex Machina, a comedic erotica live reading show that pushes for gender equality and sex positivity for all—regardless of orientation.
Marco: Personally, I've never been comfortable with the fact that, in our society, men enjoy the privilege of having more "safe spaces" than women. We should ALL be able to go wherever we want to go and do whatever we want to do without the fear of being harassed.
At Deus Sex Machina, we use originally written sex comedies to promote sex positivity and equality for all genders and orientations. For example, the women in our stories have full agency over the sex they have, and they're never shamed or insulted for it. At the top of every show, we also make it a point to declare the venue as a safe space for everyone, and that we have zero tolerance for harassment.
Even internally, we always run our jokes through team members of every gender and orientation, just to make sure that we don't cross any lines. We believe that communication is a really important part of keeping our advocacies intact; after all, being outspoken about a cause doesn't mean you won't be making any mistakes. Open communication reinforces the truth that we're all equals.
Fighting for women's rights doesn't mean protecting the "weaker sex," it means recognizing that their strength is equal to ours.

— your dreams (@marcosumayao) Abril 24, 2016
Follow Cheekie on Twitter  and Facebook.