No matter how good lutong bahay is, sometimes, you really just want to go to a restaurant and eat something you didn't have to spend hours making. Masarap naman talaga kumain sa labas. But even then, most of us choose a restaurant we're familiar with, para at least, sulit yung gastos, 'di ba? With that in mind, Cosmopolitan (Editor's note: There were only two of us who did this challenge!) decided to go to Ayala Vertis North in Quezon City and eat at five, different restaurants: Katherine's Cafe, Ippudo, Tsujiri, Mama Lou's, and Scout's Honor.
At each restaurant, we gave them a P500 budget ('cause let's face it, if you go over that amount, it better be your birthday, lol). Given that amount, we asked for the ~*best*~ possible thing they could serve. We gave them the freedom to mix and match if they felt like it. The only rule was, they couldn't go over P500 (tax + service charge included). 
Let's take a look. 
Katherine's Cafe

What was served: Waffle and Chicken (P398)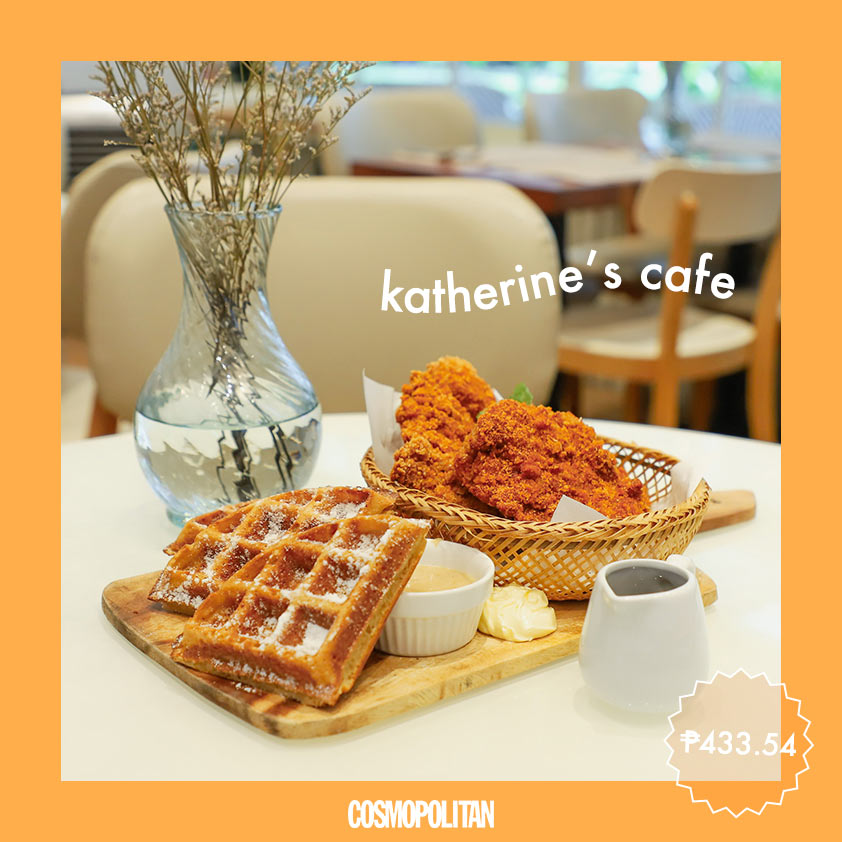 Total: P398 + P35.54 service charge = P433.54
Honest review: For its size, this was a pretty sulit order. If you weren't that hungry, two people could share this and leave the restaurant feeling satisfied. When it comes to the actual food, however, we gotta say there are better chicken-and-waffle combos out there. The waffles were a little dry, and even though we appreciated the flavor of the chicken, it was too salty. What salvaged this dish was the butter! It really cut through the umay factor. Still, we don't regret our first visit, and thanks to the homey vibe and amazing service, we'll probably give it another chance. 
Continue reading below ↓
Recommended Videos
Ippudo


What was served: Akamaru Tamago (P435)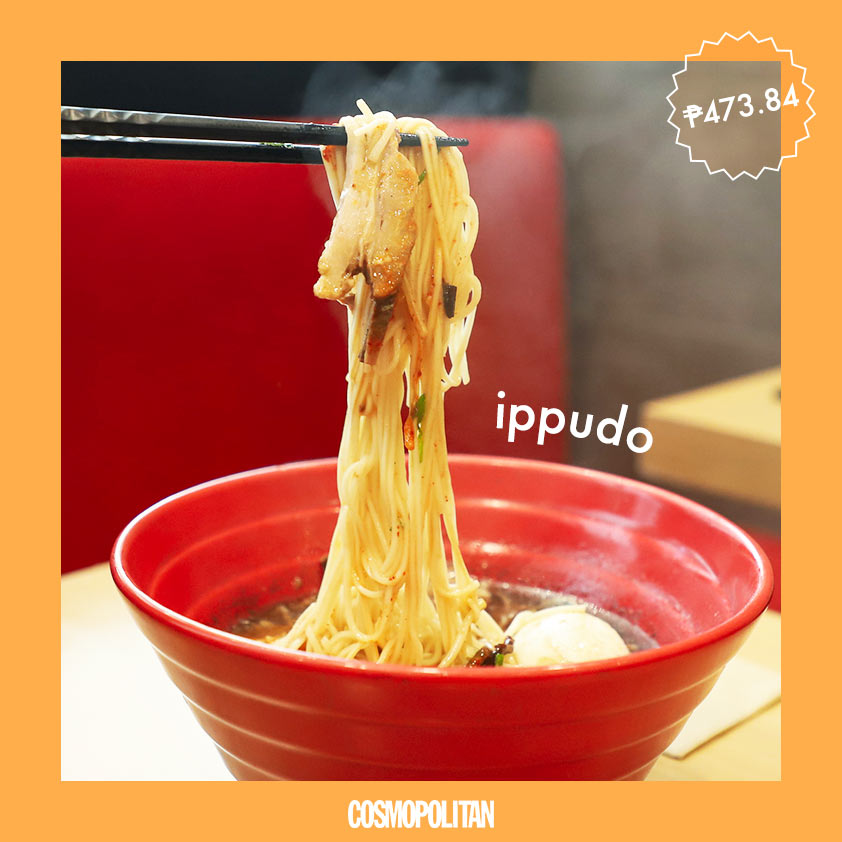 Total: P435 + P38.84 service charge = P473.84
Honest review: TBH, we were worried about giving Ippudo a P500 budget 'cause we all know, unless it's instant, ramen ain't cheap. When we finished our spiel, the server looked a little perplexed but still, thankfully, up for the challenge. We got a decent-sized bowl that had everything you'd expect from a basic ramen order plus a salted, soft-boiled egg—perfect for one person. The noodles were still chewy, which fit our preference. We have no complaints about the order, but there was also nothing to be super excited about. Our takeaway: At Ippudo, it might be worth shelling out more than P500 if it means meeting the ramen of your dreams.
Tsujiri


What was served: Genmaicha, which is a green tea drink (P125), Matcha Citronne (P210), and Tsujiri Soft Ice Cream, with toppings (*P111.43)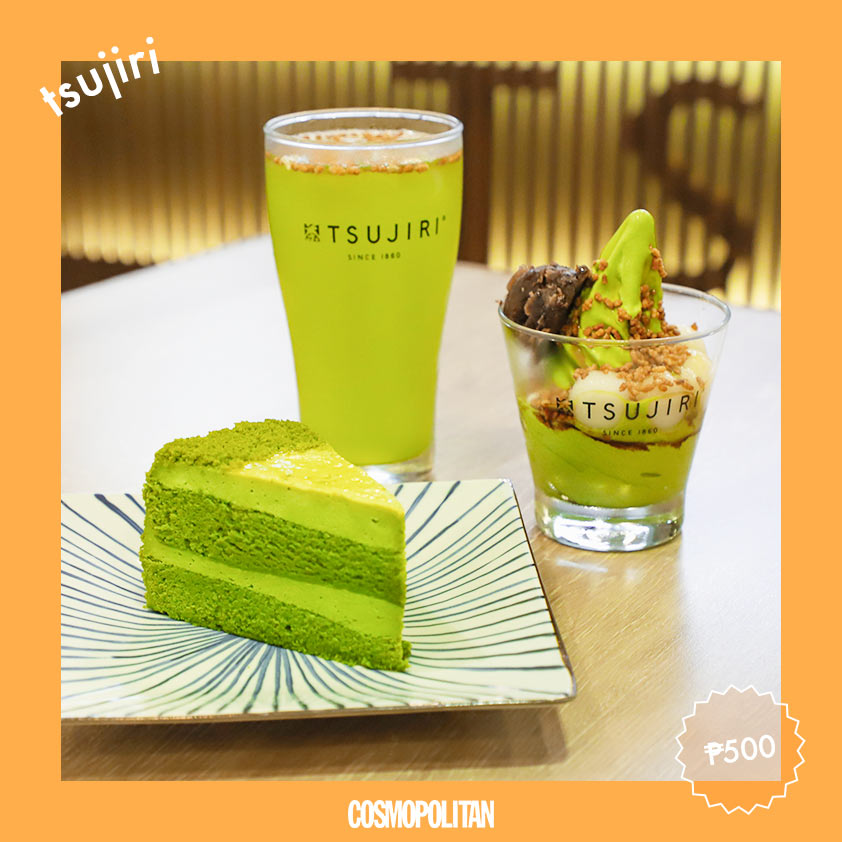 Total: P446.43 + P53.57 VAT = P500
*We're not exactly sure about this amount because the prices on the menu seem different, but our total came out to P446.43.
Honest review: After two restaurants, we were craving somethng sweet so we went straight to Tsujiri. Here, they gave us three treats: one drink and two desserts. The Genmaicha (roasted rice green tea drink) was refreshing; it really helped our stomachs settle down after back-to-back restaurants. Their soft ice cream came with a lot of toppings: shiratama (mochi), kuromitsu (brown sugar syrup), azuki ball (red bean paste), and genmai (roasted brown rice). Perhaps our favorite of the three, the last order was a slice of Matcha Citronne cake, and it was so, so good. That said, it was *a lot* (too much) matcha for one sitting, but to be fair, we did make them decide what to serve us for P500. 
Mama Lou's


What was served: Onion rings (P160) and Vongole Olio (P295)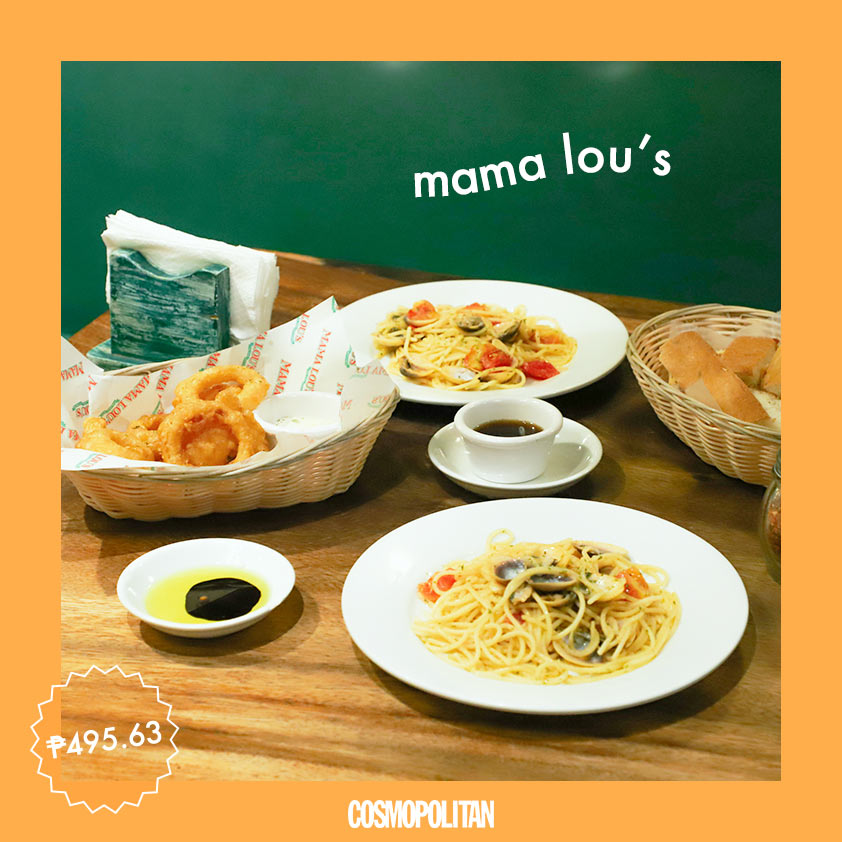 Total: P160 + P295 + P40.63 service charge = P495.63
Honest review: Walking into Mama Lou's is like visiting your favorite tita's home. At this point, it was just after lunch, and we had the whole place to ourselves. Soon after we sat down, they brought a basket of complimentary bread and some olive oil, and even though we were filled to the brim, there's no better feeling than free food, LOL! We were nervous when they served us pasta (having had noodles earlier in the day), but they also brought onion rings. As it turns out, we preferred the pasta over the appetizer. The pasta had clams, which was something we didn't expect to eat with a P500 budget. 
Scout's Honor


What was served: Ultimate Chocolate Chip (P50), 1969 (P50), Macadamia Cashew Dark Chocolate (P50), Cookie Inception (P95), Red Velvet Inception (P95), and Latte (P99)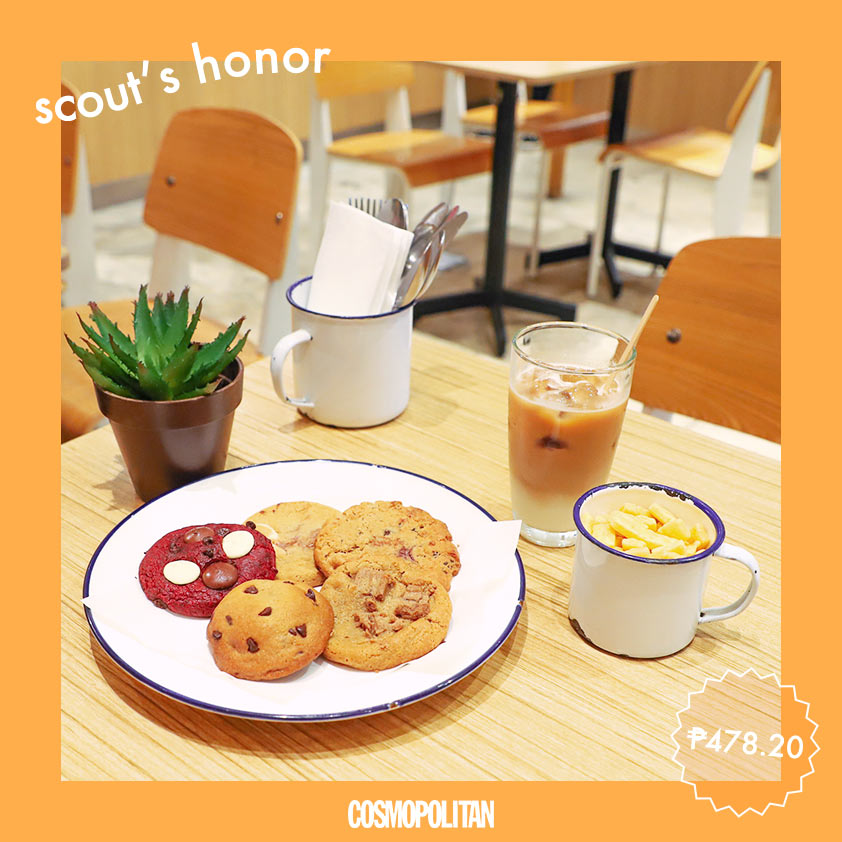 Total: P50 + P50 + P50 + P95 + P95 + P99 + P39.20 service charge = P478.20
Honest review: We'll come clean and tell you that at Scout's Honor, we tweaked the conditions a bit because we really just wanted cookies. After eating nonstop for five hours, we couldn't look at another savory dish without wanting to quit. In our defense, apart from the Latte (which was necessary if we wanted to keep shooting), the servers at Scout's Honor still got to decide what to serve us for dessert. Five cookies came at the same time, and our two favorites were the Red Velvet Inception and the Ultimate Chocolate Chip. Everything was delicious, though pricier than what what one might expect from a regular-sized cookie. The great thing is that they were just the right amount of sweet. 10/10 would go back! 
Where should we go next?
Ayala Vertis North is located at North Avenue, Barangay Bagong Pag-asa, Quezon City.