Oh, coffee. Even if you're not aware of it, you probably depend so much on coffee to get you through the day. It's the ~elixir of life~ for weary souls. But have you ever considered taking your daily dose of caffeine differently? You know...like maybe in the form of popsicles or pancakes? It might sound a little weird but not too crazy. Below are five coffee *hacks* for when you're feeling creative at home. Who knows, you might find that instead of going to your favorite coffee shop, you start brewing something new in the kitchen. 
Sweet, Dark, Iced
There are basically two types of iced coffee fans: Those who like them milky and sweet, and those who prefer them bittersweet. Here's a recipe you can try if you like yours a little sweet without drowning the punch of good ol' caffeine.
What you'll need:
Sugar
Black coffee roasts
Vanilla extract
A hot pan
Ice
Steps:
Make your own vanilla syrup by heating a pan and browning your sugar there. Add a dash of water to keep it from sticking to the bottom, but not too much that it won't have the consistency of a syrup. Add a few drops of vanilla extract to add a layer of flavor on your homemade syrup.
Brew your own coffee grounds in a coffee maker or a French Press. Don't have both? You can also buy instant coffee by the pack.
Let your roast cool down for a few minutes.
Ice it, baby!
Continue reading below ↓
Recommended Videos
Coffee Pops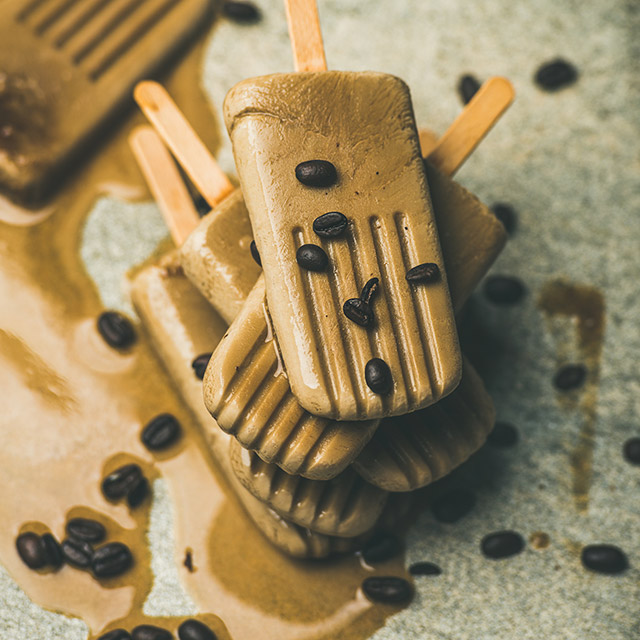 Sometimes, you need the kind of coffee that can add a little fight to your soul on a Monday. Other days, you simply crave the taste of caffeine without the bite.
What you'll need:
Milk or heavy cream
A good roast
Some sugar (if you prefer it extra sweet)
Popsicle molds
Popsicle sticks
Steps:
Depending on just how sweet you prefer your popsicles to be, you can either use brewed coffee or a regular three-in-one pack here. If you're planning on mixing yours from a pouch, make sure to put hot water first in your mug to dissolve the powder. Dumping it with cold water won't make it blend smoothly, and the last thing you want is to have disgusting clumps of powder in your ice cream.
Once everything is mixed, add a few tablespoons of sugar (not too much if you already used a ready mix!) in your cup. Pour your choice of milk afterward (heavy cream is ideal because it will make your popsicle hold together better) and mix everything again.
Let it cool down for a few minutes before gently pouring the mixture in your popsicle molds. Stick a popsicle stick in the middle and pop them in your fridge.
Wait a few hours for it to solidify. Enjoy.


Bulletproof Coffee Slushie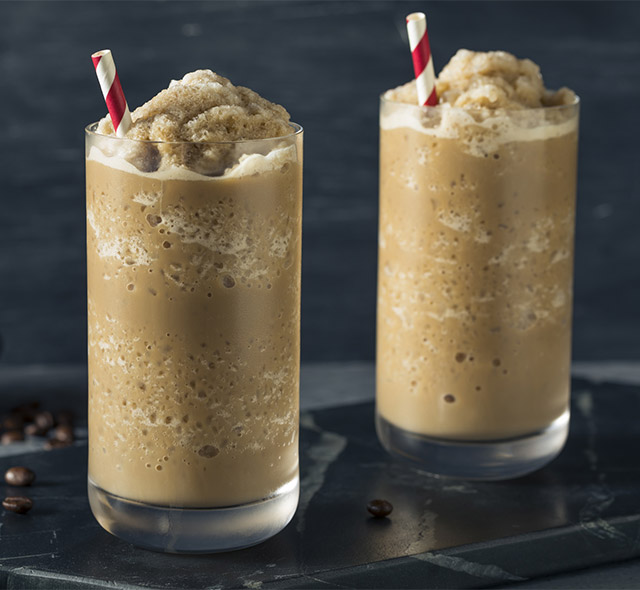 Oil and butter in your coffee? It does sound a bit weird at first, but hear us out! Bulletproof coffee is a popular drink in the keto and paleo communities. It's a way to reduce the amount of sugar and boost the amount of fat in your diet. Its high saturated fat content is said to slow down the body's absorption of caffeine, which then gives you more gas for the day. And then there are its weight-loss benefits, too, supposedly caused by its ingredients and nutritional content that trigger the phenomenon called "ketosis."
Bulletproof coffee is often taken hot, but you can make it extra interesting by turning it into a slushie.
What you'll need:
Freshly brewed coffee
Unsalted butter
MCT oil or coconut oil
A blender
Ice
Steps:
Using your blender, mix all the ingredients until you achieve a smooth consistency. The amount of oil and butter you use will depend on the number of batches you are preparing, but we recommend using one tablespoon of oil and two tablespoons of butter for a single serving.
Add ice and blend everything again until you achieve the perfect slushie.
Note: Bulletproof coffee is something that's a little bit more exclusive to diet communities so it would be better if you check with your doctor or dietician first before trying it. 
Ca Phe Sua Da Cocktails
Ca Phe Sua Da, also known as Iced Brown Coffee, is a staple drink that spread through Vietnam after French colonists introduced caffeine in the country. Since fresh milk was very rare during those times, the Vietnamese decided to replace it with the more affordable sweetened condensed milk instead. Feel like getting a little bit tipsy and alert at the same time? Try this drink with a dash of alcohol instead.
What you'll need:
Fresh roast (if you want to keep it really traditional)
Vietnamese coffee press
Sweetened condensed milk
Stirrer
Mudslide cocktail
Chocolate liqueur
Ice tray
Steps:
Add two tablespoons of condensed milk on a tall glass.
Place your coffee press on top of your glass and pour two tablespoons of your fresh roast on it. Add a little bit of hot water. Note: Do NOT drown your grounds! 
It'll take a few minutes to brew. Vietnamese coffee presses drip very slowly, so you'll have to wait at least three minutes for it to finish brewing.
Wait for it to turn a bit lukewarm. You don't want the brew to totally cool, or the condensed milk will be harder to mix.
Use your stirrer to mix everything.
Carefully pour the mixture on an ice tray and pop it in your freezer.
Pour your mudslide in a cocktail glass, and add a few of your ca phe sua da cubes on it. Drizzle with coffee liqueur.


Caramel Coffee Bomb Pancakes
This one's just like your favorite Cafe Macchiato..but in pancake form, which means it's even better.
What you'll need:
Vanilla syrup
Caramel sauce
Caramel flavoring
Strong brew
Milk
Whipped cream
Eggs
Flour
Steps:
In a bowl, mix your egg, milk, and flour.
While using a whisk or a fork to incorporate everything together, add a few drops of vanilla syrup and caramel flavoring on your mix. Slowly, pour your fresh brew after. Try to achieve a semi-thick consistency to get fluffy pancakes.
Pour your coffee pancake mix on a hot pan and flip them on their sides once they turn golden brown.
Once ready, add a dollop of whip cream on top and drizzle caramel sauce to finish.
Coffee lover or not, you can't deny how interesting some of these hacks are. Take this as your sign to bust out your inner barista, girl!