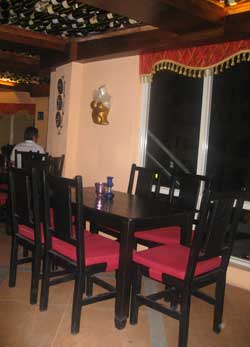 If you and your man have been a couple for quite some time, chances are, you go to the usual places for your dates--and do pretty much the same thing. Dinner at Greenbelt, movie after, then coffee at Starbucks--sounds familiar? Spice up your relationship and get him to raise the romance bar up a notch by taking you to this quaint, romantic wine place at the heart of The Fort.

Bordeaux Premium French Wine Bar in Burgos Circle at The Fort offers an intimate private setting for any kind of rendezvous--be it for your first date or your fourth anniversary. It's secluded, which makes it conducive for bonding and enjoying a quiet, romantic night with your man.

As you relish the kilig setting, he will definitely be impressed with the bar's collection of French wines expertly picked for your tasting pleasure. They have red, white, rose, and sparkling wines from the different wine-making regions of France such as Bordeaux, Rhone, Languedoc Roussillon, Burgundy, Alsace, Loire, and Champagne. The price of their wine selection starts at P590 per bottle and P165 per glass. While the experience is luxurious, the wine is reasonably priced so he wouldn't have to worry about splurging too much.
Continue reading below ↓
Recommended Videos

If you and your man are both unfamiliar with wine talk, don't get intimidated. Take this as an opportunity to learn something new together. Bordeaux offers Wine Flights and Wines by Carafe to help non-wine experts understand and appreciate wine more. Getting Red or White Wine Flights would be able to help you distinguish different grape varieties and gain label recognition. Per flight, costumers are given three glasses of different wines as well as cards with tasting notes to orient them on what to expect. Wine Flights cost P390.

Wines by Carafe, on the other hand, are value wines from the bar's Cuvee selection served in a carafe, at around P490. Bordeaux also offers wines on spotlight every month, which encourages those who do not regularly drink wine to be more daring when it comes to trying different French-style wine blends from different regions.
Feeling like an expert--or simply wanting to get a good enough buzz that would get you in the mood for more romance in bed? Try Bordeaux's Wine Buffet. They feature unlimited glasses of various wines at only P750. This buffet lasts from 6PM to 8:30PM, Monday to Friday.

Bordeaux Premium French Wine Bar is located at unit F Bellagio II, Forbes Town Center, Rizal Drive, Corner Burgos Circle, Taguig City. For reservations and inquiries call (02) 403-6554.