Is your work week starting to feel like it's 10 times longer than it actually is? If you can feel the exhaustion and fatigue setting into your body, there are more than a few ways to unwind. You can go for a spa day to relax, or take the beauty route and get yourself pampered at a salon or a nail spa. And of course, retail therapy (i.e. shopping) is always a lot of fun.

But an extra delicious (and instant!) alternative is to give in to your craving for sweets. If you haven't already noticed that the opposite of "stressed" is "desserts," now you know! Yummy things—in moderation, of course—can be just as good for your body and your sanity as an hour-long back massage or a hot soak in a bubble bath.

Indulging every now and then in a truly tasty treat is a great way to spoil yourself after a job well done, and no one does tasty treats like Haagen Dazs.

In the spirit of well-deserved and utterly luxurious indulgence, Haagen Dazs has put together a scrumptious new slew of icy sweet goodness to tickle your taste buds. Aside from the classic ice cream favorites like their fondue (16 mini-scoops of delicious ice cream that you can dip into chocolate), the new menu includes creamy Asian-inspired confections.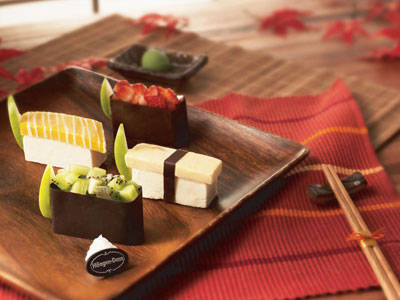 Sushi Platter

Get a sweet taste of Japan with this adorable sushi-shaped dessert. Try the Mango Sorbet Sushi, which is a slice of Haagen Dazs' tangy Mango Sorbet over creamy Vanilla. Or try the Dulce de Leche Sushi. The Strawberry and Kiwi Gunkan are delicious ice cream wrapped in a thin sheet of chocolate and topped with fresh fruit.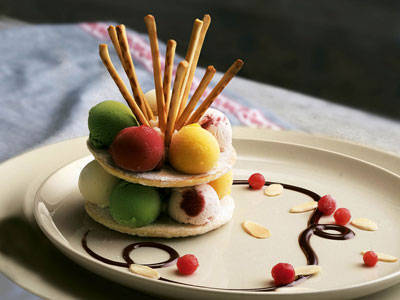 Joyful Party

Inspired by China, this delicious dessert comes with 10 mini-scoops of ice cream in Vanilla, Green Tea, Strawberry, Raspberry Sorbet, and Mango Sorbet, on soft, warm griddle cake. Snack on the crunchy pretzel sticks or scoop up some chocolate sauce, almonds, and cherries off the plate with each cool bite.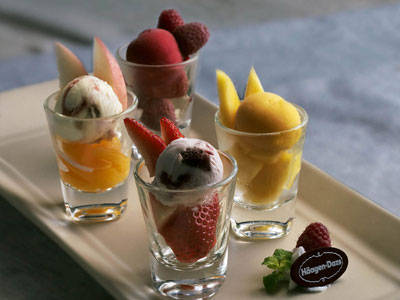 Fruity Journey

Do some non-alcoholic shots! This frozen foursome from Singapore will give you a fresh, fruity taste of some of Haagen Dazs' best, with scoops of Strawberry, Raspberry Sorbet, Mango Sorbet, and Strawberry Cheesecake (an instant favorite!) ice cream, paired with yummy fresh fruits in cute little shot glasses. (You can pretend you're not eating as much ice cream as you really are!)


If you'd rather tailor your dessert to your exact liking, Haagen Dazs also offers a brand new Create-Your-Own section, where you can pick your favorite flavors and pair them with the toppings you like. What's life without some luxuries every now and then?

Visit Haagen Dazs at SM Mall of Asia, SM Megamall (in the Atrium), and Robinsons Place Ermita and spoil yourself! You deserve it!
Continue reading below ↓
Recommended Videos