Think you've seen all there is to see at The Fort? Well, think again. There's a new hot spot to check out at Bonifacio Global City that houses some of the best new restos in town. The Venice Piazza, located in McKinley Hill at The Fort, has the feel of Venice, one of the most picturesque cities in Italy. The ambiance is lovely and relaxing, and there's a dining destination for practically any type of cuisine you could possibly crave. Whether you live in the nearby residential area, go to the neighboring office building or school, or simply love hanging out at The Fort and discovering new places to try, you'll find a lot of reasons to come back to this place.

Whether you're an office chick or a college gal about to embark on a new school year, treat yourself and your barkada (old or new) to a gastronomic feast to mark the end of a wonderful summer and the beginning of an exciting new month. Cosmo suggests three places you might want to try.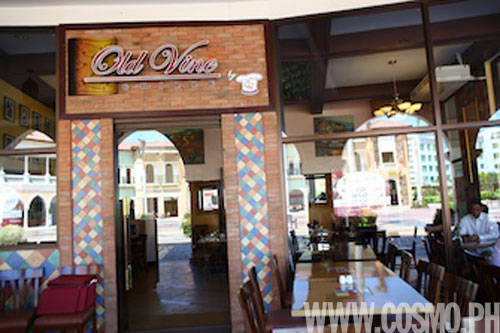 OLD VINE GRILLE

The Ambiance: The resto exudes a laidback, homey feel with its yellow ambient lighting and classic, old-fashioned interiors.

What You'll Love: It is known for its exquisitely delicious, Mediterranean-inspired cuisine that customers keep coming back for. It has a wide variety of affordable yet sumptuous dishes that will surely fit your taste--and your pay-day or bagong-bigay-ang-allowance budget.

Who To Bring Along: Take your friends, classmates, and family here to enjoy a fun-filled, appetizing feast together. Whether there's an occasion or you just want to catch up, you'll enjoy bonding over its wide range of food selections in big, sulit servings.

Cosmo Recommends: If you're a big group, you may want to opt for The Old Vine Platter (P1,800), good for four to six persons. This Chef's Special consists of a Top Blade Steak in Wild Mushroom Sauce cooked to tender perfection, Red Snapper Fish Fillet in Berlinoisse Sauce that's flavorful in every bite, Penne Pangritata pasta with big shrimps to add to its savory taste, and Mesclun Salad served in creamy balsamic vinaigrette which has a yummy kick for such a healthy dish.

Old Vine Grille is located at the ground floor of The Venice Piazza, McKinley Hill Town Center, Fort Bonifacio, Taguig City. It accepts catering services for all occasions. You may contact them at 836-4966 and 836-4969, or email them at oldvinebycq@yahoo.com for more details.

Click the 'view gallery' button below to see photos of Old Vine Grille and the food they serve, or click on to the next page to check out a Filipino resto, Kuse.

[nextpage]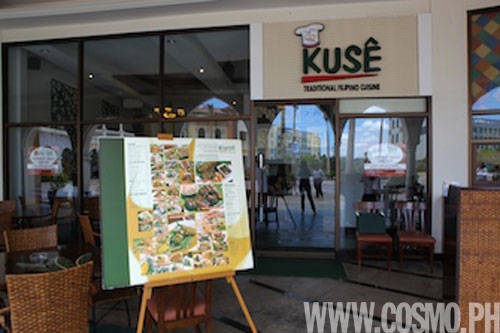 KUSE

The Ambiance: The place has simple, Filipino-inspired interiors. Its white walls are embellished with interesting works of art and oriental ornaments that lend it a modern and comfortable vibe.

What You'll Love: There are a lot of new Filipino restaurants, but the authentic, traditional Filipino cuisine at Kuse is worth enjoying like the first time, and you won't tire of it. Kuse is short for kusinero, the local word for chef in Tagalog, and you can be sure this particular kusinero knows his Pinoy comfort food!

Who To Bring Along: Not only does Kuse have great Pinoy food, it also considers the working Pinay's budget--or the kolehiyala's allowance--as much of the dishes are meant for sharing. It's best to go here after a tiring work week, or when you want a place to have a study group and block food trip.

Cosmo Recommends: The Native Chicken in Coconut Cream (P395) can be an instant favorite, as this dish really bursts with aroma and flavor, thanks to its garnish of papaya and sili leaves. The chicken is cooked just right—soft on the outside and juicy on the inside. If you're tired of the same old tinola or ginataang manok at home, this is a delightful alternative. Another dish that Kuse is known for is its Fried Pla Pla with Burong Mustasa (P295). It's served with three different salsas that all add more zest to the already flavorful fish—balo-balo, escabeche, and tomato salsa.

Other Bestsellers: For your appetizer, try the Inihaw na Oyster (P295). It has 12 pieces of fresh oysters topped with garlic and ginger that's sure to tickle your taste buds. (Tip: If you're not a fan of ginger or spice, you might want to scrape off a little of the topping, just to soften the taste a bit.) The Ox Tail Kare-Kare (P395), served with bagoong, is a certified Filipino favorite that they got oh-so-right. It would be hard to stay away from kanin with this one.

Kuse is located at the ground floor of The Venice Piazza, McKinley Hill Town Center, Fort Bonifacio, Taguig City. They also offer catering services. You may contact them at 836-4966 and 836-4969, or e-mail them at larrycortez_chefsquarter@yahoo.com for more details.

Click through to the gallery below to see photos of Kuse and the food they serve, or click on to the next page to check out what Harry's Bar and Italian Restaurant has to offer.
[nextpage]


Continue reading below ↓
Recommended Videos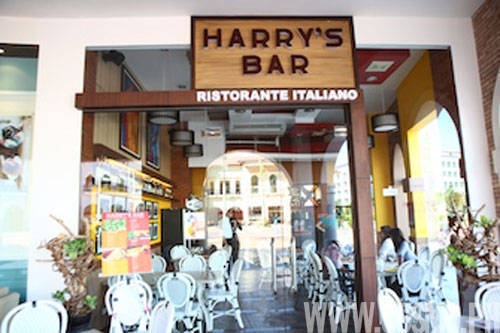 HARRY'S BAR AND ITALIAN RESTAURANT

The Ambiance: It is a small trattoria by any standard, but it has that welcoming feel, with its white chairs and multicolored plate setting. Its display of a vast collection of wine and liquor, the highlight of its interior, invites visitors to eat, drink, and be merry, Italian-style.


What You'll Love: This restaurant is inspired by the original Harry's Bar located in Venice, Italy, so you can look forward to great Italian food and wine here. Its food prices are reasonable enough when you compare it to other restaurants likewise serving good, authentic Italian dishes. Plus, you get a free serving of tasty foccacia bread with yummy tomato-onion salsa while you wait!

Who To Bring Along: The owners of Harry's Bar thought of adding "ristorante italiano" to its name since they serve both great Italian food and cool alcoholic concoctions. Try out their unique cocktails as you dine and hang out with your boyfriend, gal pals (a la Sex and the City), or new-found college barkada on a Friday night, after a tough week at school or work.

Cosmo Recommends: The Livornese (P290), served with spinach on the side, is fish fillet slowly cooked in white wine and rosemary to keep its tenderness and flavor. You'll enjoy every bite, and it's healthy enough for the fitness buff. Their Napoletana (P290) is a tomato pizza with anchovies, capers, olives, and mozzarella--a healthy yet mouth-watering treat that the whole group can enjoy!

If you want a drink that goes really well with your Italian meal, try their Basilicor (P70), an orange cooler with basil that'll keep you refreshed with every sip. You can opt to add a shot of either gin or vodka (for an additional P70) to give it a little kick.

Craving for some dessert that isn't too sweet? Try their Afogatto, vanilla ice cream submerged in coffee. The mix of hot and cold makes for a unique, delightfully bittersweet after-dinner treat.

Other Bestsellers: Their very own Bruschetta Harry (P140) is an appetizing treat made of fresh tomatoes, anchovies, and capers. The Maccheroni Funghi e Salsiccia, al dente pasta tossed with rich Italian sausage, tomatoes, and porcini sauce, is a savory dish that's so flavorful, there's simply no other word you can use to describe its satisfying, mmm-inducing taste.

Their Orange Bellini (P180) drink, a spiked cocktail of prosecco and freshly-squeezed orange juice, is also a must-try.

Harry's Bar and Italian Restaurant is located at the ground floor of The Venice Piazza, McKinley Hill Town Center, Fort Bonifacio, Taguig City.

Click on the 'view gallery' button below to see photos of this resto and the food they serve.

506