Summer's over and school just began. What's a fun-loving college Cosmo chick to do? Well, you could scope out new hang out places with your old (or new-found) barkada and go on a food trip! We've already suggested three new dining places you can try at this cool new "it" spot, The Venice Piazza, located in McKinley Hill at The Fort (Bonifacio Global City). After you've had your fill of scrumptious lunch or dinner, move to either of these two cozy dessert places within the area and have almost guilt-free sweets, to cap your fun dining experience with the group.

SOL GELATO

The Vibe: Want to continue your chikahan after lunch or dinner, somewhere that looks special? Go to Sol Gelato and enjoy a feel of Italia inside this place. In line with the Venetian theme of The Piazza, Sol Gelato interiors are decorated with gondola art and lined brick walls. Look up and see fluffy clouds painted on their ceiling.

Food Trip: It's best to come here with your barkada after school or on one of those hot, lazy weekends. The unique and unexpected gelato flavors will definitely break the ice and can make delightful conversation starters, especially if you guys are still in your get-to-know phase. Sol Gelato currently rotates 60 gelato flavors in its selection, and they're constantly concocting new ones!

Be Adventurous: It's a new school year, and it's time for a change! Step out of your comfort zone and dare your pals to sample Sol Gelato's quirky flavors. Who knows, you might find yourself a new favorite! Wasabi gelato, anyone?

Bestsellers: Make sure to try the Ferrero and Mascarpone Cheese gelato! Orders are available in three sizes: Piccolo (one flavor, P95), Grande (two flavors, P150), and Cone (three flavors, P160). Other dessert items to try are the Affogato (two scoops of gelato with a shot of espresso and a biscotto), Gelato Shake (P160), Banana Split, and Carrot Cake Al Forno with Cream Cheese and Vanilla Gelato (P155).

Fun Fact: Did you know that Sol Gelato makes their own waffle cones and wafflets? That's why they taste more pancake-y and less like the commercial sugar cones being sold in the grocery. They cook up a fresh new batch everyday!

Also, did you know that gelato is a less sinful alternative to ice cream? Taking after its name, ice cream is composed of a big chunk of cream (which is fatty). Meanwhile, gelato's main ingredient is milk, which makes it definitely less fatty, albeit a bit more expensive.

Sol Gelato is located at The Venice Piazza in McKinley Hill, The Fort. They offer free delivery within McKinley Hill for their take-out variants. Call 798-0411 for more details. Become a fan of Sol Gelato on Facebook or follow them on Twitter, and be the first to know about their new gelato flavors!

Before clicking on the 'view gallery' button below for a sneak peek at the delectable flavors Sol Gelato has to offer, check out the next page for another guiltless dessert option you and your barkada can consider when you visit The Venice Piazza!
[nextpage]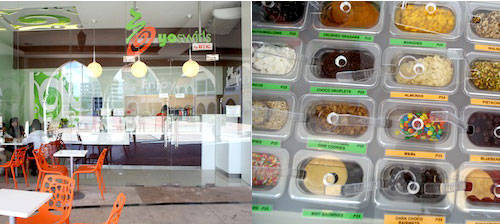 YO SWIRLSThe Vibe:
The bright, clean white interiors of YoSwirls give it a light and and cool feel—just like the yogurt you're about to have! Orange chairs that line the outdoor eating area give this place a hip, modern touch that make it stand out nicely in the very Italian atmosphere of The Piazza.
Food Trip:
While we are all aware of the frozen yogurt (fro-yo) trend that has hit the metro, YoSwirls offers not only
soft-served fro-yo
, but
hard-frozen fro-yo
(which is very much like ice cream), too. But, like its soft-served counterpart, the hard-frozen fro-yo is fat-free! Choose from various flavors available, whatever you and your
barkada
are in the mood for.
Be Adventurous:
Dare your friends to pick fro-yo toppings you don't normally choose! Make it a fun competition to see who can create the yummiest and most unique combination. How about kiwi bits and Oreo crumbs? Or blueberries with chocolate syrup? With the wide variety of topping selections, you can create countless combinations!
Bestsellers:
If you're not into all things adventurous, you can always opt for their tried and tested combinations. Bestsellers include
Mango Yo-Torte
(mangoes and graham crackers),
Nutty Forest, Toffee Mud Pie,
and
Berrylicious
. These are not exactly posted in their store, but you can simply ask the attendants for these combos or other great ones you can try!
Prices range from P85 for a
small order of soft-served froyo
to P125 for an
upsize
. Toppings cost P25 for
regular
and P35 for
premium
ones.
Hard-frozen froyo
is only P50 to P55 for a scoop and P95 to P105 for two.
Fun Fact:
Did you know that YoSwirls is the brainchild of the same group that brought you Better Than Ice Cream (BTIC), which you usually see in malls? They've been around for quite some time now, so if there's anyone who truly knows their fro-yos, it would have to be these guys!
Launch the gallery now to see pictures of this establishment and its delish offerings!

YoSwirls is located at The Venice Piazza in McKinley Hill, The Fort.
494