We're at that age when we're either daydreaming about or planning our dream wedding. When our friends and cousins start getting married left and right, it's hard not to visualize the details we want for our own wedding. We don't even have to be engaged or in a relationship to picture our own big day. There's no stopping us from thinking about the church, wedding gown, entourage, and reception venue; the groom is just that last detail we have to finalize.

Or, okay, if a wedding is maybe a little too farfetched, then how about your upcoming birthday? If you're thinking of a new place to either hold your wedding reception or that intimate birthday gathering for immediate family and closest friends, then be the first to book the Garden Rooms at Marriott Hotel Manila. After booking these luxe, charming function spaces, choose your buffet fare from Ocean's Surf at Marriott Cafe.

If you haven't already heard about Marriott, it's the new, deluxe business hotel conveniently located across from the entertainment complex of Resorts World Manila and opposite Ninoy Aquino International Airport Terminal 3. A mere ten-minute drive from Makati, it's an accessible venue for any kind of gathering you can cook up.

As Pretty As A Garden

While the Garden Rooms in Marriott aren't exactly gardens, the venue does bring to mind the brightness and coziness of nature, with its bright leaf-shaped crystal chandeliers, wooden finishes and earth-toned carpets, colorful decor, and wide windows that open to a view of the lush Villamor Golf Course. Enjoy great natural lighting for a daytime wedding or a warm, cozy yet chic ambiance for nighttime affairs.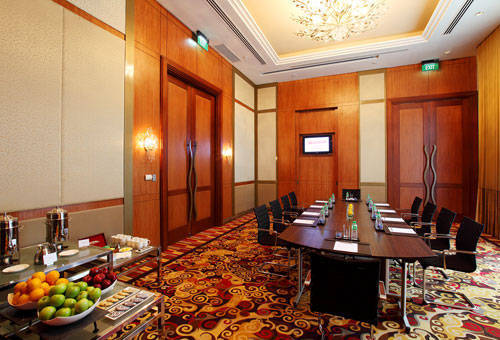 The beauty of it is, you can easily personalize the rooms. Cove lights on the ceiling change color, so you can request for a hue that fits your motif. The three adjacent Garden Rooms are separated by partitions that can be opened to reveal one large room, or closed to create three intimate spaces.

Dig Into Ocean Fare

You have the nature-feel of Garden Rooms, while you enjoy the yummy treats of the sea by having your event planner coordinate with the hotel to serve a wide variety of seafood from the hotel's Ocean's Surf buffet.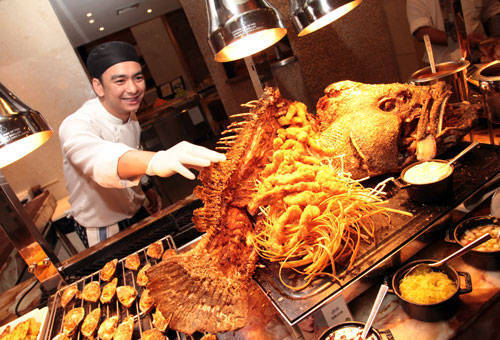 It's actually a great dining idea when you're celebrating an intimate occasion like your anniversary with your guy--it doesn't have to be an entire feast for a huge group. At P1,750 per person, you can enjoy a grand buffet of seafood, which include lobster, oysters, clams, shrimps, and seafood salad! You can even have the chefs whip up a pasta dish of your choice. If you're not a fan of seafood and would like something more meaty, get beef and lamb slices from the carving station, or maybe pick up some pork barbecue and Beijing-style duck at the Chinese station. You're sure to go home stuffed and satisfied!

Launch the gallery to see more pictures of Marriott's gorgeous Garden Rooms and Ocean's Surf buffet!

The Marriott Hotel Garden Rooms are located at the ground level, while Ocean's Surf at the Marriott Cafe is located at the lobby of Marriott Hotel Manila. Ocean's Surf is open daily from 6:30AM to 11:00PM and offers a sumptuous local and international breakfast, brunch, lunch, and dinner buffet and irresistible a la carte menu. For reservations and inquiries, call 988-9999.

Marriott Hotel Manila is located on Newport Boulevard, Newport City Complex, Pasay City


With reports from Trixie Reyna
Continue reading below ↓
Recommended Videos
1399