How long has it been since you last emptied out your kitchen cabinet and drawers to evaluate what's stored in there? That bottle of "artisanal" olives you got from a Christmas package two years ago shouldn't be there anymore. Same goes for that plate you chipped while washing the dishes last year.
Below, we give you tips on how to keep your kitchen in tip-top shape: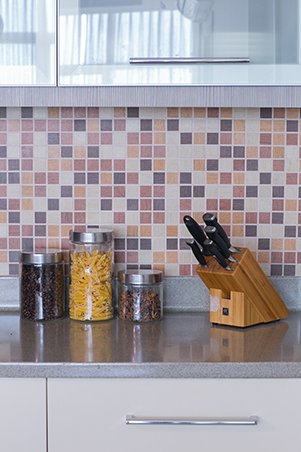 Glass Jars, P600 (set of four), True Value
Clear your counters. 
When you get used to just placing things on countertops, you'll eventually be left with no area to work on. The solution: place only the most-used items on the countertop, like knives in a knife block or utensils in a cylinder. Essential dry goods can also be placed on the counter—transfer them into matching glass jars for a cleaner look.
Use all available space. 
You'll be surprised how much extra space there is inside your cabinets. Because only a number of dishes can be stacked together without worry of breaking, you're left with about half a shelf that does not get used. This Shelf Helper (P249.75, Howards Storage World) lets you stack more items together. Use it for dishes or to elevate pantry items.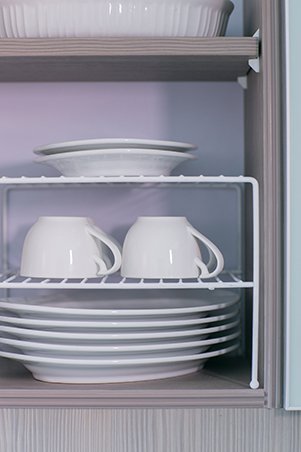 Continue reading below ↓
Recommended Videos
Hide the eyesores. 
Once organized, your kitchen will look clean. Don't ruin it by displaying ugly things out in the open. Keep dirty rags within reach, but hidden from plain sight. Pour dishwashing liquid into a nice bottle, and hang sponges in a rack that can be attached to the inside of the sink.
Follow the FIFO rule. 
Never worry about expiration dates again! When you follow the First-In-First-Out rule, you'll be sure to consume food as you buy them. To do this, store your cupboard or refrigerated items in rows and by type. Place older items in front and newer items at the back. 
For more tips on how to keep your kitchen clutter-free, check out RealLiving.com.ph!