Picture this: 3.8 kms of swimming (usually in a lake or open water), then 180 kms of cycling (that's like biking from Manila to Nasugbu and back), followed by 42 kms of running (which is also known as a marathon).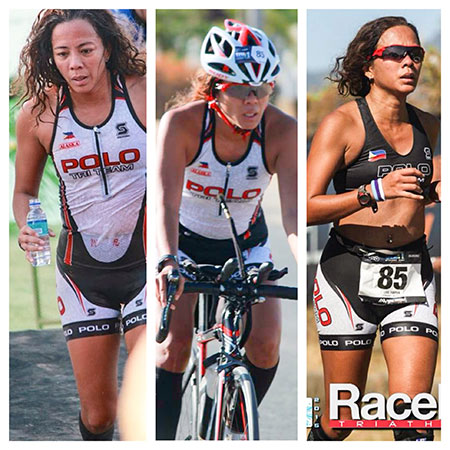 That's what Lara Parpan, former editor-in-chief of Women's Health Philippines, will go through in Tempe Arizona on November 15, 2015. While pro triathletes can finish the Ironman in 8 to 9 hours, "age-groupers" like Lara (amateur triathletes with day jobs) can finish anywhere from 10 to 17 hours—the cut-off to finish the Ironman.
Lara's no stranger to hard core training and racing—she has finished 35 triathlons in only five years, although she says she's a late bloomer, having turned into a triathlete at 42 years old (she'll be 48 in January 2016).
Continue reading below ↓
Recommended Videos
Lara considers this upcoming race as the biggest challenge of her triathlon life, and would like to dedicate it to a charity she encountered 21 years ago: the Virlanie Foundation.
According to its website, Virlanie cares for kids in need of special protection—those who are among the poorest of the poor, the abandoned, abused, exploited, neglected, and orphaned. Lara met its founder, French social worker Dominique Lemay, on a job assignment in 1994. She explained, "As an idealistic journalist in my mid-20s, I couldn't wait to leave the country. But here was this foreigner who decided to stay and help abandoned children." 
Learn more about the foundation here:
Today, Lara is part of Virlanie's Board of Directors and has created an Indiegogo page to help raise funds for its kids and add more significant meaning to racing and finishing Ironman Arizona.
Lara shared with Cosmo.ph that 100% of the funds raised will all go to the Babies and Toddlers Home of the Virlanie Foundation. "This home, which is professionally run by trained nurses and social workers, is one of the more underfunded homes when it comes to fundraising from donors. It costs about P2,000 per month to nourish well a baby or toddler in the home. That's P40,000 a month for the 20 kids there. By raising P300,000, their nutrition for at least seven months will be covered. That gives the foundation enough time to source funds for the rest of 2016."
Crowdfunding sites like Indiegogo.com usually have a six-week span, so Lara figured P300,000 (USD6,500) is the amount she can definitely raise within the allotted time period. As of November 9 (and with 13 days left!), she has crowdfunded USD4,678.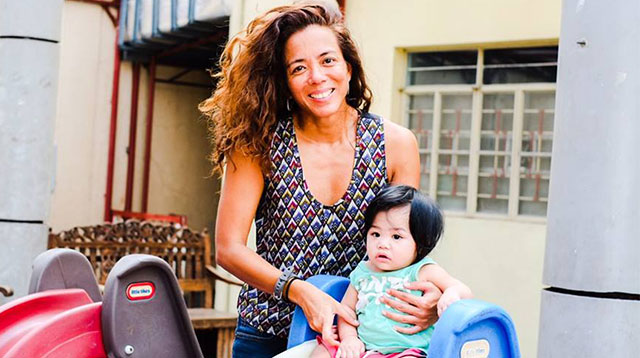 Lara with baby "Paul," featured in the Virlanie.org video (above)
Lara said she hopes to finish the Ironman in 16 hours. So Cosmo.ph asked what goes through her head in the last 10 minutes of a race. Although she admitted that thoughts like "Why do I do this?" and "I'll never do this again" definitely come up during the run, they don't usually last long.  
"I love triathlon. It pushes me to be the best I can be. I'm nearing 50, but since I started the sport five years ago, it made me dig deep and discover the mental fortitude and physical endurance I never thought I had. Once I cross that finish line, I break into a big smile, and wonder, 'When's the next race?'"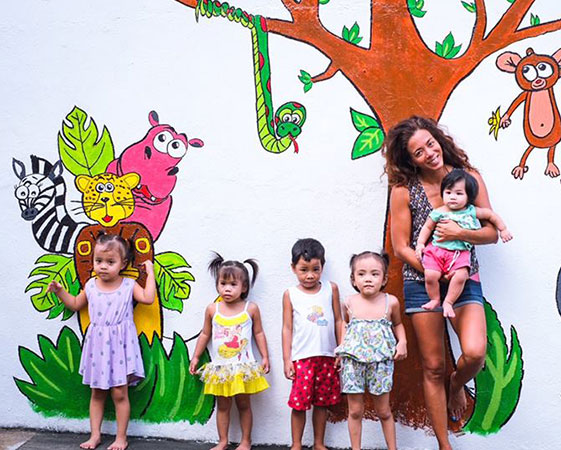 Lara with VecVec, Edwin, Edelyn, Lorie, and Paul
Visit Lara's Indiegogo page here to find out how to donate. You can also learn more about the "Raising Children, Racing Arizona" campaign on Facebook and Virlanie.org.
***
Follow Jillian on Instagram.