It's International Women's Day! While more and more female athletes are getting their due these days, let's be real and admit most of the attention has been focused on volleyball. There are still so many Pinay athletes who dedicate their lives to their sport and excel at it, yet remain underrated.
Here are just some of the countless Pinay athletes who deserve a bigger spotlight. It's time we support them every chance we get.
Marestella Torres-Sunang
Three-time Olympian and four-time SEA Games gold medalist Marestella Torres-Sunang is living proof that motherhood is not the end of an athlete's career. After she and husband, shot-putter Eliezer Sunang, became parents in 2014, the long jumper took on a grueling training regime to stage a comeback—not caring who told her that it was impossible. The result? She set a new Philippine record for the long jump in the 2016 Kazakhstan Open at 6.72 meters or over 22 feet!
This became Marestella's ticket to the 2016 Rio Olympics. Just last year, she took home bronze at the 2017 SEA Games in Kuala Lumpur—not the gold she was hoping for, but the 37-year-old remains an inspiration for mothers, younger athletes, and women everywhere who pursue their dreams even as their responsibilities grow!
Continue reading below ↓
Recommended Videos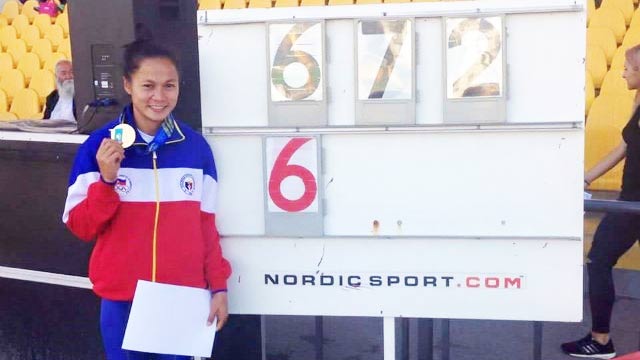 RP Blu Girls (Philippine Women's Softball Team)
Basketball and volleyball are the most watched team sports here in the Philippines, but did you know that women's softball is our best shot at qualifying for a team sport in the Olympics? The RP Blu Girls are consistent medalists in regional competitions, and just last year, they made the finals of the Asian Championships after beating China and Taipei, which are ranked 6th and 9th in the world, respectively.
Despite this, the team struggles to get exposure and corporate sponsorships, something that team captain Cheska Altomonte attributes to them being "big girls" outside the narrow image of what people expect female athletes to look like. They deadlift 300lbs, squat twice their body weight—you need to be strong to play football, and Cheska says it's time the public understood that. "Don't tell me my legs are too big when these legs have gotten me to where I am today," Cheska says. Girl power!
PH National Women's Ice Hockey Team
When the men's ice hockey team won gold at the 2017 SEA Games, the public reaction was of surprise: "We have a hockey team?" Yes, we do. And though Malaysia didn't open a women's division at the 2017 games, we have a pretty badass women's team as well.
The team consists of proudly homegrown athletes, like team captain Danielle Imperial, who started playing against her brother with DIY sticks in their garage; older vets like 33-year-old co-captain Jaja Mamaril, one of the first female hockey players in the Philippines; badasses like co-captain Rita Ceguerra who says "gold is the only color we know;" and teenage players who are literally the future of the sport.
Right now, they're in Kuala Lumpur for the Challenge Cup of Asia, where they have a good chance of securing a podium finish. But they're already excited for the 2019 SEA Games—with the Philippines hosting, there will probably be a women's division for ice hockey, and a chance for the team to grab the gold on their own SEA Games debut.
Meggie Ochoa
Meggie Ochoa is the three-time jiu-jitsu world champion, and it's insane that she isn't a household name. Not that she cares about fame—Meggie has her eyes on a bigger goal, which is using her platform to fight rape and empower those who have experienced sexual violence. In 2016, she began working with Safe Haven community center and children's home, teaching jiu-jitsu to children who have been through trauma. Last year, her 12 students began competing and in almost every tournament they've joined, all of them earned medals.
"When you are a child and you go through trauma, you tend to just give up on life. These kids have fighting spirit," she told the Philippine Star. "The medals, those are just consolation prizes. What I'm happy to see is them not giving up; they don't stop until the referee says to stop."