Motherhood is no walk in the park. It's a life of sacrifice, hardship, and tears. There are sleepless nights, so many expenses, and so much fatigue. But mothers face a lot of other struggles that most people don't talk about: postpartum depression, the sense that you're losing your identity, body dysmorphia, and marriage problems.
I've been a mother for seven months, and it hasn't been easy. I love my son immensely, but there are times when I miss my old life. I miss being out for hours on end, without having to worry about diapers, breast milk, and nap times. I miss my old identity, when I was just Rej, writer and stormtrooper.
I struggle with a lot of anxiety and depression. I struggle to accept the body I have now. I struggle with people referring to me as "Mommy Rej" or "Lucas' mom" instead of just "Rej."
Often I wonder, am I the only one who feels this way? So I reached out to other moms to ask how they feel.
Din Real Bautista, 31
Full-time wife and mommy, part-time recruitment professional
Kids: One daughter, aged 1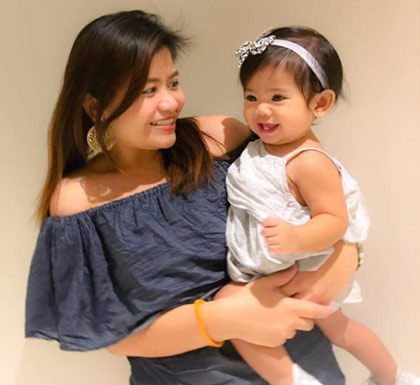 What's the hardest thing about being a mom?
I am a first-time mommy to a one-year-old girl. Nothing's easy, but the hardest part of the past year was battling exhaustion, depression, and loneliness while taking care of the baby and the household. All of this, without a yaya or a helper, while doing part time work! I didn't have to deal with the exhaustion, depression, and loneliness all the time, but when I did, it was awful. My judgment was clouded and I was so hard on myself.

It didn't help to be in a world so focused on social media. I would envy other mothers who seemed very glamorous and did not look stressed at all. I would always check online if what I was doing was right. I realized that was wrong, and now I feel better. My baby is happy and healthy, my husband is loving and supportive, and family and friends are all wonderful. There's nothing to be depressed about.
Continue reading below ↓
Recommended Videos
If you could talk to your younger self, what would you tell her about motherhood?
Motherhood is not for the weak. So endure all the challenges and the heartbreaks, because these will prepare you for an even tougher role. Motherhood is the best job you will ever have, so load up on experiences, good or bad, as these will shape and mold you. Motherhood is incomparable. So show your mother more love!

What's the best thing about being a mom?
You have the privilege of raising a human being. Seeing my daughter grow up right in front of my eyes is such an amazing experience. I have never felt this fulfilled in my entire life. Sure, I graduated from college, excelled in my career, got promoted, trained subordinates, earned my own money. But nothing beats the feeling of seeing my child growing up happy and healthy, smart and charming. And I take pride in that.
Corinna Pettyjohn, 35
English Teacher and Trainer, new mom
Kids: 1 child, less than one month old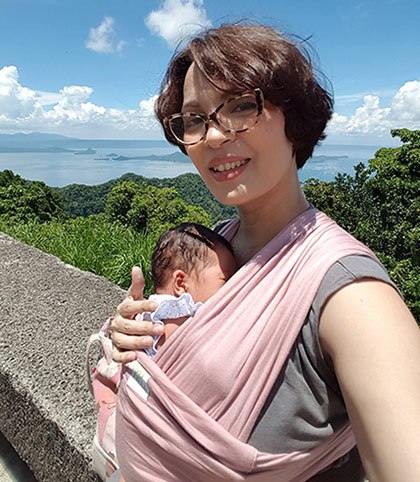 What's the hardest thing about being a mom?
It's the mental space your child requires from you. I need to be thinking about her all day, every day, what she is doing, what she needs, what's normal for babies her age. I don't think that will ever end.

If you could talk to your younger self, what would you tell her about motherhood?
I would tell her not to be afraid of any of it. 
What's the best thing about being a mom?
It's getting to know this new little person, born with her own personality with all her quirks and preferences. It's knowing that I'll be able to teach her things and shape her life, as she shapes mine. It's the chance to bring something good into the world.
Lorie Tais, 33
"I'm a very passionate person. I also derive joy in the simplest things. I love traveling, reading, being in nature, and making art."
Kids: I have a five-month-old son.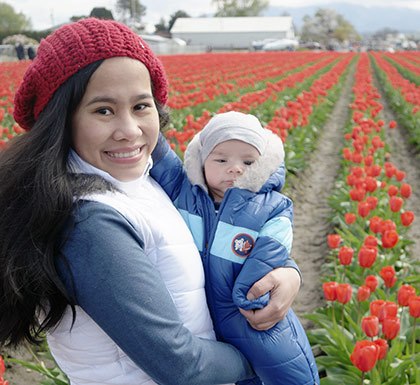 What's the hardest thing about being a mom?
The hardest thing about being a mom is that, no matter how awesome people think you are, you're always asking yourself if you're doing the right thing for your child. Nothing really prepares you for motherhood 100%. My husband and I went to a lot of classes before we had our son: childcare, breastfeeding, CPR, etc. But, in reality, a lot of it is "on-the-job learning," and trusting your instincts.
You also constantly worry about his health and safety. It's really tough when he gets sick. As a mom, I think I get really paranoid. I always check on him: when he's asleep, if he's still breathing. I always read up about how to keep his environment safe. And now that I've resumed work, I'm away from him for most of the day, so I constantly check on what he's doing.
Of course, there are times when you just want a break. We live far away from our families, so we don't easily have a third set of arms to take care of our son. It's even harder when your child wants only you, and cries when you walk away or hand him to someone else, no matter how briefly.
If you could talk to your younger self, what would you tell her about motherhood?
I'd tell myself that it's very rewarding, no matter how hard it could get. I'd also tell myself that it's OK to wait long (like I did). Motherhood takes a lot of responsibility. You're in charge of another human being's life! So you shouldn't rush into it if you're not ready.
What's the best thing about being a mom?
One of the best things about being a mom is the joy of witnessing my son's growth and development unfold day by day. I take photos of my son every day, because he's growing so fast and changing in so many ways. It's pretty amazing to see him learn something new each day. I love how he smiles or laughs with delight when he discovers something new or when he masters a new skill.
I think the best thing about being a mom, though, is the indescribable bond between me and my son. When I'm next to him, he's really happy and seems to know everything's going to be OK. I love how he flashes a big smile at me the moment he wakes up, after I feed him, when I get home from work, when I put him to sleep at night. I love how he clings to me with his tiny arms and legs when we take a nap together. He brings so much joy to our home.
Katrina Salumbides Pott, 34
Professional doodler, writer, and crafter, "a geeky wife living a nerdy mom life"
Kids: 1 daughter, 9 months old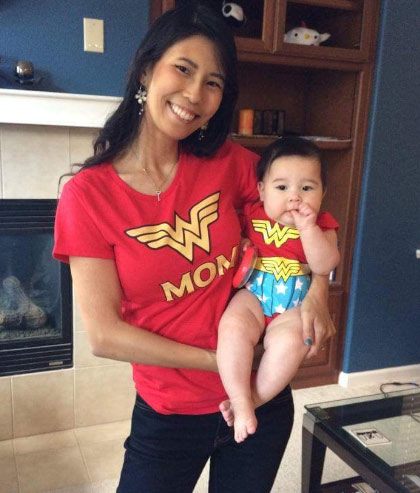 What's the hardest thing about being a mom?
It's exhausting! Little to no sleep for the first several months, which was so challenging when I went back to work. It really takes a toll on you! It's a 24/7 job. It doesn't matter if you're sick or tired or busy or have plans, because baby comes first and it can be exhausting mentally and physically. When my husband and I both got norovirus at the same time it was so hard to take care of Cassidy, especially since she's so mobile. I was so fatigued I could barely pick her up.
And then there's breastfeeding! It was so hard and painful at first. She latched wrong for the first 24 hrs, and it really messed up my nipples. I had to wear a shield and use cooling pads for a few months. Also, pumping also really sucks. It's hard when you're at work because it takes time out of your day even though I try to work while I pump. The pressure from external and internal sources to breastfeed and pump is also stressful.
There is so much judgment, shaming, unwanted advice, and ignorance out there that puts a lot of unnecessary stress and pressure on parents. I feel like I'm being judged by others, and of course I'm judging myself. I constantly worry if I'm being a good mom, and I worry about how it will only get tougher from here. And I can never measure up to the amazing moms around me, or even my own! It shouldn't be a competition but I can't help but feel like it is sometimes. For all the support, love, and help you can get around you, there's also a lot that tears you down.
If you could talk to your younger self, what would you tell her about motherhood?
It's really really hard. But as much as I can try to explain it, I also feel like this is an experience you can't fully grasp until you go through it. I knew all about sleepless nights, but until I experienced, I really didn't realize how bad it could get. And quite frankly it will only get harder.
I would tell myself to enjoy life more. Enjoy the little things and plan some big things and settle down just a little sooner. It's harder to be an older parent, and it makes me sad knowing how old we will be when Cassidy goes to college, gets married. And I may be depriving her and my parents of more time together. She also has such a big age gap from her cousins that she's mostly on her own.
It's probably the hardest thing ever, but it's also the best thing ever. Having kids means giving up a lot of things and changing your life forever, but it's worth it. Have a baby and don't look back.
You need to enjoy all the little things and that includes making as many memories and recording them. Don't worry if you look like a hot mess and are barely clothed. Don't miss out on being in the photos with her. I regret being in so few photos of her in her first four months or so. It was like I wasn't a part of her life because everyone else was in the pics but me.
It's expensive! Save money early and plan ahead.
It's easy to feel like you want to take on everything, but don't stress over it. People want to help and everyone will be happier if you let them. Don't be afraid to speak up if you're tired, unhappy, upset.
Motherhood changes your priorities, but it should not overshadow your relationship with your significant other.
Make friends with other parents. Sometimes motherhood can isolate you and it's easier when you have people you can relate to.
Motherhood should not solely define you. Being a mom is only one of your titles, one of your hats. It may be the best thing about you, it may be what makes you proudest, but you are also more than that.
Don't let society or social media get in your way. It's going to suck and it's going to be hard.
What's the best thing about being a mom?
Watching Cassidy grow, her smiles, her laughs, her development—they all make my heart melt. Watching someone who is a part of you, someone you love, grow before your eyes is amazing. There is nothing at all in the world like it. Cassidy just makes me so incredibly happy just by being herself. I'm sure this will be tougher as she gets older, with tantrums, attitude changes, and the teenage years. But I know I will always love her and she will be my heart and soul.
Having friends who are parents like you, or making new friends who are also parents. It sometimes seems so much easier to relate to other people when you have kids. I am so incredibly amazed by other parents, single parents, and my parents. I totally get it when they said, "You'll understand when you're a mom."
Life is so different now, and I just look at the world differently. On one hand, as previously mentioned, it scares me and worries me. But on the other, there is so much to look forward to, so much potential.
Rory M.G., 32
Self-employed media-maker and community builder
Kids: One son, Hadouken, 9 months old. Praying for more!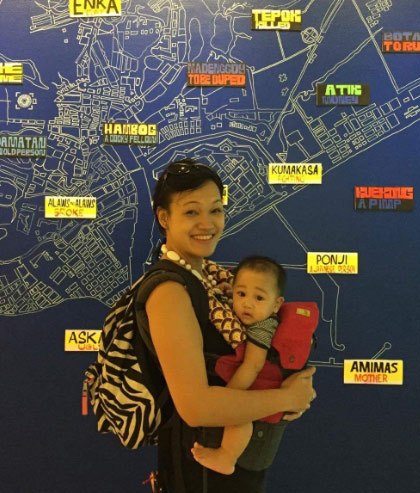 What's the hardest thing about being a mom?
When I was much younger, I thought expelling a little human out of my nether regions would make me instantly motherly and nurturing. I had grand ideas about how I'd work from home and take care of my babies and everything would just work out magically. I built my career over the last decade to enable me to do just that. But actually, having my baby around was a huge shock.

Our generation has been told to dream big, that we can "have it all," but it's hard work!
I've been reevaluating the mom I imagined I would be.
Before motherhood, I'd built a great system. It worked perfectly! But babies tend take everything into their pudgy hands and they make a beautiful mess out of it. In Bisaya, "Gi-bungkag tanan."
So I've been breaking down the system that worked before, and throwing away all the extras, stuff that I wish I had the extra energy, brain space or time for, but don't.
Now I'm building new systems with some of the old pieces and a lot of new ones. And there's freedom and joy in not comparing the two. 

If you could talk to your younger self, what would you tell her about motherhood?
Slow down and smell the roses! You won't regret anything, won't miss out on anything, if you delight in the beauty of whatever season you are in, be it single life, being a soccer mom or empty-nester, or anything in between. Enjoy your life, your freedom, your marriage! Kids will change everything. It's a beautiful change though, so don't fear!
What's the best thing about being a mom?
How big my heart has grown. I used to be scared of kids! In fact I needed the nine months of pregnancy to bond with my baby. But now, I am learning to enjoy children, especially those at stages we've already graduated from. 

I appreciate my mom being so scatterbrained, now that I can relate! We laugh together about how mommy life really reconfigures brain waves and body shapes.

And I used to cringe at the sight of a mom bringing a baby on the plane. Now that I'm *that mom*, I'm humbled and more compassionate towards the many struggling mamas I see. "I feel ya, girl!" Fistbump!
Joanna Tripon Factoran, 35
Currently a stay-at-home mom (SAHM), part-time Graphic Designer
Kids: Henry, 9 months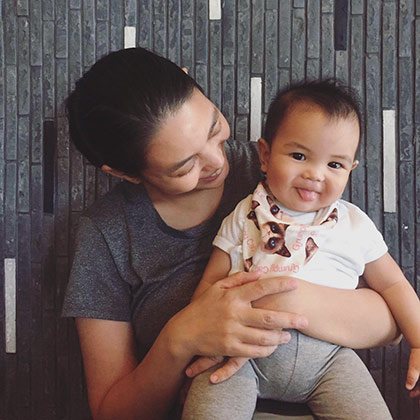 What's the hardest thing about being a mom?
The endless worrying! You worry for their physical safety and health, if they're stimulated and learning enough, eating enough, basically if you're on the right path to raising a kind and responsible adult.
I guess the pressure is magnified in my case, since my firstborn, Sofie, passed away at 8 months. It's like this is my second chance, and I have to be the perfect parent to Henry.
I need to remind myself to relax, and to enjoy this drooly, babbling, crawling being! There's also the issue of childcare when you have to work. We have no yaya, and while we have lola on call to babysit, sometimes it's tough to concentrate on work when I have a clingy baby.
If you could talk to your younger self, what would you tell her about motherhood?
That it is hard work and constant exhaustion, maybe for the first three years, but rewarding all the same. And you should appreciate your own mom more (I love you, mom!).
What's the best thing about being a mom?
I think the best thing is slowing down and experiencing the world again with your child. Mundane things or tasks become wondrous and fun activities with them. The excitement in their eyes and smiles are invigorating. Both my kids remind me to be a better version of myself, to be more patient and kind, to let go, and to be silly, and to laugh.
Follow Regina on Instagram.